Overview
The Impacts Catalog is a project currently under development by NWS to improve its ability to communicate weather, climate, and water-related warnings to those who need them according to their specific needs.>
The project is still under development, and the first full prototype is not expected out until 2016. For those in interested in the project, there is an Impacts Catalog Community in the NOAA VLab. A password is required.
A good overview presentation was made at the 2015 American Meteorological Society Annual Meeting by Kevin Scharfenberg: VIEW AMS PRESENTATION HERE
The Catalog
The catalog will be a (secured) database of users, contact information for those users, and specifications for their weather-related needs.
Current user inputs include:
Contact Information
Location of user (or location of interest)- either by point latitude / longitude input or a geographic area specification.
Hydrological or weather thresholds (Example: temperatures > 90 ° F, or 60% probability for rain)
Preferred actions if thresholds are exceeded (Example: call the number provided in contact info).
Current outputs include:
Impact Visualizations (example: map showing region most likely to be impacted by predicted thunderstorms)
Automated alerts
...and more coming soon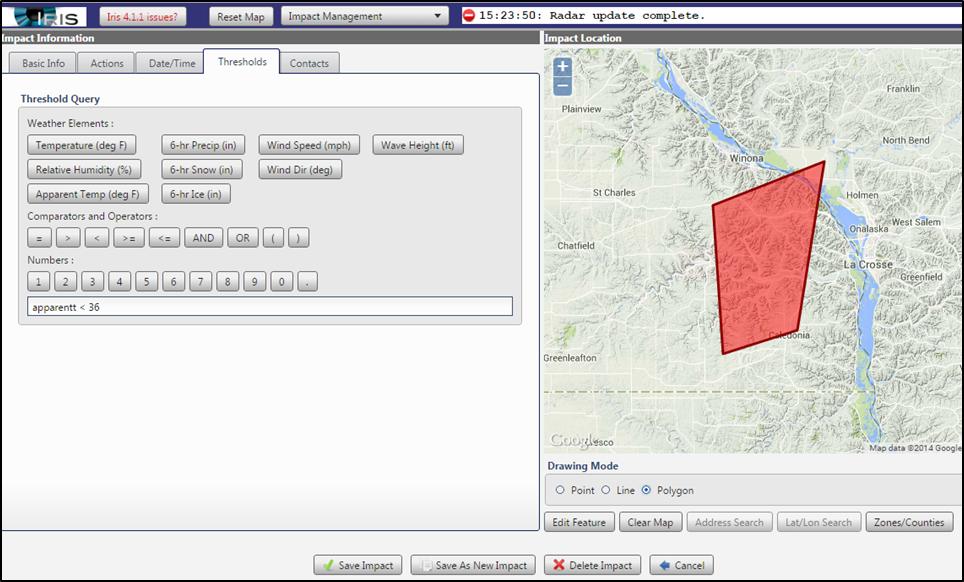 Screenshot of Prototype Impact Catalog