About the National Blend of Models (NBM)
The National Blend of Models (NBM) is a nationally consistent and skillful suite of calibrated forecast guidance based on a blend of both NWS and non-NWS numerical weather prediction model data and post-processed model guidance. The goal of the NBM is to create a highly accurate, skillful and consistent starting point for the gridded forecast. This new way to produce NDFD grids will be helpful providing forecasters with a suite of information to use for their forecasts. The NBM is considered an important part of the efforts to evolve NWS capabilities to achieve a Weather-Ready Nation.
Versions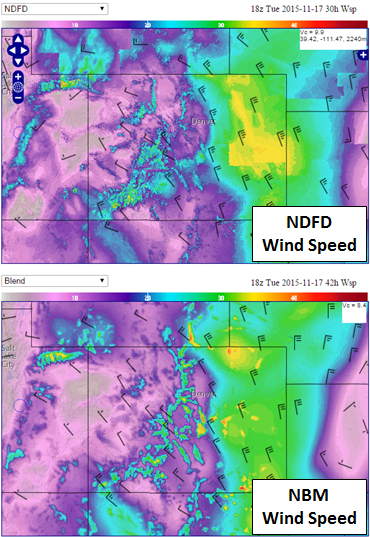 Comparison of NDFD graphical product (top) and the National Blend of Models (NBM) product (bottom) for Winds
National Blend Comparative Viewer
** Requires NOAA login credentials
The image shows the NBM has more detail and fewer unnatural contours than NDFD
Training and Additional Information Resources
For more information on the National Blend of Models, please see the following training resources and publications.