Date Posted: January 11, 2012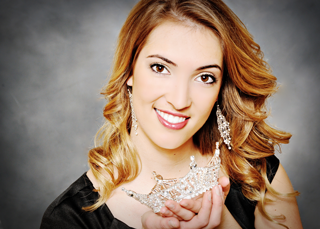 Miss Ohio, Ellen Bryan, competes in the Jan. 14 Miss America pageant with a family lightning safety story not to be missed. Her sister Christina's life changed in 2000 when she survived a lightning strike that left her with extensive and permanent injuries. Ellen's love for her sister led to a compassionate lightning safety campaign. In 2009, Ellen and Christina joined the National Weather Service's lightning safety campaign. And this week, Ellen will take that lightning safety message to one of the biggest stages in pageantry.
Ellen and her sister have worked for the past several years with the National Weather Service on public service announcements promoting lightning safety. They spoke in a video prepared for the 2009 and 2010 lightning safety weeks. Both Bryan and her sister are part of the NWS Lightning Safety Awareness efforts that are helping us build a Weather-Ready Nation.
"Ellen has been an integral part of NOAA's Lightning Safety Awareness efforts for the past three years and brings a very personal perspective to our effort," said John Jensenius, warning coordination meteorologist at the NWS Gray, Maine, Weather Forecast Office and NWS lightning expert. "While many of us in NOAA talk about lightning safety, Ellen and her family live with the effects of the lightning strike every day of the year.
Ellen and the NWS are making progress in improving lightning safety. In 2011, despite an extremely active severe weather year, the nation experienced a record low number of lightning fatalities — with a total of 26 — but our work is not over. Please support us and Ellen in becoming a Weather-Ready Nation and making deaths and injuries from lightning a thing of the past.
Read more about Ellen, Christina and their story:
https://www.ellenbryan.com/lightning-safety.html
https://www.palmbeachdailynews.com/blogs/content/shared-blogs/palmbeach/weather1/entries/2011/06/22/miss_america_contestant_campai.html