Within the NWS Communications Office, our #1 priority is to serve YOU. We are dedicated to providing the best customer experience to everyone who relies on us, whether that be our fellow NOAA and NWS employees, partners and Weather-Ready Nation Ambassadors, or the public. We are often asked "who's who," so check out our bios to learn about our primary responsibilities, backgrounds, and even some fun information. If we can assist, please send an email to nws.communications.office@noaa.gov and one of us will get back to you as soon as possible.

Gregory Romano
Communications Director
Greg Romano has been the Communications Director for NOAA's National Weather Service since August 2014. This is his second stint at NWS, having served as the agency's Public Affairs Director from 2004 to 2007. During the interim years he was vice president of public relations for the Aircraft Owners and Pilots Association and held various communications leadership positions at the U.S. General Services Administration.
Greg proudly calls Northern Virginia home, but spent most of his life in Southern California. Before relocating to the DC area in 2003, he led communications programs for major PR firms and a Fortune 500 corporation in Los Angeles. He earned an MBA from Pepperdine University and a BA degree in Public Relations from the University of Southern California, where he also taught Strategic Public Relations.
A self-proclaimed "born storyteller" fluent in the languages of sarcasm, movie quotes and song lyrics, Greg occasionally writes a sometimes-irreverent blog about communications in the government environment. He also co-produces a blog with his wife, Judy, that chronicles their worldwide travels. An instrument-rated private pilot, Greg flies under the call sign "Hollywood" to honor his west coast roots.

Douglas Hilderbrand
External Engagement Lead
WRN Ambassador Initiative Lead
Doug Hilderbrand joined the NWS in 2002 and the Communications Office in early 2014. He leads the Weather-Ready Nation Ambassador initiative, a NOAA-wide effort to recognize and strengthen NOAA partnerships to improve the nation's readiness, responsiveness, and resilience to extreme weather, water, and climate events. Prior to joining the Comms Team, he served on detail to the NOAA Policy Office as policy adviser on weather and satellites from 2011-2013.
Doug fell in love with weather at an early age, cementing his career goals at the age of 10 after the Blizzard of February 1983 hit the Northeast with two feet of snow. He earned a Bachelor's degree from Bucknell University in geology, a Master's degree from the University of South Florida in geology (paleoclimatology), and a Master's degree from North Carolina State University in meteorology.
Outside of work, Doug stays busy juggling time with his wife and five children, and, having grown up in suburban Philadelphia, vigorously cheers on the Philly sports teams. #FlyEaglesFly


Linda Taylor
Senior Communications Specialist
NWS Communications Water Lead
Linda Taylor has been working at NOAA with 20 years of service including the National Ocean Service, National Marine Fisheries Service, the Office of Program, Planning and Integration and joined the NWS Communications Office in May, 2016. She started her career with NOAA at the National Marine Fisheries Service in August of 1998 as the first Communications Specialist in the Office of Law Enforcement, providing the office with a vibrant and strong focus on community oriented policing in the marine environment. She then worked with the National Ocean Service from 1999 until mid-2014, helping to build a communications program with NOAA-wide impacts. After a stint with NOAA's Office of Program Planning and Integration as the National Coordinator for Regional Collaboration, she came to NWS as the point-of-contact for water, video production and special projects.
Linda attended Salisbury University majoring in Political Science and minoring in Psychology and French. She continued post graduate studies and remains current with a variety of subjects including Communications, Biology, Media Relations and Public Management. Prior to becoming a federal employee at NOAA, she was a contractor providing policy analysis and communications support at the U.S. Department of Energy, U.S. Fish and Wildlife Service and The Army Environmental Center. Her broad scope of experience and perspective helps her to successfully lead a variety of projects as a Management Analyst in Communications at NWS.
Outside of the office, Linda interests lie with living along the shores of the Chesapeake Bay, helping animals, gardening, travel abroad and enjoying the great outdoors.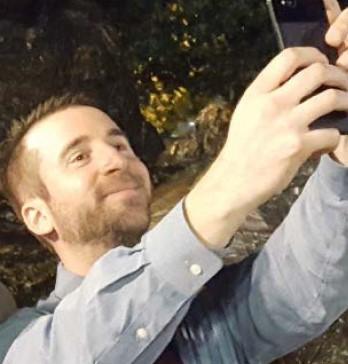 Corey Pieper
Social Media and Digital Strategy Lead
Corey Pieper joined the Communications Office in 2016. He leads efforts to define strategy and policy for social media in the agency through his role in Comms as well as through his role as chair of the Emerging Technology Team. Corey also serves as the point of contact for a number of NWS web-related subjects including liaison to NOAA via participation on a number of integrated working teams.
Corey grew up in a small town in southeastern Indiana and earned a Bachelor's and Master's of Atmospheric Science from Purdue University. After finishing his Master's in 2002, Corey worked for a year as an Agricultural Meteorologist at the University of Kentucky before joining the NWS as a forecaster with the forecast office in Jackson, Kentucky in 2003. After a stint as a forecaster at the NWS forecast office in El Paso, Texas and Techniques Development Meteorologist at Southern Region Headquarters, Corey joined the Communications Office in June of 2016.

Away from the office, Corey enjoys time with his daughter and works in vein to convince her that both the Cincinnati Reds and Bengals are worthy of her attention. He also enjoys photography and travel.


Mary Scarzello Fairbanks
Communications Meteorologist
NWS Outreach and Education Lead
Mary Scarzello Fairbanks joined the NWS Communications Office in 2014. She supports the national level efforts focused on outreach and education. Mary is the NWS representative to the NOAA Education Council and is also involved in many other communications functions including portfolio office support and the creation of materials for external use.
Mary earned a Bachelor in Science in Meteorology from Millersville University and completed some masters coursework at Johns Hopkins University. Mary has been with the NWS for over 26 years and entered the agency as an undergraduate student, fulfilling her childhood dream of working for the NWS. She has spent her career exploring and working in many facets of the agency including the National Operations Center (previously the Metwatch Office), dissemination program, radar program, and research and development aimed at improving severe weather forecasting.
Outside of the office, Mary loves spending time with her husband and three teenagers, and enjoying the outdoors, especially at their family home in Vermont.


Brian Jackson
Meteorologist
Outreach Specialist, NWS Insider Lead
Brian became a part of the NOAA family in 2008. Born and raised in Upstate New York, he spent many of his formative years shoveling out from lake effect snows. Those snows, and a freak ice storm in 1991, helped to jumpstart his interest in the weather. Two significant, possibly related, events took place for Brian in 2000: he headed off to attend college at the State University of New York at Oneonta, and his father purchased a snowblower. After receiving bachelor of science in meteorology in 2004, he decided a change in climate was necessary and enrolled in the graduate program at Florida State University, where he received a masters in meteorology in 2007.
His thesis work on tropical convection over the African continent led to a seamless transition into his first position with NOAA, daily monitoring of global snow and ice cover at the National Ice Center in Suitland, MD. In 2012, he was selected for an NRAP assignment to the NWS Operations Center, coordinating and communicating NWS efforts during the lead-up and landfall of Hurricanes Isaac and Sandy. After 8 years as NOAA's "Iceman", Brian joined the Comms office in April of 2016.
Brian lives and plays with his wife and 3 children in Howard County, Md.. When not being run ragged by the kids, he enjoys taking advantage of the area's running trails, playing soccer, and exploring the region's growing craft beer culture — though not all at once — while waiting for the next model runs to come in.

Chris Franks
Meteorologist
Communication Specialist
Chris joined the Communications Office in 2017 after spending the first 10 years of his NWS career as a forecaster. He has a passion for making complicated information understandable and works with the Comms team to create engaging social media and web content.
Chris was born and raised in Omaha, NE and he is of course a big time Nebraska football fan. When he is not thinking about graphics or the next Comms campaign, he is spending time with his two daughters, sipping a beverage or watching the Huskers return to the dominating force they were in the 1990s.

David Johnson
Safety Campaigns Lead
Media Project Manager
Dave began working with the Communications Office in 2016. He leads the NWS National Seasonal Safety Campaigns, working with a team of meteorologists to provide weather safety and preparedness information directly to the public. Dave is also the Media Project Manager for Comms, coordinating the efforts of the team's multimedia producers to create websites, graphics, videos and related content.
Dave brings over 15 years of professional experience producing, distributing, and managing media content, including a prior role contracting at the U.S. Department of Energy as a Multimedia Specialist. He studied web design at Montgomery College, along with journalism and psychology at the University of Maryland.
A lifelong native of the DC metro area, Dave currently resides in Rockville, Maryland, with his dog Felix. When he's not at the office, Dave enjoys spending time with his girlfriend, binge-watching TV shows and movies, and practicing the dark arts of music production. He's also a devoted outdoors runner (at least during the warmer months).