Date Posted: Febuary 2, 2012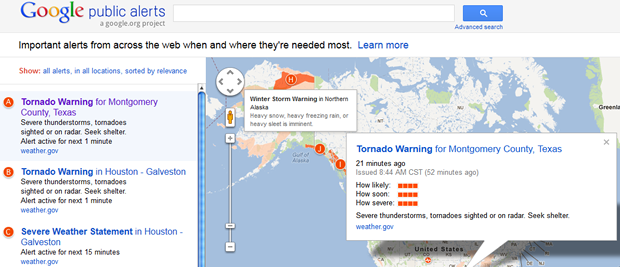 On Jan. 25, the National Weather Service announced a new partner in its efforts to build a Weather-Ready Nation.
As part of the Google Crisis Response Team's Public Alerts service, weather and hydrologic alerts are populated by NWS messages, which will now be accessible when searching Google Maps. Google's new service will also include alerts from U.S. National Oceanic and Atmospheric Administration (NOAA) and the U.S. Geological Survey (USGS).
"NWS CAP offers our warning information in its most atomic parts, which are clearly tagged, so that developers and manufacturers can readily integrate our warning information into all kinds of products and services at a low cost of entry," said Mike Gerber, Emerging Dissemination Technology Lead in the NWS Office of Climate, Water, and Weather Services (OCWWS).
During the past year, Google's non-profit Crisis Response Team has been working with NWS to integrate NWS messages in Google Public Alerts. The effort was initiated through an existing Cooperative Research and Development Agreement between NOAA and Google.
In addition to public alerts on Google, NWS is working to make weather information more accessible via cell phones. The upcoming release of a new NWS version of industry standard messages for the exchange of hazard alert information will be Beginning in April 2012, free, geographic-specific text message alerts will be sent to capable cell phones through the Commercial Mobile Alert System and integrated with FEMA's Integrated Public Alert and Warning System.
The advanced computing and connectivity capabilities of smart phones and tablets put relevant data from weather satellites, radars, and forecast models into the hands of nearly everyone in the country in a format that is easy to understand and share with others. These new platforms provide an additional avenue for our information to empower people across the country to make smart, fast decisions to save lives and livelihoods.