The National Environmental Education Foundation celebrates their acceptance as a Weather-Ready Nation Ambassador.
Building a Weather-Ready Nation takes a whole-community approach well beyond what NOAA and the National Weather Service can do alone. This thinking led to the creation of the Weather-Ready Nation Ambassador initiative in 2014 to recognize organizations of all kinds that share the goal of greater community resilience through improved ways to prepare, respond, and recover from extreme events. Simply put, it takes all of us.
Below is a compilation of success stories from numerous WRN Ambassadors on how their organization is part of the solution. These stories inspire others, foster idea sharing, and collectively paint a picture of how the nation is becoming more "Weather-Ready."
If you are already a WRN Ambassador and want your story posted, please click on this Submission Form to start the process.
If your organization is considering becoming a WRN Ambassador, start the process to becoming one here.
Adrenaline Films
In our industry weather plays a big part; and filming in Florida in the Spring and Summer months it plays an EVEN bigger part. Weather changes so fast; it can be sunny one minute and a torrential thunderstorm the next; when filming on location we have to be prepared and be able to look ahead at the weather patterns to be able to plan our next shot. We consistently inform all of our crew and talent of weather conditions by designating a section of our daily call sheets to the weather forecast so our crew is prepared for the weather conditions before they happen; and informed as it changes. We will continue to inform our team about the WRN initiative and strive to be ready for anything Mother Nature sends our way. As story tellers and production specialists we also are in the unique position to produce WRN messaging. We have begun that process and are reaching out to other WRN Ambassadors to assist them in the creation of WRN stories and messages. Learn more at www.facebook.com/AdrenalineORL
Alaska Division of Geological & Geophysical Surveys
Since becoming a WRN Ambassador in 2014, the Alaska Division of Geological & Geophysical Surveys has stepped up efforts to coordinate with NWS Alaska Region to increase the quantity and quality of storm surge readiness resources in our state. During the 2014 storm season we co-authored a series of maps to facilitate communication about flood hazards in some of our most at-risk communities (http://dx.doi.org/10.14509/29129) and we also worked together to install two real-time water level sensors to aid in coastal flood forecasting and modeling (http://www.aoos.org/aoos-funded-water-level-sensors-installed-in-western-alaska).
Alliance for Disabled in Action (dba) Alliance Center for Independence
ACI strives to ensure people with disabilities are prepared in the event of an emergency through the below activities:
ACI has presented workshops on emergency preparedness to over 150 persons with disabilities. Funding provided by PSE&G and AmeriCares.
ACI has distributed more than 100 go bags, first aid kits and NOAA radios
ACI organized a simulated shelter for people with disabilities. This event was in collaboration with FEMA, Middlesex County Office of Emergency Management, The American Red Cross and Rutgers University. We are planning another simulation in the Spring in Somerset County. See video https://youtu.be/1RwqSBImezU
ACI continuously updates its social media sites with preparedness tips, weather reports and any pertinent information that may be needed during a storm.
American Public Health Association
APHA's Get Ready campaign success stories:
American Red Cross
A new American Red Cross app helps children between the ages of 7 and 11 learn emergency preparedness while playing a game as monster characters.
Bossier Parish Central Library
Bossier Parish Central Library now serves as a hub for people to come and be trained and educated on severe weather, severe weather preparedness, and severe weather safety.
Bryce Canyon National Park
Bryce Canyon National Park installed signs at every viewpoint advising visitors to "Stay in your car during lightning storms," continued to include information about the risk of injury or death by lightning in the park newspaper, and trained the staff on lightning and flash flood safety. Every group that is issued a backcountry permit is also provided the NWS and NOLS brochure "Lightning Risk Management: for backcountry campers and hikers." All shuttle bus drivers will be trained to provide the weather forecast as visitors board the bus and to remind visitors that "when thunder roars, go indoors." Plans are in place to train every NPS staff member in CPR/AED and to train employees working in the backcountry in Wilderness First Aid.
Bureau of Indian Affairs Eastern Region Office
So far our office has been engaged in preparedness actions for extreme events- nine of our personnel recently completed Red Cross CPR/AED/First Aid training, our first aid kits were updated and expanded, and three weather radios were added to locations throughout the office. Currently we are in the process of contacting New York/New England Native American tribes regarding the incoming Northeas'er event using the email released to the Ambassadors list yesterday.
Burleigh County (ND) Emergency Management
Added to our webpage.
Promote during National Preparedness Month, Severe Summer Weather Awareness Week, and Severe Winter Weather Awareness Week.
Provide area stakeholders with advanced information regarding potential storms via email.
Center for Sustainable Communities
As part of the third annual Green Apple Day of Service sponsored by the U.S. Green Building Council (USGBC) and its Center for Green Schools, Emerald Cities Metro Atlanta (ECMA) hosted its second Green Apple Day of Service at the BEST Academy at Ben Carson High School on September 27, 2014. This was one of a number of events sponsored by the Georgia chapter of USGBC.
The program allowed K-12 schools, colleges and universities in the United States and around the globe to submit their low-cost or no-cost sustainability projects to USGBC and win the assistance of technical mentors to help implement the projects.
Christian Appalachian Project
We are currently working on a Disaster Preparedness Activity book to hand out to our camp kids which is approximate number of 1000 per summer.
We also will be speaking to all the groups that come through CAP which are college groups, church groups and various organization that come and work a week at a time on home repair beginning April - October. We will be talking to them about our Disaster Relief Program along with a hand-out with information on Disaster Preparedness with various information on how to be safe and keep your family safe and prepared and how they can get involved with their community to help prepare as well as after a disaster.
City of New Berlin Emergency Management Department
2014 Department Activities:
Storm Ready Certification
Through continued efforts to increase resident safety in the face of severe weather, the City of
New Berlin Emergency Management Department earned its StormReady certification. During the certification ceremony in Council Chambers on March 25th, Marcia Cronce, a meteorologist from the National Weather Service's Milwaukee / Sullivan office presented the national certification.

StormReady is a national community preparedness program that helps communities develop
plans to handle all types of severe weather. In general, a community must possess a solid
communication network and have a comprehensive multi-hazard emergency operations plan.
The City of New Berlin is the largest city in Wisconsin to date to achieve this certification.
Walmart Weather Radio Donation
As the City of New Berlin's Emergency Management Department prepared its plans and application to the National Weather Service for consideration to become a nationally recognized StormReady Community it had a problem. One of the rigorous requirements includes every city building and school has an alerting weather radio to provide occupants with the earliest possible warning. The problem was that with the city's budget tightening, the Emergency Management Department had no money to buy the 14 alerting weather radios (at a cost of almost $600.00) that would be needed. Rather than have to stop the planning and application process, Terra Biggin, the manager at the New Berlin Walmart agreed to supply the 14 Alerting Weather Radios at no charge. The donation by Walmart exemplifies their continuous commitment to community and public safety initiatives.
STEP Program
More than 20 students in Mrs. Biesterfeld's class at Star of Bethlehem School in New Berlin have learned how to prepare for a disaster or emergency. The students participated in S.T.E.P. or Student Tools for Emergency Planning, a program sponsored by the New Berlin Emergency Management Department, with cooperation from Wisconsin Emergency Management. The program teaches 5th graders how to be prepared for various disasters and emergencies, including tornados, flooding and storms. STEP encourages students to share the information they learn with their families and develop a family emergency plan. Along with this knowledge, each student takes home a starter emergency kit. These students are the first class in eastern Waukesha county and New Berlin to have completed this preparedness class. Because this program receives support from an AT&T Innovation & Investment Award, a grant from Walgreens and the Wisconsin Medical Society Foundation no New Berlin tax dollars were needed to support this program.
GETS / WPS
In a team effort, the City IT and Emergency Management Departments have secured wireless and landline priority access for critical personnel including the Chief Executive, Community Services, Emergency Management, Fire, IT, Police, Streets and Utilities. During emergencies cellular and landline networks can experience severe congestion due to increased call volumes and /or damage to network facilities, hindering the ability of emergency services personnel to communicate. This priority access has been added to select existing city cellular phones. An agreement with the current cellular provider has been negotiated to waive the monthly priority access fees. A similar program for landline access for these critical personnel has also been initialized. These priority communication programs are an additional tool that will help to ensure a rapid means of response, coordination and responder / citizen safety. The City of New Berlin now has one of the largest redundant emergency communications plans in Waukesha County.
PD Squad Weather Radar Access
Imagine your job required you to be outdoors no matter what the weather conditions. Then imagine that there is a tornado warning. But unlike being at home where TV or the internet can provide a real-time image of the threatening weather, you are left with few details. This was the situation for the New Berlin Police and Fire Departments whenever they were in their vehicles.

Through the combined efforts of three New Berlin City Departments including Emergency Management, Information Technology, Police and the National Weather Service Milwaukee/Sullivan office, real-time weather radar has now been installed in all of the Police patrol vehicles and the Fire department's command vehicle. Because of the existing hardware and software utilized, this installation and its monthly operating cost does not add an additional burden to the Police or Fire department budgets.
Storm Spotter Training
Over the winter and early spring six Storm Spotter classes were facilitated by New Berlin Emergency Management in cooperation with the National Weather Service Milwaukee/Sullivan office. The goal of these classes is to increase the amount of warning time given to our citizens when severe weather is approaching or impacting the city. This reflects a quarter of the Police Departments' sworn officers all of the fulltime Firefighters, and all Emergency Management staff. This training was combined with a new Emergency Management spotter communications plan to expedite spotter observations and hasten warnings to the public. These classes, communications plan and equipment were provided within the current budgets of all departments involved. It is anticipated that the 2015 budgets would provide resources to allow additional classes for the Police and the part-time Firefighters. The National Weather Service requires all storm spotters be re-certified every three years.
Social Media Enhancement
Numerous studies have identified the tremendous reach of social media and smart phones over the last several years. This technology can instantly provide the latest information on any unfolding event. Therefore, in order for New Berlin Emergency Management to provide our citizens with the most current and factual information to warn and protect them, it requires that they become accustom to frequently seeing that type of information on the city's social media.
In keeping with the City's social media policy, Emergency Management has teamed up with the City Clerk's Office to provide frequent information, tips and links to enhance citizen's knowledge and minimize risks that storms and disasters create.
Elected Officials 101
In early May, a mock EF-3 tornado hit the northeast corner of the city. Its path was almost a mile long and 2000' wide. Thankfully, there was no loss of life with early warnings being credited. But it did damage or destroy over 300 homes and buildings. This is everyone's nightmare, but especially for the elected officials. To help address what the common council's role in this type of disaster is, Emergency Management staff presented an evening class to help walk thru their role and how best to assist their constituents and city departments.
Public Schools StormReady / Emergency Procedures
During the first quarter of 2014 New Berlin Emergency staff visited all schools in the city and met with senior staff regarding severe weather preparedness and sheltering. Numerous recommendations were made to enhance safety both during the school day and afterhours when the buildings are heavily used by outside groups. Emergency Management is attempting to create closer working relationships with senior staff of both the private and public schools in the city.
Damage Assessment Mobile Application
Immediately following a disaster response comes' the recovery. But as we all know, recovery takes a lot of hard work and money. While the city will make a disaster declaration, the determination by the county, state and federal governments as to whether the level of damage warrants a higher level declaration will hinge upon how much damage occurred and if it can be properly documented to the county, state and federal requirements within the first 24-48 hours. Because time and accuracy is so important, New Berlin Emergency Management staff tested an initial developmental version which is being created by the Chicago office of FEMA. Following this testing, a lengthy written review was produced in conjunction with the Waukesha County Emergency Management Staff and sent to FEMA. Once completed, it is anticipated that this App. will greatly enhance the speed, volume and accuracy with which damage assessments can be completed.
Columbia County (GA) Emergency Management Agency
In the past year, Columbia County EMA received a "Presidential Disaster Declaration" for Ice Storm Pax in February 2014, which resulted in 1" of ice accumulation that impacted every citizen in Columbia County by damaging and destroying tens of thousands of trees, causing significant damage to overhead utilities and essentially closing down the entire county due to power outages and driving hazards. The emergency response was exceptional, with 240 county employees from 13 departments working around the clock for several days to assure the safety and protection of our citizens – then, administering a seamless post-disaster recovery mission. The total cost of the disaster for the emergency response and debris removal was $10,135,415.07. Pre-event planning, programs and contracts resulted in Columbia County receiving $9,379,096.57 (or 92%) of the total costs in reimbursement from GEMA and FEMA.

EMA conducted 20 public outreach presentations for 1, 171 people in severe/winter weather preparedness
Conducted "Weatherfest 2014" as part of Severe Weather Preparedness Week, including "Advanced Storm Spotter Training" – (66) attendees – 02/08/14
EMA disseminated all weather alerts from the National Weather Service in Columbia, SC via mass email, Facebook (with 10,600 "friends"), Twitter and County Website Home Page.
Cowley County, KS Emergency Management
In 2013, Cowley County Emergency Management was able to purchase 400 NOAA All-Hazards Weather Radios through a FEMA Mitigation Grant administered by the Kansas Division of Emergency Management, with the local match coming from local businesses who became sponsors. Preparedness seminars were given in each incorporated city and one unincorporated area throughout 2013 and participants received a radio free of charge (one per household). In 2013, we gave away 212 All-Hazards Radios which means there were that many families with new, pre-programmed weather radios in their homes. In 2014, personal preparedness seminars were given and we were able to give away another 120 radios for a total of 332 families with radios. We still have 68 radios to give away in 2015.
Each year, Cowley County Emergency Management hosts "Storm Fury on the Plains", an excellent, interactive program put on by the NWS Office in Wichita, KS. In 2014, we had a total of 204 participants during two separate presentations. Through a partnership with the local movie Theater (Mitchell Theaters) we are able to use their largest theater, free of charge and we are able to run the entire program through their audio/visual system giving participants a much better and more realistic experience.
In 2014, Cowley County Emergency Management applied for a received a grant from the Kansas Pipeline Association to purchase safety vests, mobile radios and anemometers. All are items used by our volunteer storm spotting group called the Cowley County Emergency Auxiliary. The anemometers allow them to obtain specific and measureable weather data in the field and the radios allow them to relay it back quickly. This information is relayed to the NWS Office in Wichita within seconds of the report.
Just a brief note, Cowley County Emergency Management is a semi-rural county with a population of just over 36,000 residents. We were the first county in Wichita's 26-County forecast area (and the second county in the State) to become a Weather Ready Nation Ambassador. In September 2014, we received a Certificate of Achievement from the NWS Wichita Office honoring our 5th renewal as a StormReady County. Our website is: http://www.cowleycounty.org/em and we also just completed a 2014 Annual Report which can be found about halfway down the main page.
DaculaWeather.com
http://www.gwinnettdailypost.com/news/2014/sep/13/dacula-man-keeping-a-weather-eye-out/?community
Dauphin County (PA) Emergency Management
Posting weather warnings and safety tips to our newly created Facebook and Twitter accounts.
Forwarding weather briefings to a county-wide weather distribution list that includes municipalities, schools, businesses, hospitals, dependent care facilities, emergency management coordinators and more.
Public outreach to civic groups to discuss emergency management and weather-related topics.
Give away a NOAA Weather Radio during public outreach events.
Coordinate an annual site visit to NWS-State College for the Emergency Management community.
Annually host SKYWARN talks open to emergency management, emergency services, business and educational partners and the public at large.
Maintain Storm Ready status.
DeSoto County (MS) Emergency Services
Promoting #WRN hashtag on social media.
Working with HumanityRoad to enlarge the #WRN message to include focus efforts using the NOAA special emphasis calendar.
Promoting #WRN on Skywarn networks including the email relector, @VOIPWXnet, etc
Encouraging #Skywarn groups to become Weather Ready Nation ambassadors.
EARS (Emergency Awareness and Readiness Services for the Deaf & Hard of Hearing)
EARS (Emergency Awareness and Readiness Services for the Deaf & Hard of Hearing) is a newly established 501(c)(3) nonprofit organization dedicated to ensuring emergency preparedness training and appropriate early warning equipment is available to benefit the hearing loss community in Tennessee. At the core of the EARS organization is a consortium of representatives from 1) government programs who work in the early warning and response field, 2) Deaf and Hard of Hearing community members, 3) organizations serving this population, 4) first responder agencies, and 5) private sector participants. The National Weather Service has maintained a strong presence since we began in 2009. Through the years, we have:
Provided Storm Spotter training sessions for the hearing loss community, made accessible through the use of ASL interpreters and open captioning, in cooperation with our National Weather Service partner
Distributed accessible weather radios to the hearing loss community, thanks to our NWS representatives and the Metro Nashville Public Health Department
Participated in Severe Weather Awareness Day, hosted by the NWS in Nashville, TN EARS is proud to be a WRN Ambassador and we are so grateful for the support we've received from the National Weather Service.
Eastern Research Group
For the past four years, Eastern Research Group (ERG) has been working with NOAA to help integrate social science into NOAA's information, products, and services at the earliest stages of research and development through the transition to operations that help ensure NOAA's scienceand services best serve the public, policymakers, and the entire weather enterprise. A summary of our projects in 2014 include:
Hazard Simplification Project
Many members of the public don't understand the distinctions among the terms used in the National Weather Service's watch, warning, and advisory products—or their intent. ERG organized 20 focus groups to explore stakeholders' attitudes, understanding, and use of the present system and is now conducting targeted assessments of possible alternatives. ERG also assisted NWS in hosting a town hall on the project at the 2015 American Meteorological Society's Annual Meeting and conducted a survey at the event to gauge attendees' opinions about the current system and possible alternatives.
Storm Surge Marketing Plan and Outreach Materials
ERG worked closely with the National Hurricane Center to test and refine a new, interactive map that shows communities where potential storm surge flooding could occur from a tropical cyclone threatening their area. ERG developed a marketing plan that offered guidance on how to improve the way weather professionals communicate storm surge impacts and outlined key audiences, messages, and strategies for rolling out the map. ERG also produced outreach materials to explain how the storm surge map works, including fact sheets for different practitioners and videos for public audiences.
Hurricane Local Statement Evaluation
This project focused on utilizing social science methods and risk communication expertise to test and make recommendations for improving the Hurricane Local Statement (HLS) issued by local offices of the National Weather Service. The HLS describes expected weather conditions, official evacuation decisions, and protective precautions for hurricane-threatened areas. It is used extensively by the media, emergency management personnel, and citizen groups during tropical storms and hurricanes.
Assessment of Tropical Cyclone Impact Graphics
ERG conducted focus groups to help guide the development of a set of experimental graphics used by local offices of the National Weather Service that depict the multiple hazards of a tropical cyclone. ERG synthesized the input from the testing to develop recommendations for enhancing the graphics.
FAA Enterprise ServicesCenter
At the Enterprise Services Center (ESC) Line of Business (LOB) within the Federal Aviation Administration, the ESC Communications Team sends monthly informational news via email to all the ESC personnel and contract personnel.
Florida International University
Here is a link to a video of The Weather Channel at the FIU Wall of Wind.
http://www.ihrc.fiu.edu/media/latest-media-coverage/wall-of-wind-research-the-weather-channel-friday-june-6th-2014/
Fulton County (OH) EMA
Fulton County EMA takes great pride in being a Weather Ready Nation Ambassador.
In addition to adding this distinction and logo to our county website, we provided insight to our Executive Board and Full Board of Elected Official representatives as to the necessity to be active and involved with this movement.
Fulton County EMA received approval to start a Facebook page in late 2014. Although we are still in the infant stages of our social media outreach goal, we have committed to empower our citizens with a wealth of knowledge, especially regarding weather that can affect their daily lives.
Within a few short months, we have grown to almost 400 likes, with an average reach of over 4,000.
Preparedness, creating emergency kits, giving away weather radios, signing up constituents to the county weather alert system, Facebook posts, and general business and community outreach have increased our following and increased the knowledge of our citizens.
We have committed to continue this effort in 2015 to share this information daily, as ultimately, the benefit of having a knowledgeable county will come right back to us during a weather crisis.
Georgia Farm Bureau
The Georgia Farm Bureau has employed Weather Ready resources, particularly extreme/severe weather tips via proactive VOLO communication email notifications out to our membership that warn residents of the state of Georgia of inclement weather and what to do in preparation and following should a weather related loss occur. We've received lots of great feedback from our members as to how these notifications aid in being prepared for inclement weather and the educational resources made available in preventing weather related losses.
Halo Smart Labs
Halo Smart Labs (formerly White Stagg, LLC) is contributing to making our country ready, responsive, and resilient to extreme weather, water, and climate events. We are grateful and excited to be a part of making this a Weather Ready Nation! Here is a sampling of our accomplishments from this past year:
Halo Smart Labs (formerly White Stagg, LLC), will soon be releasing our patented Halo WX Smart Smoke Alarm. An industry first combination of sensor technology for flash fires, smoldering fires and carbon monoxide in a single device. And, Halo is the ONLY smoke alarm equipped with a weather radio capable of broadcasting location specific weather alerts such as tornado warnings.
We (as White Stagg, LLC) were honored to be invited to and attend the White House in September 2014 on behalf of NOAA. We participated as cutting edge technology thought leaders in the first White House Innovation for Disaster Response and Recovery Demo Day.
A March 12, 2015 article in Charlotte Business Journal highlighted the founders, Ben Stagg and Chad White, and their life saving device, the Halo+ smoke alarm
Hickman County Emergency Management
All our agency had was a Facebook page with just over 200 likes when I started. Now, through pushing out weather ready information such as NWS Briefings, Weather Event Timings, Radar Images, etc., we have grown to just under 2,000 likes and created our own Twitter feed. We have also built a stronger relationship with our regional NWS out of Nashville as well as our local storm spotters through our social media program. We have also been able to reach out with video, photos, and other weather posts to over 5,000 people in a short amount of time. In a rural community such as ours, that is saying something. We are very proud of our relationship with the National Weather Service or for being a Weather Ready Nation Ambassador.
HOPE K-9 TEAMS Animal Assisted Crisis Response
This thank you is for Mr. Tom Frieders, Warning Coordination Meteorologist, National Weather Service, Billings,MT ! Tom help me with WRN Ambassadors program and also set me up with special APS for weather updates in United States.
The reasons why this is so important and over two hundred members of a non-profit organization I am a member of use it 24/7 because are members of HOPE K-9 Teams (www.hopeaacr.org) are used nationwide for crisis work!
We do not self deploy, we are insured and certified. Most of our requests come from police, fire, schools, hospitals, Red Cross, FEMA and other agencies.
Hopkins Public Schools (MN)
Our school district worked to meet the National Weather Service standards of being a StormReady school district. Also, taking the charge of the Weather Ready Nation, we have had the awesome opportunity to work with most of the Minneapolis and St. Paul metro area school districts and the National Weather Service to assist us in our decisions related to school closings, transportation, and informing our learning communities of weather conditions as students leave their homes into our schools.
This collaboration has been successful in keeping schools open, rather than closing based on lack of analysis of available and accurate weather data. The National Weather Service products, especially the Hourly Weather Graph, is key in our decision-making. This graph has given us the snow, temperature, and wind chill conditions to make better decisions in our morning school openings and transportation. The National Weather Service has also offered webinars for schools and Superintendents throughout the year when weather conditions are extreme, providing us with a more accurate picture of current and future conditions. With the help of Twin Cities (Chanhassen)National Weather Service Chief Meteorologist, Mr. Daniel Luna, who reached out to school districts , we are able to access the necessary and accurate data for us to keep informed about the decisions we make for children's safety to and from school.
We are currently in the process of working with the National Weather Service to "lift the products off" of the NWS weather website and provide a website that provides the Superintendent and school officials with a "one click" look at current and future weather conditions and extremes. We are working currently to try and make this available to all school districts in the State of Minnesota. Our collaboration with the National Weather Service has provided us with the data to ensure all students have safe access to their education on an everyday basis.
Huntington North High School / Science Department (IN)
I teach a college level Meteorology class to high school students. Through this course, I have been able to ignite students' curiosity with information from WRN and encourage many students to pursue a career in Meteorology! Also, my students are sharing the WRN information with their families and friends! This has created an ever broadening group of people who are developing an interest in being aware of and being prepared for weather related disasters.
Indiana University Bloomington
Blog Posts:
Insurance Institute for Business & Home Safety
IBHS encourages disaster preparedness and recovery guidance to home and business owners.
iWeatherNet.com
iWeatherNet.com is owned and operated by Chris Robbins, a professional meteorologist in North Texas. iWeatherNet strives to create educational and seasonally relevant content to raise public awareness of all high-impact weather events. This past winter, I devoted a significant amount of time building content for winter-weather preparedness, especially for those in the South who were caught off guard during the now-infamous "snow jam '14".
Here are just a few relevant Weather-Ready Nation pages on iWeatherNet:
Jefferson County (IL) Emergency Management Agency
We have a link to WRN on our website https://jcema.mvn.net as well as a preparedness tips.
Kansas State University
On Thursday, February 6th, 2015, Mary Knapp a climatologist at the Kansas Mesonet/Weather Data Library, presented a Kansas Weather seminar. The focus of the seminar was to teach international students about typical weather expected in the state. This program is meant to educate these students who aren't aware of Kansas's climate, its ever changing weather, the associated dangers, as well as how to prepare for them. They are taught on what severe thunderstorms in the spring can bring and how to take proper precautions to avoid harm. Another focus of the seminar is how to prepare for the extreme cold and heat that impacts the state throughout the year. As part of the Weather-Ready Nation Ambassador program, this is one of the regular programs presented by staff of the Kansas Mesonet. Over the last several years, hundreds of students have been participated in this program.
Kentucky Mountains Amateur Radio Club
Kentucky Mountains Amateur Radio Club recently became a Weather-Ready Nation Ambassador and operated Ham Radios at recent Skywarn Recognition Day on Dec 6th at the Jackson National Weather Service Office in Jackson, KY.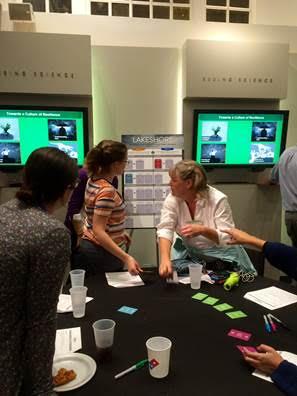 Koshland Science Museum
In 2015, the Koshland Science Museum's Extreme Event Game was awarded the Gold Medal in the museums category at the International Serious Play Awards and was played at the Points of Light Conference on Volunteering and Service. Extreme Event is a fun role-playing game that gives participants a taste of what it takes to build community resilience in the face of disaster. Players work together to make decisions and solve problems during an engaging, fast-paced disaster simulation. The best part about Extreme Event is that anyone can host their own game! You will find all of the necessary resources free for download on the KSM website. In August, the latest module of the game was launched; Extreme Event: River City and an additional module on earthquakes will be released in August 2016.
LaSalle County (IL) Emergency Management Agency
We have reached out to every long term care facility, licensed day care centers and homes, and all schools within the county to provide them with an all hazards NOAA Weather Alert radio.
We are working through some bugs on uploading weather related preparedness topics to the county employee's online training system.
We are presenting Storm Ready Schools program to all of the principals in the county.
We have an RSS feed on our Facebook and Twitter pages for pushing out severe weather alerts.
We repost (share) NWS infographics on Facebook.
Lightning Protection Institute (LPI)
Here are some ways we are working as Ambassadors to help build a weather-ready nation:
Sharing Lightning Tips/Facts & Dispelling Myths via Infographic:
http://www.lightning.org/wp-content/uploads/2014/06/LSAW-Infographic.jpg
Creating Partnership Videos (example "Building Lightning Safe Communities" video):
http://lightning.org/learn-more/watch-learn/#video-2
Press Release to Share Weather Ready Success Stories re: Lightning Safety Efforts:
http://www.marketwatch.com/story/non-profits-share-top-five-lightning-protection-and-lightning-safety-awareness-success-stories-of-2013-2014-01-09
Linking info About NOAA/NWS Lightning Safety Efforts on Websites:
http://lightning.org/about-lpi/partnerships/

http://www.lightning-risk.org/design-professionals.htm
Blogs about weather preparedness and partnerships:
http://lightning.org/september-is-national-preparedness-month-and-time-to-get-storm-smart-about-lightning/
http://lightning.org/partners-are-building-lightning-safe-communities-to-promote-protection-for-people-and-property/
Manatee (FL) Chamber of Commerce
We have recently launched a year-long "Get Prepared" education campaign through our communications outlets (monthly magazine, email newsletters, social media and general public press releases). Attached is our first spread in our monthly magazine, the Current, that will be mailed to 3,000 Manatee Chamber business members. Every two weeks, we will be sending information to our business members and the general public to inform and educate about getting prepared for all hazards and critical incidents.
Midland Radio
Midland gave each of their employees an ER300 emergency crank weather alert radio and highlighted the importance of preparedness at a company-wide meeting.
Midwest Storm Chasers
Reading the topics submitted to us from the WRN Staff (Personal Education)
We then take your Topics and Post them to our Face Book Weather Page: http://www.facebook.com/MidwestStormChasers
Once posted on Facebook, we "Highlight" the topic and "Pin it to the top" This way anyone visiting the site will see the given article.
Once posted on Facebook Site, we are able to share/tag to other members of the weather site, thus folks following a given person will see this.
WRN topics are also posted on local Law Enforcement Sites/ Real Life Groups that any of us may be a part of which assists in spreading the information.
MidWest Severe Storm Tracking/Response Center, Inc.: MidWest Disaster Assessment Team
It continues to be an honor to be a Weather Ready Nation Ambassador participant. In conjunction with the NWS/MKX, County and Local agencies we look forward to presenting NWS Severe Storm/Spotter classes for 2016 in our AOR here in southern Wisconsin. (we have added the WRN logo in our Dark Skies web site – see the about section, and are in process of adding the WRN logo to our MidWest web page also; waiting for our web master to catch up). With the MidWest Severe Storm Tracking/Response Center, the MidWest Disaster Assessment Team, as a Weather Ready Nation Ambassador we continue to increase our Community Outreach Programs as we assist the private and public sectors on preparedness and response to natural disasters and that of severe weather in general. MidWest Severe Storm Tracking/Response Center (501c3) is hosting the second annual Dark Sky Severe Weather Seminar, April 16, 2016. The seminar once again will be held at Madison College, Truax Campus, Madison WI. The severe weather participants include, Dane County Emergency Management, National Weather Service, Madison College, University of Wisconsin, Wisconsin Civil Air Patrol, American Red Cross, FEMA and many more. More information of MidWest SSTRC can be found at https://midwestdarkskies.wix.com/midwest-dark-skies – our Face Book page; MidWest SSTRC, our Face Book page for the Dark Sky seminar; Midwest Dark Sky, or our Dark Sky Web page; https://midwestdarkskies.wix.com/midwest-dark-skies.
Moore Norman (OK) Technology Center
We share severe weather announcements and family emergency planning with staff and Career Technology Centers around the state of Oklahoma.
Motorola Solutions
We are Motorola Solutions and we have Talkabout two-way radios that are being used as powerful emergency preparedness tool. We are using referring to NOAA many times on our Facebook page and also telling people how our radios can come handy in emergency situations. Please have a look at: http://www.facebook.com/MotorolaTalkaboutWalkieTalkies
National Hydrologic Warning Council
The National Hydrologic Warning Council holds local, regional, and national workshops promoting hydrologic warning best practices and emergency preparedness to become a more Weather-Ready Nation. (www.hydrologicwarning.org)
National Weather Association
The NWA has been sharing WRN messages through our Newsletter, on our social media sites and webpage. We include a WRN item just about every month in the Newsletter. Awareness weeks are highlighted, and links to help members share the message are included. NWA participated in a preparedness tweetchat with NWS and FEMA back in Sept. 2014.
Norman Regional Health System
Norman Regional knows first hand the devastating effects of severe weather, having been struck by an EF-5 tornado in May, 2013.
Oakland County Homeland Security Division
Oakland County Homeland Security Division has been pro-active in preparedness and reaching out to citizens to be ready for the unthinkable. Our staff is thoroughly committed in doing whatever it takes to help others in our County. However, was our staff's family ready at home so they could come into work to help others? We requested a donation of WR-120 radios from Midland Radio Corporation, which they gladly provided, to be distributed for their families to be more prepared at home. We also promoted a new "fill in the blank" Emergency Plan Campaign that ran from September 1-October 20, 2015, which is continually being used on our website. Overall, the Emergency Plan web page http://www.oakgov.com/homelandsecurity/Pages/Your-Emergency-Plan.aspx received 623 Page views, and 329 Sessions; meaning 623 went to that site and 329 were engaged in the form, PDF download, or other link. The social media posts and blog could have been seen by up to 21,000 people, and that 217 of these people actually engaged (commented, liked, shared, retweeted, etc.) on the post, and 81 people followed the link back to your site and the form. Our press release was sent to 5,090 people on GovDelivery, and was opened 1,185 times, and 254 people followed the link back to site and form. The Emergency Plan Banner was on OakGov.com from September 1-October 20. The OakGov.com homepage received 1.35 Million page views in that time period with 514,819 sessions; meaning that your Banner could have been seen by over a million people form our website alone. I think we had great success that provided our citizens with a tool they could use to get prepared and be part of the 'Weather-Ready Nation'.
Oakland County (MI) Homeland Security Division
Under the direction of Oakland County Executive, L. Brooks Patterson, and Oakland County Homeland Security is preparing for Severe Weather Awareness Week. There will be over 1,500 mailings that will go to schools, police and fire depts., hospitals, libraries, nursing homes, mobile home parks, businesses, etc. to encourage the citizens to prepared for severe weather events. Oakland County is dedicated to educate the public about severe weather by having multiple brochures available (no-cost) for them to distribute. We are also conducting a "special" siren test on Wednesday, April 15 at 1:00PM. The purpose of this test is to raise the awareness level of our citizens and offer schools and businesses an opportunity to test their internal disaster plans during normal business hours.
Oklahoma State Department of Health
The Oklahoma State Department of Health, Emergency Preparedness and Response Service uses information sent out by the Weather-Ready nation by sharing with our staff along with coordinating our lobby preparedness table with this information for citizens to see as they enter the building. We also share this information on our Facebook and Twitter accounts.
Pacific Gas and Electric Company (PG&E)
When strong weather systems bring heavy rains and gusty winds to Pacific Gas and Electric Company's (PG&E) service area in Northern and Central California, the utility activates its emergency response plan and reminds its customers to plan ahead as well for safety.
To prepare for such storms and minimize power outages, PG&E does extensive preventive maintenance and has a year-round vegetation management program. Each year, the utility inspects every mile of electric line in its service area — more than 140,000 miles total — and spends more than $180 million to help reduce tree-related outages and hazards during storms. And PG&E plans ahead by making sure it has the proper equipment and crews positioned in the right places before the storm arrives. The company's in-house meteorologists provide detailed, geographic-specific forecasts that the company uses to pre-deploy employees and resources in areas that are expected to be heavily impacted.
When power outages occur, PG&E employees remain focused on ensuring public safety, getting communities back on their feet as soon as possible, and providing customers with timely and accurate information. The company has integrated a wide-range of smart grid technology that strengthens the reliability of the electric system and helps identify and restore power outages more quickly.
During outages, PG&E communicates with customers regularly and through many channels about when power is expected to be restored. Customers can call the 24-hour Outage Service Line at 1-800-743-5002 to report an outage, to report a hazardous condition or to get the latest information on outages in their community. Outage information is also available online through a live outage map and storm guide at www.pge.com/outages.
In November 2014, PG&E became a National Oceanic and Atmospheric Administration (NOAA) Weather Ready Nation Ambassador. This initiative is an effort to formally recognize NOAA partners who are improving the nation's readiness against extreme weather, water, and climate events. As a Weather Ready Nation Ambassador, PG&E is committed to work with NOAA and other Ambassadors to strengthen the public's safety and national resilience against extreme weather.
PG&E offers some specific storm safety tips on its website, including:
If you see a downed power line, assume it is energized and very dangerous. Do not touch or try to move it — and keep children and animals away.
Report downed power lines immediately by calling 911 and PG&E at 1-800-743-5002.
In addition, PG&E crews have responded to three major wildfires in Northern and Central California that have burned tens of thousands of acres. Employees at incident command centers near the fires and at PG&E's Emergency Operations Center in San Francisco are helping coordinate the company's response, which has been focused primarily on ensuring the safety of the public, first responders and PG&E employees.
PG&E is working closely with first responders, and is coordinating with the American Red Cross to support local evacuation centers for residents and animals. PG&E donated $250,000 to the Red Cross. PG&E also has donated water to evacuation centers and loaned one of its emergency response mobile command vehicles to the local chapter of the American Red Cross.
PG&E is working with the Red Cross and other agencies to assess needed support at local evacuation centers for residents and animals. PG&E has a state-of-the-art exportable power truck provide charging stations for anyone displaced by the fires. The charging stations provide power for anyone wanting to power personal electronic devices, including phones, laptops and tables. PG&E also was using exportable power vehicles to help light efforts under way at the evacuation center so that food service and other important activities can be well-lit while customers seek needed support.
Pennsylvania Emergency Management Agency (PEMA)
The Pennsylvania Emergency Management Agency (PEMA) was given an opportunity to develop a PSA to be distributed by the Pennsylvania Association for Broadcasters (PAB). PEMA Director Rick Flinn taped a 30second television and radio spot promoting the "Turn Around, Don't Drown" flood safety message to run during Pennsylvania Flood Safety Awareness Week from March 21-25, 2016. The ad aired on dozens of radio and television stations across Pennsylvania.
Polk County (FL) Emergency Management
Polk County TV (central Florida) created a 7 minute video on Storm Ready and WRN Ambassadors that will air on cable repeatedly through the Spring. The link is http://youtu.be/q9aBUbJ-EZQ
Property Casualty Insurers Association of America
This association created a video to stress the need for emergency preparedness.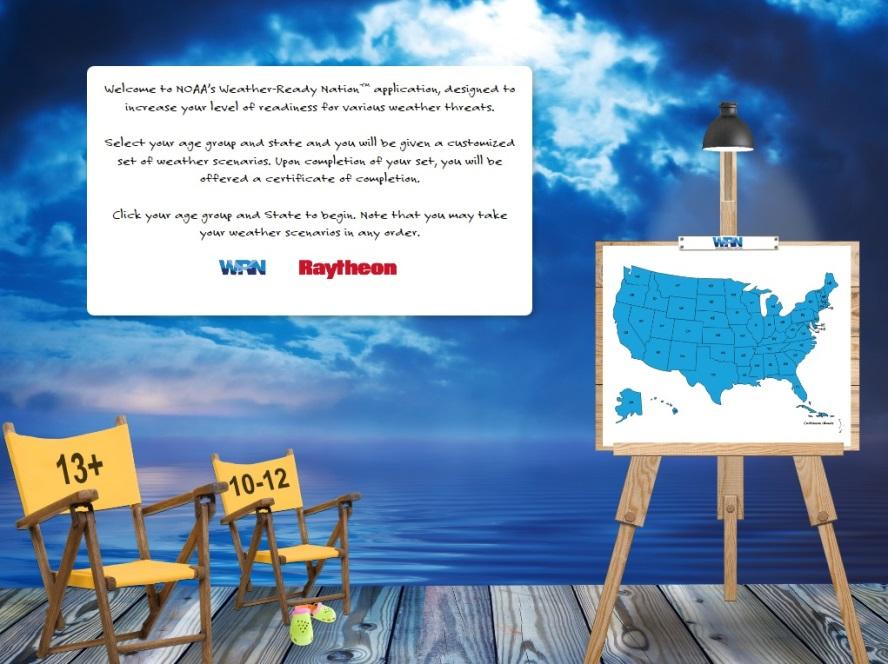 Raytheon Corporation

"Storm School for Everyone"

Raytheon Company wants everyone in the United States to know what the top priorities are before, during and after extreme weather. That's the purpose of the Raytheon-developed Weather-Ready Nation training now available online: http://www.raytheon.com/news/feature/weather-ready.html. The training was developed in coordination with NOAA and are hosted online by fellow WRN Ambassador, University Corporation for Atmospheric Research (UCAR). The first-of-its-kind training modules are short, interactive video vignettes that cover eight different scenarios. In the first month online, the modules were viewed thousands of times and shared across Raytheon's social media presences.
Ripley County Indiana Emergency Management Agency
Display "WRN Logo" on our webpage & social media pages (facebook & twitter).
Started RCEMA Weather Station (Davis-WeatherLink-Vantage Pro 2); registered in the CWOP, station EW4661 / E4661.
"Sharing" of most social media info from NWS Wilmington, OH.; our supporting NWS office.
Postings and training briefings of weather and environmental educational information from the full suite of NOAA, NWS webpage's and their social media pages.
Please "check-out" our county webpage (four main NOAA/NWS links) and our social media pages for many examples of the above information: www.ripleycounty.com/ema
Robin Storm SIT
We continue to promote severe weather safety for the functional disabled. We do this through several avenues including making sure those in coastal areas receive the NOAA Severe Weather Guides, discuss weather safety through webinars, Facebook, Twitter, LinkedIn and even writhing Guest OpEds promoting both updated building codes and code enforcement making for safer building construction. We wish the best for all WFOs and WRN Ambassadors for a safe 2016 season.
Robin Storm In Search of Severe Weather
Our focus has been on the functional disabled and bridging weather alerting data and disaster preparedness information, such as the NOAA Extreme Weather Guides so that those who are handicapped have as much information as necessary and at their fingertips as to help them plan in advance for extreme weather and other natural disasters. One of the organization introduced to NWS was The Portlight Organization, http://www.portlight.org/.
Rolling V Bus Corp
Rolling V Bus Corp has created an Emergency Response Plan (ERP). The plan when executed will result in Rapid Manning and Deployment of Buses for evacuations, and any other needs in an emergency.
Shade Tree Meteorology
We at Shade Tree Meteorology are excited to report on some of the initiatives we have taken since becoming ambassadors in the Weather Ready Nation program. We are a small firm located in upstate New York which specializes in weather-event reconstruction for cases in litigation.
Briefly, here are some highlights of the actions we have taken thus far (details are provided in the presentation. Our approach is three-fold as we try to reach all of those individuals within our sphere of influence:
1. Our families:
Provide age-appropriate weather information related to current hazards
Provide family members with appropriate hazard responses
Check in on family members who are expecting inclement weather to make sure they have taken appropriate actions
2. Our clients:
Added WRN Ambassador logo to our web page, which links directly to WRN website
Added the designation of 'WRN Ambassador' to our signature block which is included in all outgoing e-mails. Clicking on the link directs one directly to the WRN website
Publish a quarterly newsletter, a part of which will highlight the resources which are available on the WRN website. Another section of the newsletter will focus on preparedness actions that can be taken for upcoming seasonal hazards (e.g. winter weather safety is covered in our fall issue, etc.)
Link to NWS weather information on current hazards on our company Facebook page as needed (most of our clients are in the northeast, so we focus on that area)
3. Our communities
Outreach talks on weather/weather safety and preparedness as requested
Siouxland Severe Weather Network
Siouxland Severe Weather Network has made numerous contributions to our area. To keep it short and sweet, We provide a centralized, interactive resource for our surrounding communities to provide live and current weather observations to better prepare residents of impacting weather. Over 11,500 members in our area can volunteer their own reports and explain what they are observing during severe weather to others! We have provided a website with important weather links for area residents to use. Also we utilize a touch-to-talk reporting channel called "Siouxland Severe Weather" so people can get weather updates over their hand-held device in real-time over the speakers of their phone. We are extremely active on severe weather days in our area and many people rely on our services for instant weather updates and reports.
Tuscarawas Weather Network
Teamed up with our local CVB to provide NOAA Weather Radios to every member of our area lodging organization. Together, we installed a programmed weather radio at the front desk of all our county hotels and motels so guests can be informed when severe weather threatens.
Link to the story:
http://tuscweather.net/news/2014/06/tuscarawas-county-lodging-association-issued-free-weather-radios/
Vaisala
Accurate meteorological observation systems, such as Vaisala's weather radars, sounding systems, automatic weather stations and lightning detection systems make it possible to generate early warnings, which help mitigate the impacts of extreme weather events.
Vestavia Hills City Schools (AL)
I represent Vestavia Hills City Schools in Vestavia Hills, Alabama, which is located in the greater Birmingham area. We were invited by our local weather service office in December to become Weather-Ready Nation Ambassadors. Considering the significant impact that weather takes on our city and school system each year—particularly in light of last January's snowstorm that stranded many of our students at school—we felt it imperative to do everything we could to strengthen our weather readiness and educate our community on best practices to prepare for the next big weather event.
We became the first school system in the state of Alabama to join the WRN Ambassador program, and we use this partnership to provide our students, employees, and community with a new level of weather education resources that we did not previously have. The resources provided to us through the WRN Ambassador Program have already benefited us this year as we experienced an unexpected arctic blast just a couple of weeks ago. For the first time, we had materials and guidance prepared by weather experts to help our families prepare for the cold and to help us make the most informed weather decisions we could possibly make. Parents of our students are letting us know that they appreciate our renewed commitment to weather preparedness. We could not have accomplished this without NOAA's WRN Ambassador Program and the support of our local National Weather Service.
Wake NC State University STEM Early College High School
Wake NCSU STEM Early College High School is planning on having SKYWARN training for all 9th graders at the school. This will be the 3rd year in a row the NWS office in Raleigh will train students to become weather ready. No date for this year has been set yet.
Walton Electric Membership Corporation
http://www.waltonemc.com/index.php/news/realite-newsletter/prepare-now-for-icy-weather

http://www.waltonemc.com/index.php/news/realite-newsletter/walton-emc-designated-weather-ready-nation-ambassador
Ward County (ND)
Ward County Emergency Management posts on their group in Facebook! Our group continues to grow and as of now we have over 700 people in our group that receives the messages!
The Weather Companies
Weather in 2040:
In partnership with AMS, The Weather Channel held a school assembly to discuss climate change and what the weather might be like in the year 2040.
Event - Meteorologist Mark Elliot discussed the science behind climate change and things we can do to mitigate.
Poster Contest - winning students were awarded Red Cross radios and flashlights, and one grand prize​​ winning school received their own personal weather station.
Video - Interviews were conducted with some of the children at the school about what they think about the future of weather. A video was produced which was shared at the keynote session of the 2015 AMS Conference.
Weather Outlook Email Newsletter: We would like to introduce Weather-Ready Nation Ambassadors to Weather Outlook, a regular communication offering valuable insight into weather's implications on your operations. They realize how impactful their weather data is to your business and that having a severe weather strategy is critical to your success. Along with The Weather Channel's team of renowned meteorologists and business experts, Weather Outlook will provide you with timely, relevant data and insider knowledge to reinforce your business objectives. Please click here to sign up!
Weathercall
Posting of WRN information on WeatherCall company website.
Promotion of WRN program during interactions with clients
Give a 5% discount on annual WeatherCall Enterprise service costs to any organization that has StormReady recognition, e.g., Jackson County, KS
Participate in WRN educational events (http://www.weathercallservices.com/blog)
West Virginia Eastern Panhandle Weather
In June of 2012 a damaging derecho struck the Eastern Panhandle of West Virginia. After seeing many reports of residents not knowing the derecho was coming I decided to start WV Eastern Panhandle Weather on Facebook. Shortly thereafter I created www.wvepw.com to further educate the Eastern Panhandle residents. I had a custom widget written that only shows watches/warnings/advisories/special weather statements for only our 10 counties. We also have a radar widget and we stream one of the local NOAA weather radio transmissions for the panhandle live on the website. During Super storm Sandy we had a 'total reach' on our Facebook page of over 200,000 people. During the height of the snow storm on Jan 23-24, 2016 we had a 'total reach' on the Facebook page of almost 700,000 people. Residents of the Eastern Panhandle sometimes feel that they are ignored by the TV weather coverage on the Washington/Baltimore TV stations and that they don't really have a good source of weather information. WVEPW plays a pivotal role in educating the local residents at potential storm impacts and educating those same residents on weather safety and best practices when preparing for severe weather. Becoming a WRN Ambassador shows our commitment to community, life and property. We're a force of nature!
West Virginia Weather Authority
West Virginia Weather Authority has been here since the start. And have had a great response to our social media outreach. We had a name change to attract more people and that has worked well and our followers are now around 1,300 on Facebook and near 700 on twitter. We post WRN at least twice a day and weekly and monthly WRN recommended posts. And of course more often when weather events are forecast to affect our area and post increase the closer the event gets to our area.
Thank you to all of our great Weather-Ready Nation Ambassadors! Your work is helping to build a weather-ready nation.
About Weather-Ready Nation Ambassadors
The Weather-Ready Nation Ambassador™ initiative is the National Oceanic and Atmospheric Administration's (NOAA) effort to formally recognize NOAA partners who are improving the nation's readiness, responsiveness, and overall resilience against extreme weather, water, and climate events.
Know a Weather-Ready Nation Ambassador doing something great? Email us and let us know.