Date Posted: April 26, 2012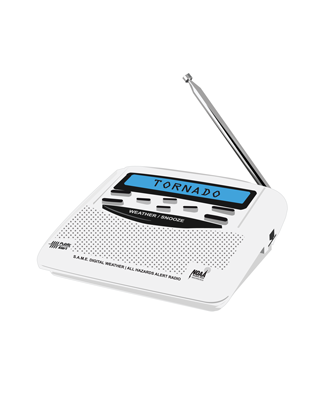 A NOAA Weather Radio, or NWR, is more than just a radio. It's a life-saver – broadcasting continuous weather information directly from the nearest NOAA National Weather Service office across a nationwide network of radio stations.
87-year-old Wilma Nelson of Woodward, Okla., recently experienced the power of a NOAA Weather Radio when a devastating tornado struck her town of 12,000.
"I thought, 'I'd better get out of here,'" she told CBS News, saying that when her NOAA Weather Radio woke her up, she moved quickly into a closet that she had "all prepared" in advance. Nelson's granddaughter-in-law, Janelle Semmel, said that the advance outlooks and warnings issued by the National Weather Service saved lives. "We took it very seriously, because of the buildup that they had been talking about all week of the chances of storms that we had here," she said.
If you live in an area that experiences tornadoes, hurricanes, wildfires, or other severe weather, strongly consider buying a weather radio. It doesn't have to be fancy or expensive, but the one chosen should be able to give you all the information you need in the way you need it. Your local Weather Forecast Office can provide assistance programming your radio.
NOAA Weather Radios also can be made accessible to people who are hearing impaired. In some situations, it can be connected to an existing alerting system in a deaf or hard of hearing person's home. For example, if a deaf person has a flashing light alert system connected to a doorbell or other sensor, the radio may also have the capability to be connected to that system. The same may be true with pillows that vibrate or beds that shake. Some come with an LCD display, warning lights, or simple texts that make alerts visible to deaf or hard of hearing people.
Soon the wireless cell phone industry will provide free emergency alerts to mobile devices. Wireless Emergency Alerts messages are text-like alerts that will better equip the public with emergency information including NWS watches and warnings.
When the National Weather Service issues a warning, numerous alert systems are triggered, including NOAA Weather Radio, media outlets, internet and wireless-based services and sirens, which are owned and operated by local officials. It's best to use multiple sources to find out about severe weather. If you're in the know, you can be a force of nature poised to take life-saving action.
For more information on how you can participate this week and increase both your and your community's preparedness check out www.ready.gov/severeweather. A digital toolkit for the week is available here.