Earlier this year the National Weather Service bid farewell to its long-time leader, Louis W. Uccellini, who retired after a storied career in meteorology. Uccellini guided the agency through organizational change and positioned its workforce for future success. And by his side for the past 5 years ensuring that it all came together has been the agency's deputy director, Mary Erickson. In this interview, we talk with her about this small government agency with a big mission.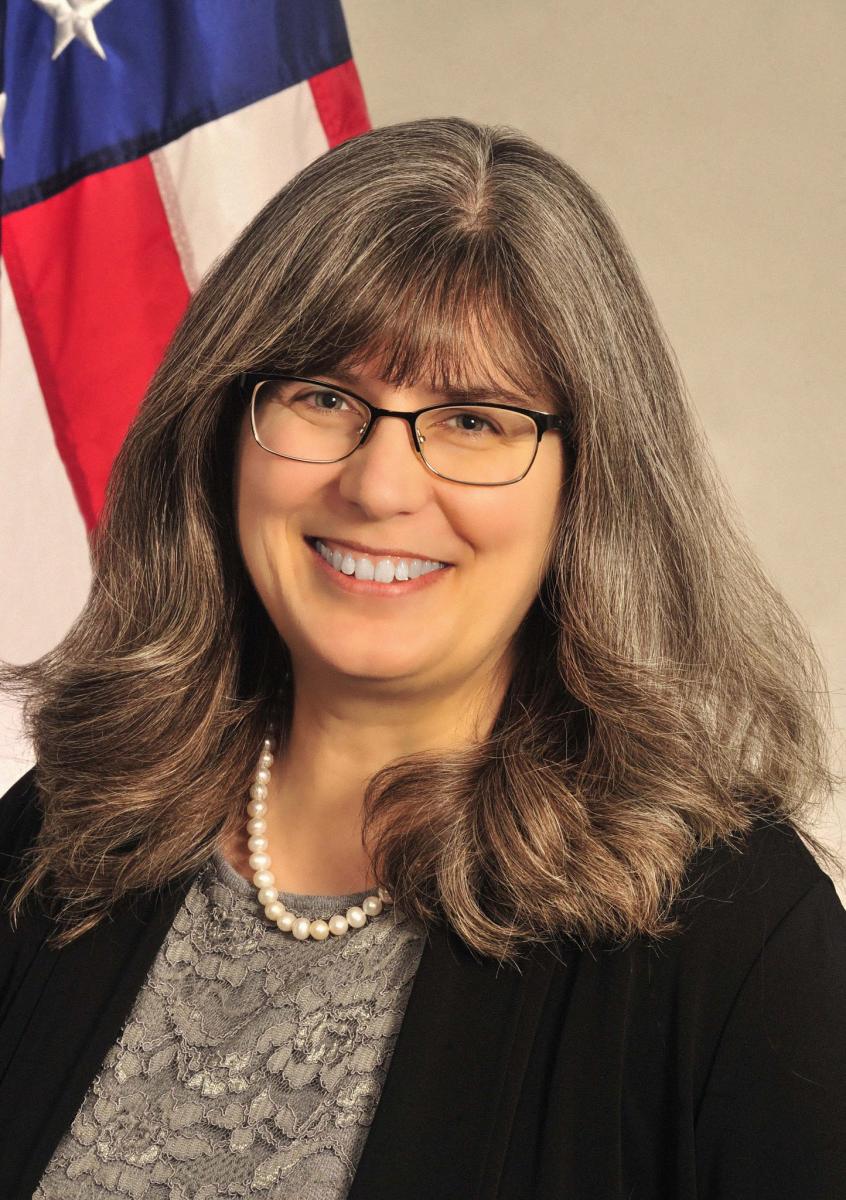 The National Weather Service has experienced monumental change in the face of increasingly extreme weather events in the past two years. We've seen a record number of billion dollar disasters and two of the most active hurricane seasons on record. The National Weather Service responded by adding stronger warning language to weather forecasts, improved decision support services to public safety officials, and boosted your models and supercomputers. What's left to do?
These advancements have made the National Weather Service stronger and better equipped to meet its public safety mission. Every experience serves as a lesson learned and fuels our continued drive to innovate. Several initiatives on the horizon will further our science and service capabilities:
A high priority is transforming our service delivery. Last year we conducted an equity assessment, aligned with President Biden's Executive Order 13985. We asked the hard questions: Are our products and services making their way to everyone in the United States? Are vulnerable populations benefiting from the services we provide, and if not - how must we improve? Our research indicated that we still have work to do to make our services equitable and accessible to everyone. We are developing a service equity action plan, which leans heavily on social science, involves new products, and requires new forms of staff training.

We're also laying the groundwork for future forecast improvements. This summer, new supercomputers will provide greater computing power to support planned model upgrades and more sophisticated earth observations. And NOAA just launched a new geostationary weather satellite called GOES-T, which will track destructive wildfires, lightning, Pacific Ocean-based storms, dense fog, and other hazards that threaten the U.S. West Coast, Hawaii and Alaska. It will also monitor solar activity and space weather to provide early warnings of disruptions to power grids, communications, and navigation systems.

Tackling climate change is a top priority for the Biden Administration and NOAA leadership. One goal is to improve community resilience to the impacts of climate change. NOAA is preparing to launch a new Climate-Ready Nation initiative, and with our long record of service delivery at the national, regional and local level, the National Weather Service will be a key Climate Services outlet and contributor to this effort.
You've blazed a career path to the top of a traditionally male-dominated field. What roadblocks for women still exist in STEM careers, and how are you working to break down those barriers?
I've mentored young women scientists along my path to the Senior Executive Service, to ensure that the ladder rungs are secure for the women coming up behind me. Part of what drives my passion in this area is the knowledge that diverse teams – which includes gender diversity – excel at far greater rates of success than homogenous teams. Women are a valuable and integral part of the National Weather Service family, and we are making tremendous contributions across atmospheric sciences and in adjacent STEM fields that support NOAA's growth and success.
I championed an effort led by women leaders in the National Weather Service to identify ways in which we can improve the recruitment, retention and inclusion of women into our workforce. Our first step was to listen and learn so we could better understand where our organization falls short of providing an inclusive environment. The group identified a number of steps we can take, such as increased scheduling flexibility and job sharing. They also recommended we conduct "stay interviews" to better understand barriers so we can overcome them. We quickly developed an action plan for these changes and are in the process of implementing them. Also, NOAA is actively addressing barriers through programs and increased accountability on confronting sexual harrassment.
George Floyd's senseless murder was a national catalyst for change, including a renewed focus on diversity, equity, inclusion and accessibility across socially aware organizations. How has this national movement influenced organizational culture at the National Weather Service?
We're taking action to ensure that the National Weather Service is a diverse, equitable, inclusive, and accessible place to work, and that all of our employees feel safe and supported. Unequivocally.
National Weather Service employees are part of the fabric of every American community, and we were deeply affected by George Floyd's death and the national events that followed. To begin healing from this trauma, last summer we started a nationwide conversation on race and diversity through a program we called "Can We Talk?" which brought together people of all backgrounds to discuss diversity and race.
We followed these conversations with an organization-wide tiger team to examine how to improve diversity and to better understand the challenges that Black and Indigenous People of Color experience within our organization.Tiger team members were unflinching in their analysis and recommendations and spoke their truth with courageous honesty.
Inspired by team recommendations, we developed an action plan which is currently being rolled out. As an exciting first step, we issued agency-wide guidance on creating diverse hiring panels to improve the quality of hiring decisions and reduce bias in the hiring process. For all NWS job interviews, we require that at least one question posed to applicants be focused on diversity and inclusion, and all supervisory performance plans reflect accountability for fostering an inclusive workplace where diversity and individual differences are valued and leveraged to achieve organizational goals.
Extreme weather is undeniably on the rise. The U.S. Weather Industry is experiencing historic expansion. With these external pressures and demands, how is the National Weather Service rising to meet the challenge?
We stay focused on our core mission of providing the United States with reliable and accurate weather forecasts and decision support services, even as we continue to transform the way people receive, understand and act on the information. Advancements we're working on today through continual investment in our people, technology and partnerships, will ensure that we can meet the moment over time and as societal needs grow and change. Extreme weather in a changing climate is creating new societal challenges, and we recognize partnerships as our most valuable tool to drive toward new science, and to transform our capabilities and services for a more informed and safer country.
What is the taxpayer return on investment in the National Weather Service?
Americans fund the National Weather Service at about three dollars per person per year. In return, we deliver advanced knowledge of hazardous weather so people can plan for it and remain safe. We also deliver year-round weather, water and climate forecasts, outlooks, and scientific data to inform business planning and operations to support the U.S. economy. We provide this service 24 hours a day, 7 days a week, in every county throughout the nation. The decision support we provide to public safety officials helps them make the difficult calls sooner and more efficiently. The National Weather Service also enables the growth and success of the entire U.S. Weather Industry – from your favorite forecast app to your favorite TV meteorologist – the foundation of weather and climate forecasting in the U.S. begins with the public's investment in science, technology, and research at NOAA.
Yet, the United States experienced 20 billion-dollar weather and climate disasters in 2021 that killed 688 people. The staggering cost of these disasters was more than $145 billion in total damages. We still have a lot of work to do, which is why continuing to prioritize transitioning innovation in the science of forecasting into our operations is critical to the nation's safety and economic security.
What is the future of the National Weather Service? What will its products, services, and workforce look like in 10 years?
We are building a workforce that reflects the communities we serve, is interdisciplinary to meet a broad array of weather, water and climate challenges, and remains rooted in public service. Over the next decade we will lean forward to ensure we are known as a science-based service agency with a people-centered approach. We know there are gaps today in ensuring our services are equitably available and usable, and we are committed to addressing these issues. We'll continually evaluate services and assess gaps so that we can ensure our people and our services are available when and where you need us to meet new and evolving community needs while still ensuring we deliver timely, accurate and robust forecasts and decision support services.
This vision will be supported by flexible and innovative workplace tools and paradigms, and our observations, modeling and dissemination infrastructure will smartly embody the flexibility of next generation technologies to take a detailed "pulse of the planet" and transform this into forecasts that provide a clear picture of the weather events coming your way…. days, weeks, and months in advance. Cloud-based tools will enable centralized experts and community forecasters alike to provide the "one NWS forecast" when and where you need it to save lives.