Date Posted: May 1, 2012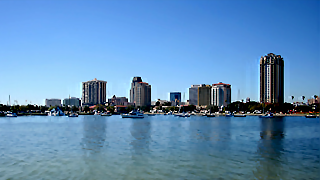 NOAA's National Weather Service has improved its ability to support the Tampa Bay community and its ecologically valuable environments before, during and after severe weather and other disasters. As part of its Weather-Ready Nation initiative, the National Weather Service is launching this project to provide enhanced decision and ecosystem support services to help protect residents and visitors in the Tampa Bay area.
"With hurricane season just around the corner, timely and accurate weather support is more critical than ever," said Bill Proenza, director of NOAA's National Weather Service Southern Region. "This project will allow the Tampa forecast office to respond to emergency managers during a storm or when handling a hazardous material spill, while maintaining normal weather forecast operations for area residents."
Tampa Bay's diverse ecosystem and active cargo port offer a unique environment which contributed to its selection for the pilot project. Tampa is the largest open-water estuary in Florida, encompassing nearly 400 square miles, with a watershed that covers almost 2,200 square miles. It also supports more than 200 species of fish and the most diverse colonies of waterbirds in the United States.
In addition, the Port of Tampa is Florida's largest seaport and one of the largest cargo ports in the country. More than four billion gallons of oil, fertilizer components and other hazardous materials pass through Tampa Bay each year. The Weather-Ready Nation project will take weather support services beyond the traditional domain of the National Weather Service and address impacts that cross both ecological and economic boundaries.
Three Emergency Response Specialists have been assigned to the National Weather Service office in Tampa for this pilot project. The specialists will be deployed in an emergency to provide critical onsite weather support during weather-sensitive events, including environmental incidents. They will collaborate with local port authorities, and local scientists studying environmental issues, to expand on impact-based decision support services that focus on environmental and public health issues.
Initial projects the team will work on include: developing a Marine Route Forecast, enhancing current Harmful Algal Bloom forecasts, improving the local provision of storm surge warning information, and developing graphical smoke plume and visibility hazard forecasts.
"These collaborations and new products will serve to mitigate future risk and impact from hurricane storm surge, environmental and ecological effects in the Gulf of Mexico, and provide safety and high-impact weather information for marine navigation through the Port," said Brian LaMarre, meteorologist-in-charge of the Tampa forecast office.
The Tampa Bay forecast office serves five million residents in 15 counties. In addition, the office produces forecasts and warnings for Tampa Bay and the coastal waters of the Gulf of Mexico, out to 60 nautical miles. We have posted a gallery of images from the launch here.