Date Posted: October 17, 2012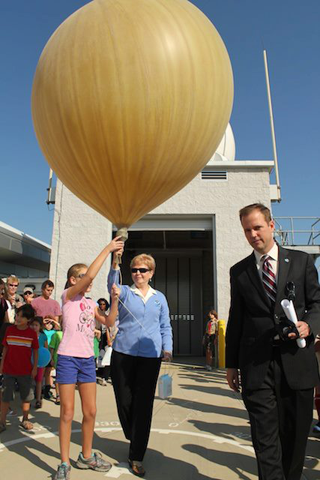 NWS Meteorologist Chris Strong leads the way as NOAA Administrator Dr. Jane Lubchenco prepares to launch a weather balloon and the Sterling pilot project launch event.
Imagine that a major blizzard strikes the Washington, D.C., area on the eve of the presidential inauguration in January. With millions of visitors converging on the nation's capital, the event has the potential to become a major incident, with implications for both public safety and national security. Emergency managers need more than the latest forecast -- they need specialized impact-based decision support services. Thanks to a new project begun by the National Weather Service, emergency managers and first responders would be equipped with the information they need to adequately respond to the event.
The project — one of six pilot projects initiated in the year since the National Weather Service (NWS) launched the Weather-Ready Nation campaign — is taking place at the NWS Baltimore/Washington forecast office in Sterling, Va., just outside the nation's capital. There, specially-trained emergency response specialists are testing and validating concepts to provide specialized impact-based decision support services in an urban environment. In the case of the imagined scenario described above, the forecast office would deploy three fully-trained emergency response specialists, who are able to anticipate the needs of the responding agencies, providing critical information to help save lives.
"It's this kind of specialized impact-based service that sets the pilot projects apart from the already critical decision support services NWS already provides," said Chris Strager, NWS Advisor for Science and Service Integration. "Already we're seeing signs of success from not only the project in Sterling, but all of the pilot projects, whose collective goal is to build community resilience in the face of increasing vulnerability to extreme weather."
At NWS Headquarters in Silver Spring, Md., the NWS Operations Center — one of the first pilot projects initiated — maintains a staff of emergency response specialists, led by a meteorologist-in-charge, work rotating shifts, staffing the center 16 hours per day, seven days per week, providing high-level situational awareness and decision support services to NOAA leadership and partners during high-impact events. The NWS Operations Center serves as a continuous resource for disseminating critical operational updates to the NOAA and NWS leadership, particularly during high impact events, or when significant communication outages are occurring. The center also provides support to the NWS Office of Communications for weather awareness via NWS social media accounts and via the weather.gov homepage.
This colorized infrared satellite image captures Irene's moment of landfall, near Cape Lookout, N.C.
During Hurricane Irene, the center functioned as a 24/7 information hub and coordinated a wide variety of organizations, including the National Hurricane Center, Eastern Region forecast offices, the Department of Homeland Security, line offices across NOAA, the Department of Commerce leadership and the White House. Already, the NWS Operations Center has developed a coordination strategy for major space weather events, as well as a plan for reporting to national leadership the impacts to operations of major platform outages, such as the recent GOES-13 satellite outage.
The NWS Southern Region Headquarters in Fort Worth, Texas, has launched a pilot project in which a group of emergency response specialists is testing a concept to develop integrated regional-scale situational awareness, data acquisition and communication capabilities for transmitting high quality hazard event intelligence. The SRH Regional Operations Center has implemented daily threat briefing packages to FEMA Region VI and hazard collaboration meetings three times per week with FEMA Region IV. The center is also enhancing NWS engagement with the U.S. Army Corps of Engineers and the Nuclear Regulatory Commission for incident response planning.
The NWS New Orleans/Baton Rouge forecast office, located in Slidell, La., became the "poster child" for the Weather-Ready Nation campaign before it even existed, having provided decision support services for such disasters as Hurricane Katrina and the Deepwater Horizon oil spill in the Gulf of Mexico. Recognizing that the requirements of each core partner emerge quickly and continuously evolve, the forecast office developed a set of best practices to be applied across the various pilot projects. These experiences and the office's setting made it an ideal location for a pilot project focused on the specific needs of a coastal environment. Among its early achievements, the New Orleans forecast office developed a Significant Weather Emergency Response Vehicle, or SWERV, at no cost to taxpayers via local public-private partnerships. Emergency response specialists deployed the SWERV at emergency operations centers for such events as the NCAA Final Four, the War of 1812 Bicentennial / Navy Week festivities and to support community response to river flooding in the aftermath of Hurricane Isaac.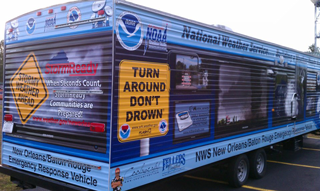 The Significant Weather Emergency Response Vehicle, or SWERV, can be deployed to emergency operations centers to provide onsite support.
Like New Orleans, the Tampa Bay area encompasses a coastline vulnerable to ecological disasters. To help emergency managers and other core partners respond to such threats, the NWS Tampa Bay Area forecast office has developed a pilot project to provide integrated environmental services for ecological and environmental incident response and public health matters. Examples of early success for this project include collaborating with the NOAA Great Lakes Environmental Research Lab to improve beach and near-shore hazard forecasts, including harmful algae blooms and working with local partners to develop a smoke-fog hazard forecast and warning system. Pilot project staff in Tampa has also coordinated a first draft of an Emergency Response Specialist training plan.
Weather forecasters know that some of the greatest challenges in forecasting mesoscale weather events, such as thunderstorms and squall lines. To help bridge the gap between research and operations in this area, the NWS Charleston, W.V., forecast office began a pilot project to accelerate the transfer of new science and high- resolution weather modeling into the operational environment. Special emphasis will be placed on the exploration, development, and operational integration of storm-scale threat forecasting in the 0-6 hour period. The office is collaborating with the NWS Tulsa forecast office and the NOAA National Severe Storms Laboratory on thunderstorm hazard probability grids driven by storm-scale resolution model output, a critical first step to managing "Warn-on-Forecast" information. The project has also produced a prototype "Enhanced Data Display," allowing NWS staff and core partners to visualize complex mesoscale meteorological information and forecasts.
Individually, each of these six pilot projects demonstrates an improvement in decision support services, technology to track and forecast storms and dissemination efforts to achieve far-reaching national preparedness for weather events. Collectively, however, they are helping build a Weather-Ready Nation by bolstering community resilience in the face of increasing vulnerability to extreme weather.