Date Posted: December 17, 2012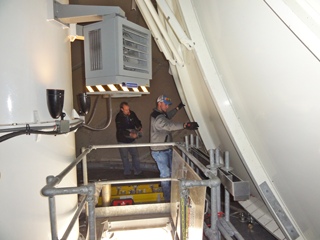 Dual-Pol INCO Team 4 workers verify antenna clearance on the NWS Pocatello, Idaho, radar before beginning their 18 hour data quality check on October 19, 2012. (Photo: Bryan Till, NWS Pocatello)
On May 27, 2011 the Phoenix, Ariz., Doppler radar became the first radar in the National Weather Service's Western Region to gain a key piece of technology that no other radar in the region had — dual polarization, or dual-pol. In October, 13 months ahead of schedule, the NWS Western Region announced it is the first NWS region to complete the upgrade to dual-pol technology. The radar at the NWS forecast office in Pocatello, Idaho, was the last of 28 radars in the region to gain dual-pol.
The NWS Office of Science and Technology, along with contractors, were able to accelerate dual-pol installation at many radar sites this summer, thanks to their hard work and applying lessons from previous installations. Even with the acceleration of installations, 93 percent of Western Region's meteorologists have received training and are ready to start forecasting with the new radar.
Among the success stories already emerging from Western Region offices, the NWS Phoenix forecast office relied on the new dual-pol technology to successfully forecast a very large dust storm moved across the Phoenix metro area during the late afternoon and evening hours of July 5, 2011. There were widespread reports of near-zero visibility and winds gusting over 50 mph. Radar data estimated this dust storm reached a peak height of at least 5,000 to 6,000 feet, with a leading edge stretching close to 100 miles and traveling a distance of at least 150 miles.
Dual-pol radar was very helpful during this event, as forecasters were able to better perceive the line of dust approaching the Phoenix metro area. As the storm approached, dual-pol products helped differentiate rain and dust, and allowed forecasters to track the arrival of the dust, as well as confidently track its movement. This storm was, as noted by many residents, one of the largest dust storms in the past 30 years. Despite Phoenix's desert climate, forecasters are finding the new dual-pol products to be of great value in all kinds of situations.
On February 27, 2012, a cold Pacific storm system moved onshore along the West Coast producing showers and thunderstorms over southern California. This weather event provided forecasters at the NWS Oxnard, Calif., forecast office with an opportunity to view a storm with the new dual-pol radar. While these thunderstorms were not severe, according to the traditional definition of producing 1-inch hail, they did result in several reports of graupel and small hail across the Los Angeles metro area. Prior to dual-pol, radar products would not necessarily suggest hail as the mostly likely precipitation type, but the new Hydrometeor Classification Algorithm, or HCA, which utilizes dual polarization base data, performed well in drawing attention to storm cells that had a high probability of it. This, in turn, allowed the weather forecast office in Oxnard to better alert the public to storm cells that were producing graupel and small hail instead of just rain. This was especially important for Los Angeles area commuters who are less experienced with driving on roads covered in small pieces of ice.
The successful completion of dual-pol radar upgrades in Western Region — and at NWS offices across the country — represent another step in the efforts by NOAA and NWS to build a Weather-Ready Nation.