Date Posted: February 7, 2014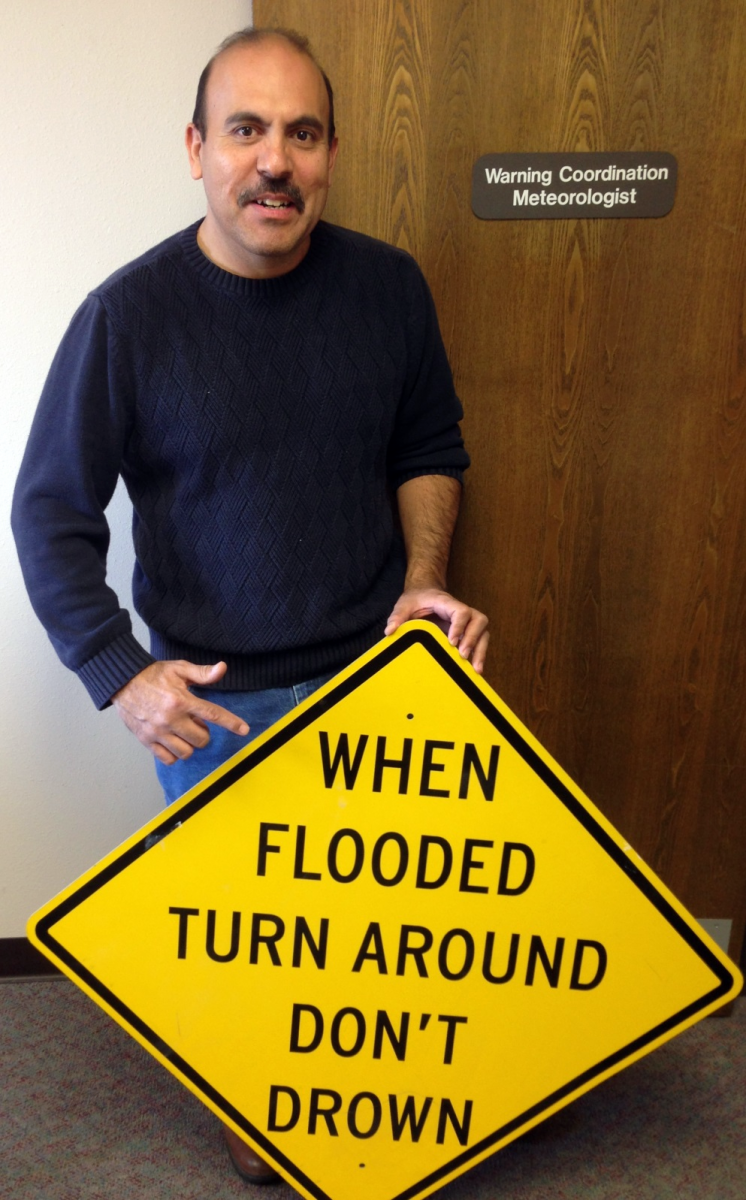 Flooding remains one of the top weather killers in the U.S., with the average number of annual fatalities totaling near 90. More than half of these fatalities are vehicle-related. The National Weather Service has been working to bring those numbers down and, for the past decade, has been doing so using its "Turn Around Don't Drown" campaign, which is dedicated to teaching the public about flood safety.
Hector Guerrero, warning coordination meteorologist at the NWS San Angelo, Texas, forecast office, began formulating a plan for a program to raise awareness of the dangers of driving or walking into flooded areas in the early 2000s. While Guerrero worked at the NWS forecast office in Brownsville, Texas, he became concerned when hurricane evacuees from the Texas coast would relocate to the heart of Texas' Flash Flood Alley. He was also aware of the dangers associated with flash floods having grown up in Austin, also part of Flash Flood Alley
"I wanted a catchy phrase along the lines of the fire-safety mantra "Stop, Drop and Roll," said Guerrero. "After brainstorming with a group of firefighters from Harlingen, Texas, I chose 'Turn Around Don't Drown.'"
Guerrero worked with a team from NWS Southern Region Headquarters and together they partnered with the Texas Division of Emergency Management, the Federal Alliance for Safe Homes, and the City of Fort Worth Fire Department. NWS launched the "Turn Around Don't Drown" program in Texas in 2003. Once the phrase was officially trademarked by NOAA, the program made its national debut in 2004.
Since then, hundreds of permanent "Turn Around Don't Drown" signs have been established along roadways prone to flooding across the U.S. and the slogan has become an often repeated catchphrase in the media, classrooms and even the home. In addition to the NWS education materials, NWS partners also distribute resources bearing the phrase.
In an effort to renew the "Turn Around Don't Drown" trademark, the NWS Hydrologic Services Division provided documentation to the Patent and Trademark Office in fall of 2013 to show that, "Turn Around Don't Drown" is actively used in print and as a public education campaign.
"The breadth of use from NOAA and NWS employees, other national and local government entities, the media and local communities has made renewing the trademark easy," said Mary Mullusky, NWS Hydrologic Services Division branch chief.
The 10th anniversary of the national campaign will be highlighted during Flood Safety Awareness Week, March 16-22, 2014.
For more information on the TADD program, contact Katie Garrett, Hydrologic Services Division outreach, training and interagency coordinator.