Date Posted: April 6, 2017
On February 23-24, the Southern Great Plains region was dry and windy, optimal conditions for even the smallest spark to roar into a life and property-threatening wildfire. Large portions of the northernmost Panhandle of Texas, western Oklahoma, eastern New Mexico, eastern Colorado, and westernmost Kansas were ripe for an outbreak. New tools from NWS and its partners, along with ramped up collaboration are leading to a much level of fire preparedness and nimble response that is reducing loss.
A week before any fires started on February 17, an outlook was issued highlighting an increased likelihood of a wildfire outbreak by a group called the Southern Great Plains Wildfire Outbreak Discussion Group (SGPWO). This collaborative decision support group is composed of representatives from National Weather Service Weather Forecast Offices (WFO) across the southern Plains of Texas and Oklahoma, the Texas A&M Forest Service, and the Oklahoma Forestry Services. Daily updates to the outlooks eventually led to a detailed map highlighting the probability for significant fire outbreaks, which was released to local partners including state and local government officials and emergency managers, on February 19. The discussion group also ensured consistency by collaborating with the Storm Prediction Center, who issued a critical fire area on February 19.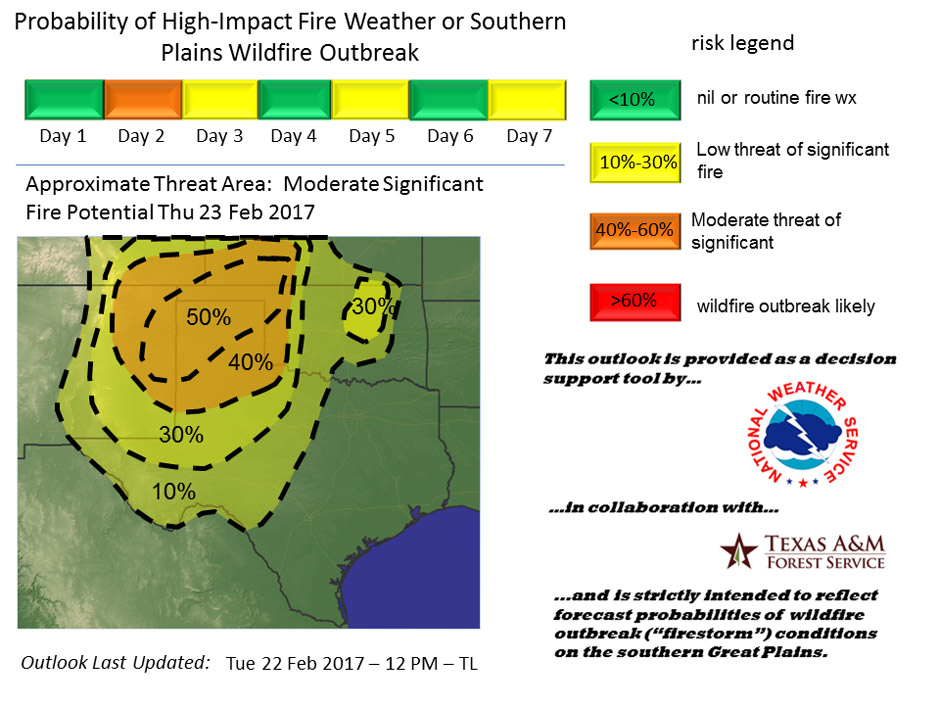 After internal collaboration calls, staff members of affected WFOs immediately sprung into action - delivering electronic briefings, giving interviews, and speaking directly with local partners that needed to make vital decisions on how and where to deploy resources. On February 21, local officials in Texas and Oklahoma were briefed resulting in the deployment of fire personnel. This support the National Weather Service provides to decision makers is key to building a Weather Ready Nation. Based on these briefings, decision makers on the ground were able to make important decisions to protect life and property.
As a result of this early warning, wildfire response resources and personnel were pre-staged to areas with increased probability of wildfire outbreaks, shown in the map below. Those resources include single engine airtankers (SEATS) used to drop fire retardant in shifting winds, bulldozers to clear away debris from the path of an advancing fire, and highly trained fire supervisors and investigators to orchestrate the entire response.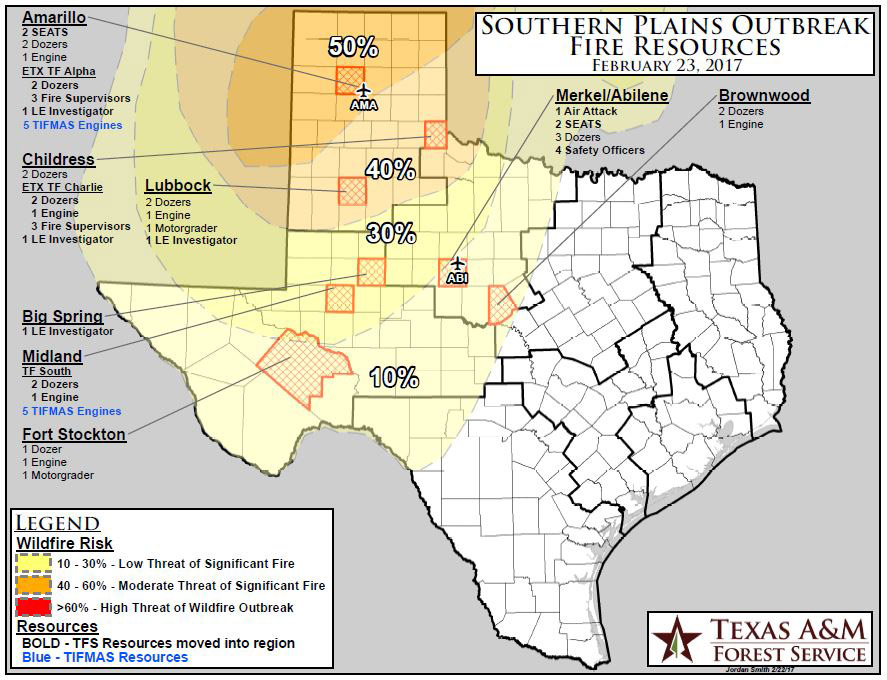 On February 23, the National Weather Service's infrared satellite imagery utilizing the Geostationary Operational Environmental Satellite (GOES) rapid scan capabilities provided early detection of potentially significant fire occurrences, often serving as the first notification of a fire to local officials. According to Dr. Stephen Bieda, the Science & Operations Officer at the WFO in Amarillo, Texas, "Our ability to warn emergency managers and firefighting officials of hot spots on satellite allowed them to conduct initial attack on wildfires in sparsely populated areas that would have otherwise been allowed to spread far more than they did." This early detection allowed for quick response to a developing situation by resources that were already positioned nearby in Texas and Oklahoma, with several instances of fire officials getting a jump on a fire before they received a 911 call about them. "Our office (WFO Amarillo) alerted the Oldham County Emergency Manager about a hotspot that would later become the LIT Ranch Fire," Bieda stated. "As a result of our call, the emergency managers immediately deployed their county's fire resources to investigate, with a virtual emergency operations center alert notifying Texas Panhandle emergency managers of the fire 13 minutes later as well as a call for more resources."
Close coordination between the Norman WFO, the Tulsa WFO, and the Storm Prediction Center gave decision makers the information they needed to divert two Blackhawk helicopters that were subsequently credited with saving 300 homes in Wagoner County, Oklahoma. Similar coordination between WFOs in western and northern Texas gave the Texas A&M Forest Service confidence to reallocate their resources to areas projected to have a moderate to high threat of wildfire outbreaks.
According to Todd Lindley, the Science & Operations Officer at the WFO in Norman, Oklahoma, "In my opinion, the February 23 fire outbreak was probably the first event in the group's history where strategically pre-staged resources were tactically routed to newly ignited wildland fires as detected by meteorological remote sensing (satellite and radar). We believe that this kind of cooperation between the National Weather Service and state forestry and emergency management agencies had a direct mitigating impact in the February 23 fire outbreak."
| | |
| --- | --- |
| | |
| Photo 3. TFS is on scene with TIFMAS on the #LitRanchFire in Oldham County estimated at 2000 acres #txfire Twitter Link: https://twitter.com/AllHazardsTFS/status/834908782476001282 Twitter | Photo 4. Location of fires that occurred from Feb. 23-24, 2017 in the Southern Great Plains region. Larger flame graphics represent larger fires. (WFO Norman) |
The fire outbreak in the Southern Great Plains on February 23-24 resulted in 33 total fires that burned nearly 18,000 acres across five states. Nine structures were lost in the fires and one firefighter was injured in the response but the situation could have easily been much worse.
"I am stoked with the level of preparedness that we had yesterday. Undoubtedly, we were situationally aware. That fact contributed mightily to successes and opportunities of yesterday, " said Drew Daily with the Oklahoma Forestry Services.
Peak fire season in the Southern Great Plains occurs in March and April, so the likelihood of severe wildfire events increases. On March 6, more wildfires broke out in much the same area as the February 23-24 event, except the impact was much greater. The outbreak that day burned more than one million acres and resulted in seven deaths as residents tried to get themselves and their livestock out of the path of the fast-moving wildfires.
Active fires can be seen in bright red ringing burn scars, image taken by the VIIRS instrument aboard the NOAA/NASA Suomi NPP satellite on March 7, 2017
Coordination between the affected WFOs within the SGPWO group and local officials worked in much the same way as before in advance of the March 6 wildfire. The affected WFOs warned of an increased probability for a severe fire outbreak six days in advance. This advance warning allowed for resources to be pre-staged to respond to the fires much more quickly, resulting in less damage and loss of life than otherwise could have happened.
Picture 6: Borger Office of Emergency Management expressing thanks for hotspot detection using GOES-16. (Twitter))

One new tool at the disposal of the Southern Great Plains WFOs for the March 6 wildfire was the recently launched GOES-16 satellite. The near real-time imagery from this satellite showed when shifting winds changed the shape of the fire, resulting in a 40-60 mile line of advancing fire. A mesoscale sector for GOES-16 was centered over the affected wildfire regions on March 6, which allowed meteorologists to see the wildfires start and develop in near real time with minute-to-minute imagery. "GOES-16 imagery is already incredible due to higher spatial and temporal resolution, but having the mesoscale sector over our region allowed various offices to alert fire officials of all three major wildfires at least 10 minutes before they were notified via 911," stated Bieda. GOES-16 allowed multiple WFOs to identify new fires much quicker and to relay much more detailed tactical information about fire progression and spread to the state forestry agencies in near real-time.

Across the United States, wildfires consume millions of acres every year. These fires serve as excellent examples of the important coordination between meteorologists, local officials, and first responders. Burning even 10,000 acres in a single day, much less hundreds of thousands of acres, is a tremendous threat to life and property and the strategic response through the WFOs that participate in the SGPWO group is integral to responding to these threats. Working closely with military, state, local, and tribal emergency managers and firefighters, the NWS helps decision-makers anticipate fire-weather conditions, get the public out of harm's way, and accelerate first responders' preparations in order to keep wildfires under control and minimize their destructive reach.

Photo 7: National Guard Blackhawk helicopter dropping water onto the fires in Kansas. (Army National Guard)