Date Posted: March 21, 2017

On the night of February 19, tornadic thunderstorms tore through northern sections of San Antonio, Texas. Audrey Gagné and her husband were unknowingly heading toward them, on the way home from a trip to Dallas.
Although Gagné knew thunderstorms were in the forecast, she was not anticipating a threat from tornadoes, and the couple continued onward as loud, pouring rain beat down on their vehicle. Suddenly, the Wireless Emergency Alert (WEA) alert sounded from Gagné's stowed away smart phone. A Tornado Warning had been issued by the National Weather Service Weather Forecast Office in New Braunfels, prompting them to seek shelter immediately. Although they were only 20 minutes from their home, the Gagnés pulled into the nearest convenience store parking lot, where they waited for the storm to pass.
When they arrived home later, they realized the importance of responding to the WEA. They discovered damage to their store building, including "structural metal beams, signs, and traffic lights scattered everywhere."
"If we had kept driving, no telling what could have happened to our panel van full of everything we had in inventory, as well as our precious lives," said Gagné.
These life saving stories are not uncommon thanks to the outstanding efforts and decisions made by NWS forecasters which result in activation of WEA. After tornadoes broke out along the Gulf Coast and East Coast on February 23-25, 2016, Barbara Watson, Meteorologist-in-Charge at NWS State College (PA), said "I have been doing (storm) surveys for over 25 years…never heard it all come together as well as this as told by the people in the path...with WEA, they got the warning and they immediately took action."
Spring is just around the corner for much of the country, but parts of the Southeastern and Southcentral United States have already had a taste of severe weather. These events serve as a powerful reminder that storm systems can have major impacts, regardless of the date on the calendar, or even the time of day.
The NWS is currently working to add alert notifications for high-end Severe Thunderstorm Warnings, marked by very large hail and/or dangerously high wind speeds. These alerts would provide greater specificity to already existing severe weather products, like Tornado and Flash Flood Warnings.
Additionally, the FCC took action late last year that requires participating wireless carriers to support an increase in WEA message length from 90 to 360 characters on 4G LTE and future networks by the middle of 2019. According to Mike Gerber, WEA program lead in the Office of Dissemination, wireless industry is starting to work out the details and people may need new cell phones in order to receive the longer 360 character messages. Gerber adds that he "looks forward to working with NWS programs on developing longer messages which are impactful and best save lives".
On the night of February 19, the message Gagné received was enough to persuade her and her husband to take shelter - a decision that has her saying, "Thank you for saving our lives."
Learn more about Wireless Emergency Alerts.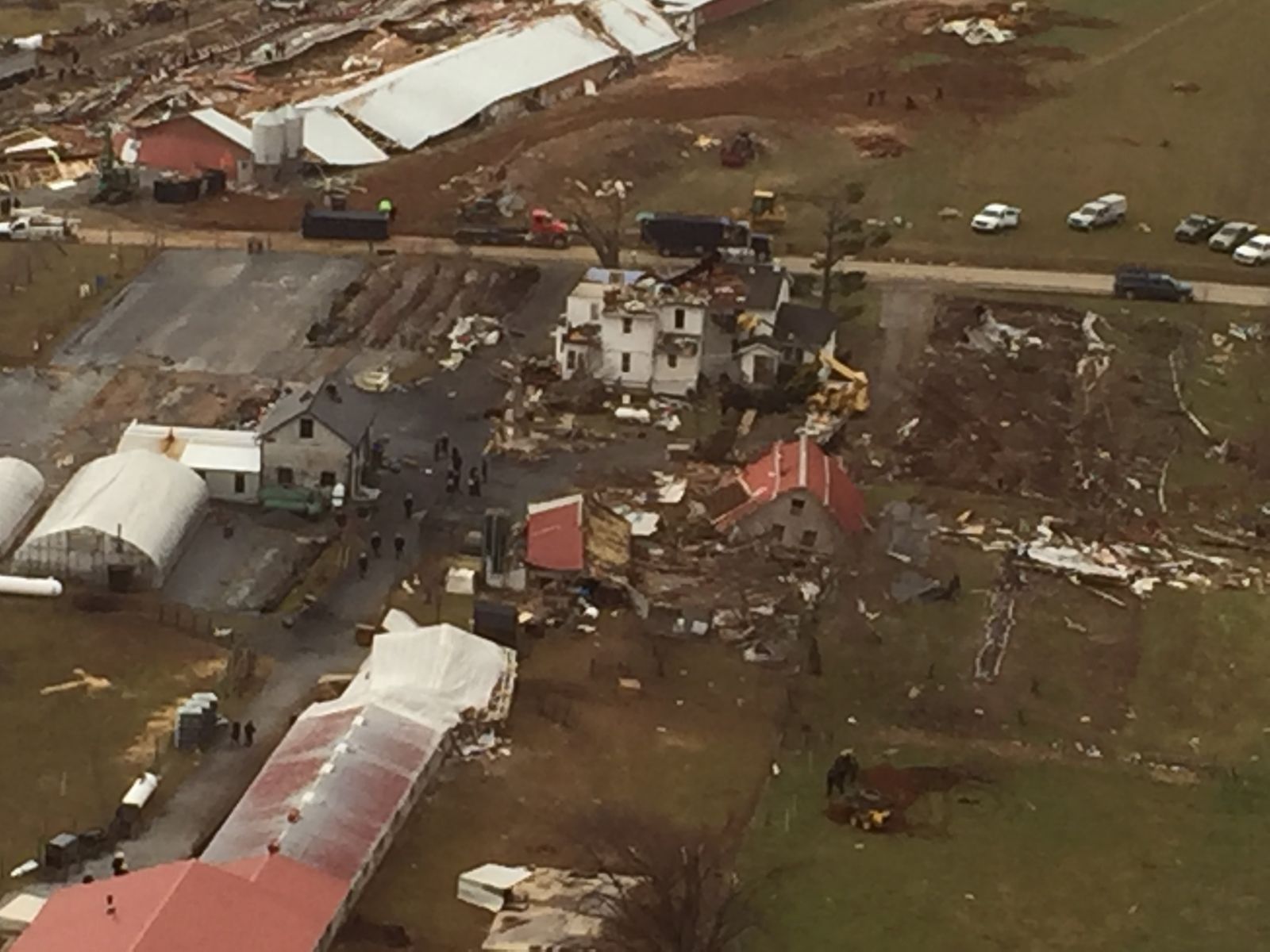 Damage caused by an EF2 tornado which struck near White Horse, PA on February 24, 2016