by Dennis Feltgen, National Hurricane Center
The 2017 Atlantic hurricane season is in the record books and it won't be forgotten. One of the most active on record, it produced 17 named storms, 10 hurricanes, and 6 major hurricanes. For the first time in recorded history, three category 4 hurricanes made landfall in the United States - Harvey in Texas, Irma in the Florida Keys, and Maria in Puerto Rico. NHC continues to re-analyze data from all of the Atlantic and eastern North Pacific storms as part of its post-storm analysis and compilation of final storm and seasonal statistics. The season had many notable challenges and accomplishments.


On-site DSS meteorologist John Metz coordinates data and messaging between NHC, SRH and NWS during Hurricane Nate.
October 7, 2017 | Credit: Dennis Feltgen, NOAA Communications
Preliminary data show that 2017 NHC Atlantic track forecasts set record low errors at all time frames and, for the three landfalling category 4 hurricanes, the track errors were about 25 percent below the most recent 5-year mean errors. There was also some notable success in forecasting rapid intensification. One such case occurred about 36 hour before Harvey's landfall, when the NHC forecast Harvey to become a high-end category 3 hurricane before reaching the Texas coast. This forecast captured Harvey's rapid intensification and was only 5 kt below the landfall intensity -- a remarkable forecast for such a quickly changing situation.
Water is the number one killer in tropical cyclones, particularly due to storm surge. The 2017 hurricane season saw the operational implementation of new storm surge products, including a National Weather Service Storm Surge Watch and Warning. Developed with years of social science research, they are aimed at helping coastal residents and emergency managers understand their risk from life-threatening storm surge.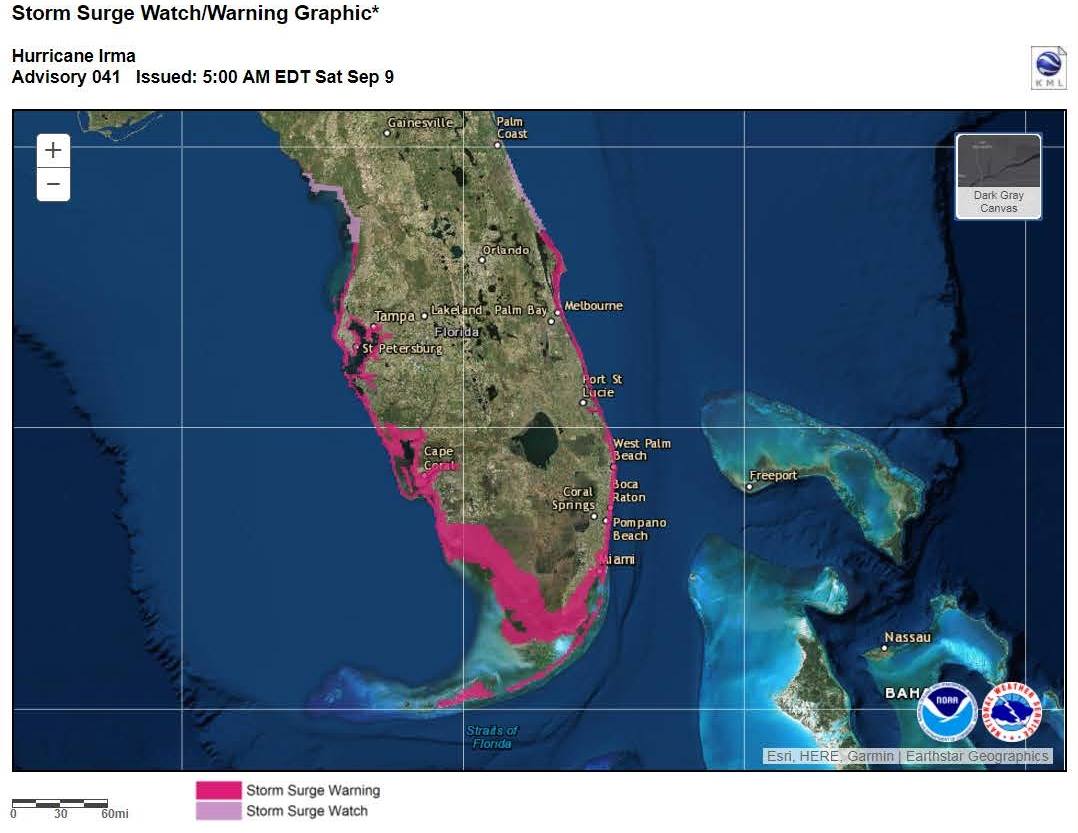 A Storm Surge Watch and Warning was issued for both coasts of Florida as Hurricane Irma approached.
September 9, 2017 | Credit: NOAA
NHC also introduced "Potential Tropical Cyclone" advisories to support the timely issuance of tropical storm and hurricane watches and warnings for systems still developing near land. To NHC's surprise, this option was invoked seven times during the season, including Cindy as it developed in the Gulf of Mexico in June, and Maria that developed on its approach to the Lesser Antilles in September. All told, six of the seven systems that NHC issued potential tropical cyclone advisories on developed into tropical storms or hurricanes and affected land.
As it does every year, NHC coordinated with numerous countries in the Caribbean, Central America, and Mexico to issue watches and warnings for those areas likely to have impacts from approaching tropical cyclones. At one point, hurricane warnings were in effect simultaneously for Katia, Irma, and Jose. This is believed to be the first time in NHC's history that hurricane warnings were in effect for three hurricanes within the same basin. NHC also coordinated with Met Eireann and the UK Met Office regarding the post-tropical transition of Ophelia and the expected impacts from the storm in Ireland and the United Kingdom.
This hurricane season also marked a new era of coordination between NHC and the WFOs. The placement of areas within a storm surge watch and warning were coordinated using a real-time exchange of hazard grids via AWIPS, whereby the NHC storm surge unit provided an initial proposal of areas to highlight, and the local WFOs used their local expertise to further refine the watches and warnings. A new National (TCV) Watch/Warning product was also implemented that provided a summary of all the wind and storm surge warnings associated with the tropical cyclone.
In addition, a WFO Decision Support Services Coordinator was on-site at NHC during the U.S. landfalling hurricane threats in 2017 to assist with WFO/NHC messaging coordination. This was especially helpful during Harvey's catastrophic flood event. The DSS Coordinator ensured that briefings to core partners were consistent, and that WPC, NHC, and the WFOs within the impact region were communicating consistent key messages and call-to-actions. Lastly, during Irma's threat to Florida, an NHC "North" was spun up at WPC on short notice to provide potential backup to NHC in case communications were lost. Staffing at NHC north included NHC and CPHC personal as well as assistance from other NCEP centers and NESDIS. This new level of coordination helped NHC and our NWS colleagues face the threats and challenges of the 2017 hurricane season.