Posted July 10, 2018
Lead Author: Tom Reaugh (NWS Louisville Forecast Office)
Contributions by: John Gordon and Cody Moore ( NWS Louisville Forecast Office )
Douglas Hilderbrand (NWS Office of Communications)
During the morning hours of May 18, 1995, a line of severe thunderstorms tore through Kentucky producing millions of dollars in damage and causing dozens of injuries. In Nicholasville, storms moved through the town around 7:30 AM as students were arriving at Nicholasville High School. Large sections of the school's roof were torn off (Figure 1) and bleachers were picked up and thrown across the football field (Figure 2). Over 30 students were injured. The storm also produced considerable structural damage to numerous businesses and homes. Information gathered at the time indicated that the damage was caused by straight-line winds.
| | |
| --- | --- |
| | |
| Figure 1: Significant structural damage to Nicholasville High School moments after the tornado struck. Photo courtesy Jessamine County EMA | Figure 2: The high school's bleachers were twisted and thrown into a heap. Photo courtesy Jessamine County EMA |
More than 21 years later, John Gordon, the Meteorologist-in-Charge of the Louisville National Weather Service forecast office, which is responsible for forecasting and monitoring Nicholasville's weather, gave a talk to the local Rotary Club. After his talk, several audience members came up to him and insisted the 1995 storm was actually a tornado. After listening to impassioned appeals from several members of the community, John directed his office to launch an investigation.
NWS Louisville meteorologists examined radar data, videos, photos, and newspaper articles. The experts re-analyzed available environmental data and consulted eyewitnesses. NWS Louisville concluded that an F2 tornado with 145 mph winds ripped through Nicholasville that morning along a 24 mile path (Figure 3).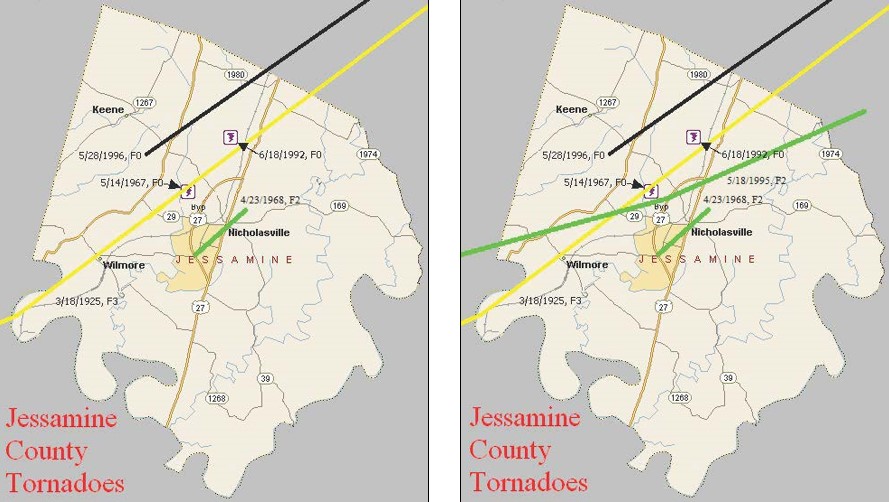 Figure 3: Jessamine County tornado tracks before (left) and after (right) the reanalysis.
Also, in the course of the investigation, a tornado that had struck a neighboring county that same morning was found to have had a longer path than previously thought.
Updates were made to the local tornado database for both tornadoes. Thanks to the citizens of Nicholasville coming forward, and the willingness of the local NWS office to open a case from over two decades ago, the tornadoes that struck that morning are now properly recorded in our nation's severe weather catalog. Future researchers will have more accurate information for meteorological and climatological studies.
"The Jessamine County 1995 severe weather event is a perfect case study which utilized NWS resources from the SOO program, WCM program, and ITO to recreate what happened. It was a great lesson on how IDSS will be used more effectively in future events to save lives and property." -- John Gordon, Meteorologist-in-Charge, NWS Louisville Weather Forecast Office

Not long after the Nicholasville tornado investigation, NWS Louisville received an email from a former resident of Spencer County, Kentucky, a rural county just east of Louisville. Martin Bentley, who lived in Spencer County when it was struck by an F4 tornado during the Super Outbreak on April 3, 1974 when Mr. Bentley was 15 years old, contacted us to let us know that the path we had plotted for that tornado in our local online tornado climatology wasn't quite right.
Mr Bentley's own home was in the path of the storm, and his neighbors suffered damage. In his email to us he wrote, "The tornado broke into vortices...and circled our home." After several correspondences, it was clear that Mr Bentley possessed a detailed and trustworthy account of the events in Spencer County that day. As a result of the specific information he was able to provide, NWS Louisville corrected the path of this powerful tornado 44 years after it struck (Figure 4).
Figure 4: Spencer County tornado tracks before (top) and after (bottom) the reanalysis.
The National Weather Service is never done striving to ensure that we provide the most accurate database of historical weather information. The public is often instrumental in providing details that result in crucial refinements to our shared meteorological history, even decades later.