Contact
Susan Buchanan, susan.buchanan@noaa.gov, 301-427-9000
July 10, 2018
Today, the National Weather Service unveiled its new public service announcement aimed at reducing the approximately 100 U.S. deaths each year attributed to floods, about 50 percent of which involve a motor vehicle.
For 15 years, the National Weather Service has used its trademarked flood safety slogan, Turn Around Don't Drown®, to educate people about the grave danger of driving through flooded roadways. Now reimagined by Texas-based country singer, Matt Hawk, the rhyming call-to-action has been set to a catchy tune intended to help people remember and heed the wisdom of turning the car around instead of driving through a flooded roadway.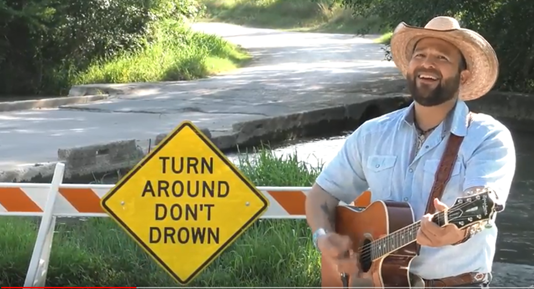 Texas-based country music artist, Matt Hawk, is featured in NOAA's latest flood safety PSA
Floods and flash floods kill more people in the U.S. each year than any other weather disaster. Texas in particular experiences more flash flood deaths than any other state; flooding there can come on suddenly even after long rain droughts.
"We can have 9-10 months of no rain, then suddenly get a torrential downpour, causing widespread flooding," Hawk said. "People get amnesia about the danger, especially adults who have a thousand things on their minds and take to the roads by habit, without thinking."
Hawk was inspired to donate the song and lend his vocal and guitar talent to record the PSA after a young woman in a nearby town died in a car during a flash flood shortly before her high school graduation. The tragedy hit close to home both literally and figuratively, as Hawk's daughter had just started driving that year.
"Her car was swept away, and she wasn't even two-tenths of a mile from her home," he said.
Hawk was intent on turning the local tragedy into something beneficial for society. He deliberately wrote the jingle to be repetitious and upbeat to attract children to listen and sing along.
"I wrote the song with children in mind - if we can get children singing this upbeat, fun song, they can pressure their parents to make the right decision in a light-hearted way, and maybe save a carload of people or two," he said.
The media is invited to air, post, and share the public service announcement.
Video: Turn Around, Don't Drown Public Service Announcement, 2018
Credit: NOAA's National Weather Service
The PSA is available in various formats here:
https://www.weather.gov/safety/tadd-music-video
Read a Q&A with Matt Hawk here:
https://www.weather.gov/news/181007-Matt-Hawk-QandA