Monday, April 29, 2019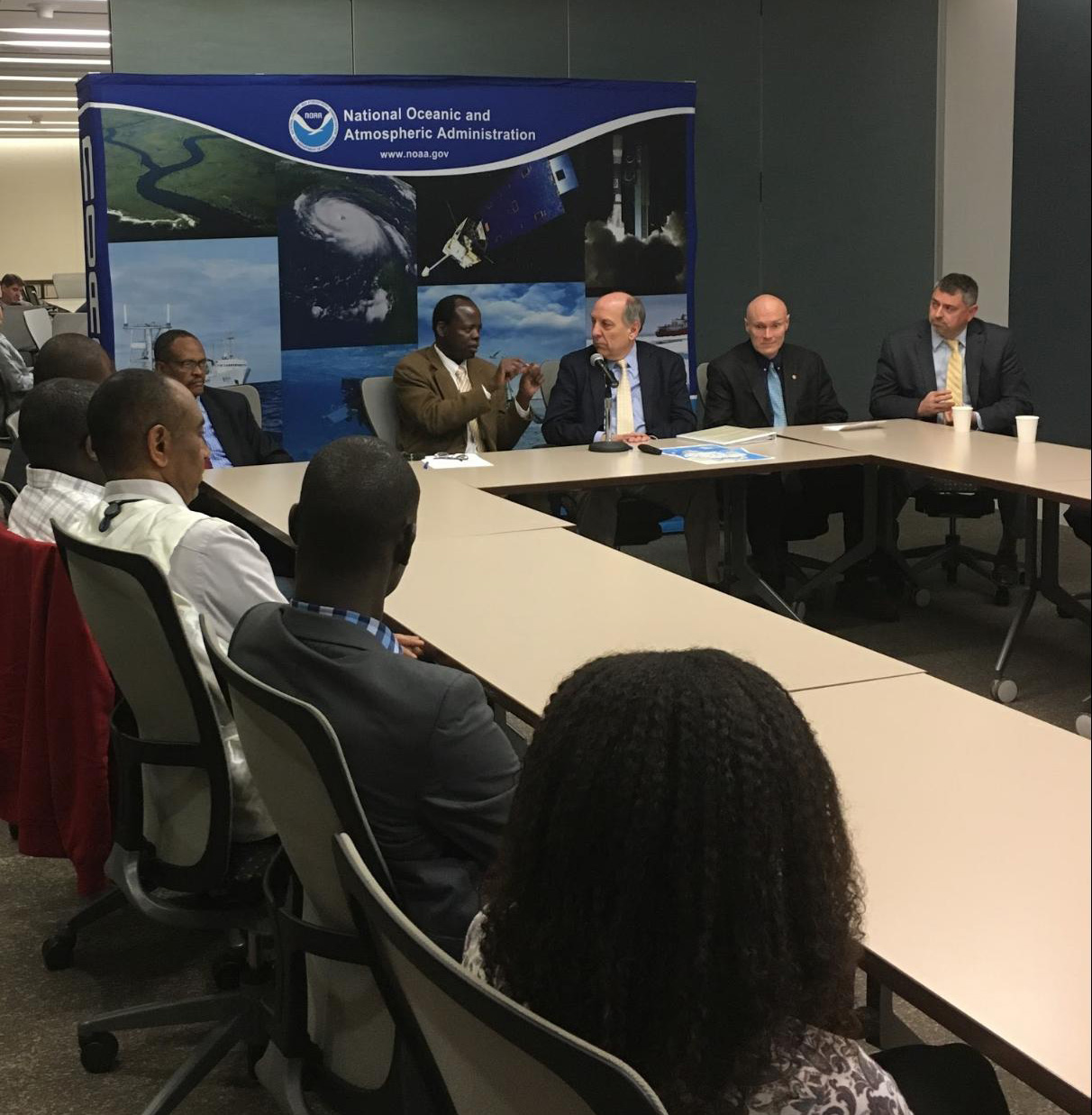 Wassila Thiaw, Ph.D., International Desk Team Lead in NOAA's Climate Prediction Center, and Louis Uccellini, Ph.D., Director of the National Weather Service, discuss the work of the African Desk during a briefing with international partners from across Africa on April 29, 2019.
Twenty five years ago Africa was faced with severe drought, resulting in famine across the continent and challenges for governments as they struggled to cope with the disaster. In response, NOAA's Climate Prediction Center (CPC) pioneered the African Desk – a U.S. contribution to the World Meteorological Organization (WMO) Voluntary Cooperation Program – to help improve meteorological services so that African governments could develop plans to mitigate the impacts of drought on society.
Today, NOAA welcomes visiting meteorologists and physical scientists from around the globe to the CPC International Desks, which provide access to real-time regionalized weather and climate information around the world. This innovative, international training approach helps partner countries from around the developing world implement climate services and tools through access to free, open and unlimited data provided by NOAA.
The African Desk team at CPC works with all 54 countries in Africa and beyond to help international colleagues build the capacity to access weather and seasonal forecast information and real-time, operational model guidance. In addition, the team contributes rainfall and climate products to the U.S. Agency for International Development (USAID), Office for Foreign Disaster Assistance and the USAID Famine Early Warning System Network (FEWS Net) to help plan for and respond to disasters and humanitarian crises in Africa.
"Our African desk has helped train emerging scientific leaders on how to use NOAA data to advise their countries on weather and climate prediction and potential impacts," said Dr. Louis W. Uccellini, NOAA's National Weather Service Director. "Our longstanding efforts of partnering with other nations are assisting them to be more effective in preparing for extreme weather, water and climate conditions."
Since its inception in 1994, CPC's Wassila Thiaw, Ph.D., has shepherded the African Desk program and expanded its capacity as the team lead for the International Desks. "In addition to developing new tools to improve our services to agriculture, food security and disaster risk reduction, we are working to build partnerships and to reach out to the health sector, one of the pillars of the WMO Global Framework for Climate Services," he said.
As they look towards the future, CPC's International Desks are exploring the development of online tutorials for climate monitoring and prediction to foster distance learning and reach even more professionals around the world.