NOAA's Climate Prediction Center - a division of the National Weather Service - is poised to release its annual Atlantic Hurricane Season Outlook on May 21, but the Atlantic Hurricane season is poised to jump the gun so to speak. The National Hurricane Center is forecasting the likelihood of a subtropical depression or storm developing this weekend, two weeks before the official start of the Atlantic season on June 1. If the maximum sustained winds reach 39 mph, the storm system would be named "Arthur," and 2020 would be the sixth year in a row to have an early start to the Atlantic hurricane season with storms forming in May. The potential storm is not forecast to be much of a threat to land, other than some possible rains in the Florida Keys and Bahamas. Still, this pre-season tropical activity is a reminder for everyone in hurricane-prone areas to prepare for the upcoming season. While we watch for development, let's take a look back at the other storms in this recent stretch of pre-season storms.
Andrea was a short-lived and weak subtropical storm that formed on May 17, 2019. Merging upper and lower pressure systems combined with a burst of thunderstorm activity and created a brief period of 40 mph winds well away from the center of circulation. Dry air and wind shear near the system took its toll and it began to fall apart and dissipate after only 12 hours never having any direct impacts on land.
2018's Alberto was a different story. Alberto formed as a subtropical depression over the northwestern Caribbean Sea on May 25, became a subtropical storm over the southeastern Gulf of Mexico a day later, and then transformed into a tropical storm and strengthened, reaching a maximum wind speed of ~65 mph before making landfall along the coast of the Florida Panhandle on May 28. Uniquely, Alberto maintained its tropical status well north into Michigan and produced heavy rainfall and flooding across the southern and central Appalachian Mountains. Heavy flooding from these rains unfortunately took the lives of eight people in North Carolina and Virginia.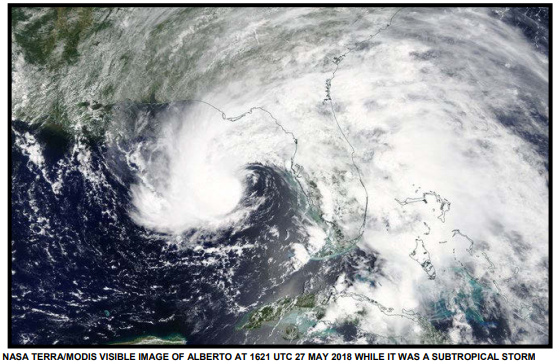 Arlene stands out not for strength or impacts as a tropical storm, but for forming extremely early and in an unusual place. The north-central Atlantic is not usually a place one looks for tropical development, much less in the month of April! Sea surface temperatures were cooler than one would expect, however, cooler air temperatures allowed for convection to develop and form a subtropical storm, which continued to develop tropical characteristics, becoming a tropical storm on April 20 with peak winds of 45 mph. Arlene was another short-lived storm and became extratropical the next day as it meandered through the North Atlantic.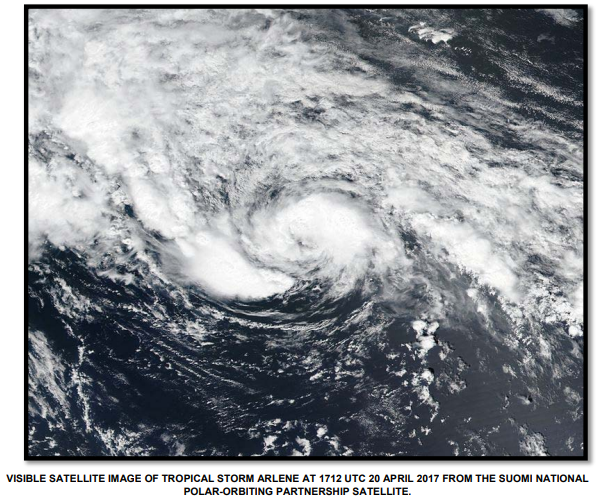 Alex was about as early-season as you can get, forming well out in the Central Atlantic on January 12! It's also unusual in that it's the most recent storm to reach Hurricane Strength on our list. Like Arlene, the following year, cooler sea surface temperatures were overcome by much cooler than normal air temperatures allowing for the instability to form the heavy showers and thunderstorms needed for tropical development. Alex's life as a tropical entity was brief but intense. The only hurricane on our list, it reached maximum wind speeds of 85 mph on Jan 14 and before weakening to a Tropical Storm as it moved through the Azores, losing its tropical characteristics the next day.
2016 saw two Tropical systems ahead of the official start date! Following Alex as the season approached, a disturbed area of weather east of the Bahamas formed a tropical depression on May 27. Bonnie was not a very intense storm, with maximum winds of only 45 mph, however it did have significant impacts to the United States. Bonnie made landfall as a Tropical Depression on May 29, just east of Charleston, SC at Isle of Palms. It moved slowly and produced widespread rain of 4-10 inches across SC and GA and caused extensive flooding in the region. Bonnie would exit the coast and regain minimal Tropical storm status briefly once more before dissipating on June 4.

The storm that kicked off our recent string of pre-season storms, Ana formed from the remains of a cold front which swept off the southeastern coast. Initially classified as subtropical on May 8, Ana continued to strengthen and became fully tropical the following day, with peak winds reaching 55 mph. Ana made landfall near North Myrtle Beach, SC, on the morning of May 10 and brought 3-6 inches of rain to the region. Ana moved back offshore and became extra-tropical near the DelMarVa Peninsula on May 11
Will we have Arthur to keep the trend alive? We'll certainly be watching the Bahamas into this weekend to find out! While we do not expect significant impacts from this storm regardless of formation, it's always a good time to prepare for hurricane season. And as always, go to hurricanes.gov for all of the latest information when tropical storms develop and help us become a weather-ready nation.