#Andrew30
Picture: Hurricane Andrew GOES 7 Satellite Imagery 1km Visible.
August 23, 1992, 1501Z/11 AM EDT

In August of 1992, Hurricane Andrew slammed into South Florida before making a second U.S. landfall in Louisiana. At the time, it was the costliest and most damaging hurricane ever to hit the United States. Thirty years later, Hurricane Andrew is still one of the top five most powerful hurricanes ever to strike the United States. The storm devastated South Florida, and it was an unforgettable experience for many who lived in the community. At that time, what seemed to be a weak tropical wave with little signs of development, quickly evolved into a rapidly intensifying hurricane on its approach to the Florida Peninsula. Since then, Southeastern Florida hasn't experienced a direct hit from a major hurricane, which makes the area vulnerable if we are not consciously taking the necessary preventive measures to stay safe.
During the past 30 years, NOAA has drastically improved hurricane forecasts, giving communities in the path of a storm more opportunities to prepare and take action to protect life and property.
Lixion Avila, retired Senior Hurricane Specialist and Miami resident, experienced Hurricane Andrew up close as a staffer at NOAA's National Hurricane Center on August 23, 1992. In the Q&A below, he shares his story about the night the Category 5 hurricane slammed into South Florida. But first, let's review the meteorology of Andrew.
Hurricane Andrew's Development and Evolution
A tropical wave emerged from the west coast of Africa on August 14, 1992. The wave spawned a tropical depression on August 16 and became Tropical Storm Andrew on August 17. The development was slow, as the tropical system encountered an unfavorable environment, and the storm almost dissipated on August 20. The Hurricane Center decided to keep monitoring the area.
Andrew continued on a northwest track and then took a turn westward by August 21. In doing so, the storm moved into a more favorable environment for development and began to strengthen. As a result, Andrew reached hurricane status on August 22, when it was located 650 miles southeast of Nassau, Bahamas. Twenty-four hours later, Andrew underwent rapid intensification and became a major hurricane Category 5. The hurricane reached its peak intensity of 175 mph with a minimum pressure of 922 millibars Sunday afternoon. The storm first made landfall on Eleuthera Island in the Bahamas with maximum sustained winds of 160 mph on August 23rd.
After briefly weakening, Andrew regained category 5 status with winds up to 165 mph on the Saffir-Simpson Hurricane Wind Scale. The hurricane made landfall on Elliott Key, Florida, and then near Homestead on the morning of August 24. The storm continued to move westward into the Gulf of Mexico, where it gradually turned northwestward, bringing Andrew into central Louisiana on August 26 as a Category 3 hurricane. Once inland, the storm turned to the northeast and eventually merged with a frontal system over the mid-Atlantic states on August 28. With a barometric pressure of 922 millibars at the time of landfall in Florida, Andrew is the third most intense with peak winds of 165 mph to strike the continental United States.
Historical interactive map of Hurricane Andrew's path.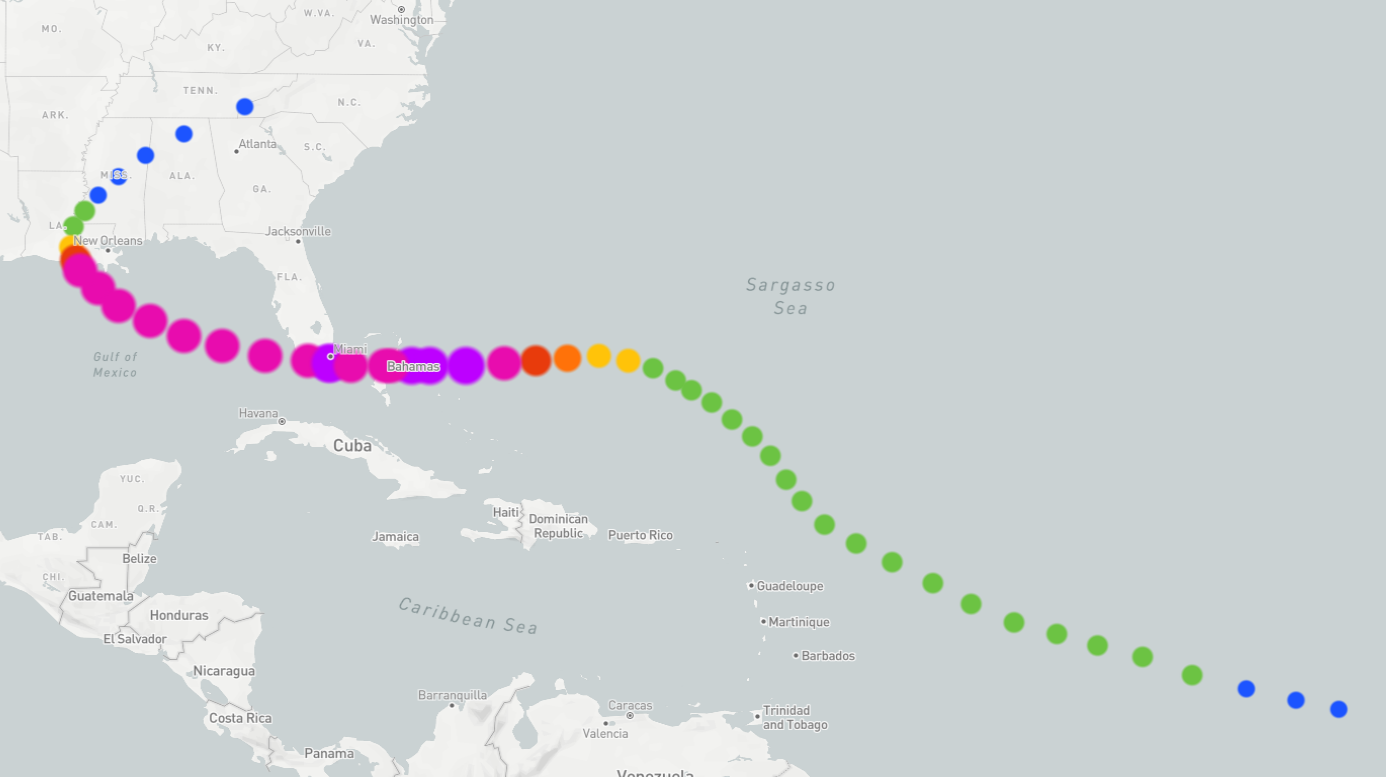 Hurricane Andrew is responsible for 23 direct deaths in the United States and three more in the Bahamas. The hurricane caused $27 billion in damages in 1992 dollars in the United States. The majority of the damage in Florida was caused by wind. Damage in the Bahamas was estimated at $250 million.
As a forecaster on the hurricane desk the day that Hurricane Andrew hit the United States, you had a front-row seat to observe the storm. Tell us about that experience, in your own words.
Avila: The week before Andrew, I was working my string of midnight shifts. On the last day, which was Saturday morning, a hurricane hunter aircraft investigated the storm and found hurricane-force winds near the center eyewall. With that information, I immediately notified Robert Sheets (Bob), who was the director of the National Hurricane Center at that time. I sent the advisory out on Saturday, August 22, and classified Andrew as a hurricane.
Bob came in early that morning as I was reaching the end of my shift, and he asked me to stay on the day shift. Saturday morning around 5 a.m., the storm was turning west and accelerating. It was moving fast. It hit Eleuthera Island in the Bahamas first Sunday afternoon. At that time, the storm was compact. I arrived at work at the National Hurricane Center, which at that time was located in Coral Gables, at 7 p.m. on Sunday. Around 10 p.m. the sky was clear, but later that night the first feeder bands started to come in with a few showers. Earlier in the morning before 5 a.m. on Monday morning, the strong hurricane-force winds had arrived. I was taking a short break in a little room in the back of the office when a visitor to the office named Jose Fernandez Partagas knocked on the door and said, "Get ready - the monster is here!" That's when the strongest winds began to hit. I was looking at NHC's wind anemometer and saw peak wind gusts of 163 miles per hour. That is something I will never forget. While the storm was hitting Miami, we began thinking about New Orleans, next in the storm's path. Andrew wasn't our only challenge that day. In the Eastern Pacific, Hurricane Lester was making landfall on August 23rd as a Category 1 hurricane near Punta Abreojos, Baja California Sur, so I was helping prepare the forecast for Lester while my colleagues were working on Hurricane Andrew as it was hitting Florida.
How were the models performing as Andrew was nearing Miami?
Avila: The model guidance was showing all the tracks going farther north, and never going towards the west. Hurricane Andrew intensified so quickly that it made landfall in the Bahamas as a Category 5 on August 23rd. Twenty-four hours later, the storm was about 930 millibars and went through an eyewall replacement cycle, just before making landfall as a Category 5 hurricane in South Florida. The pressure went down to 922 millibars.
One thing I remember very clearly about that morning when we were in the old building, is that all the palm trees along US 1 were destroyed. I said to myself, this only happens during a Category 4 or 5 hurricane. One of our forecasters in the former Tropical Satellite Analysis and Forecast (TSAF) unit had his vehicle parked in front of the building. Hurricane Andrew's winds were so strong that flipped the car over the concrete fence in the NHC parking lot.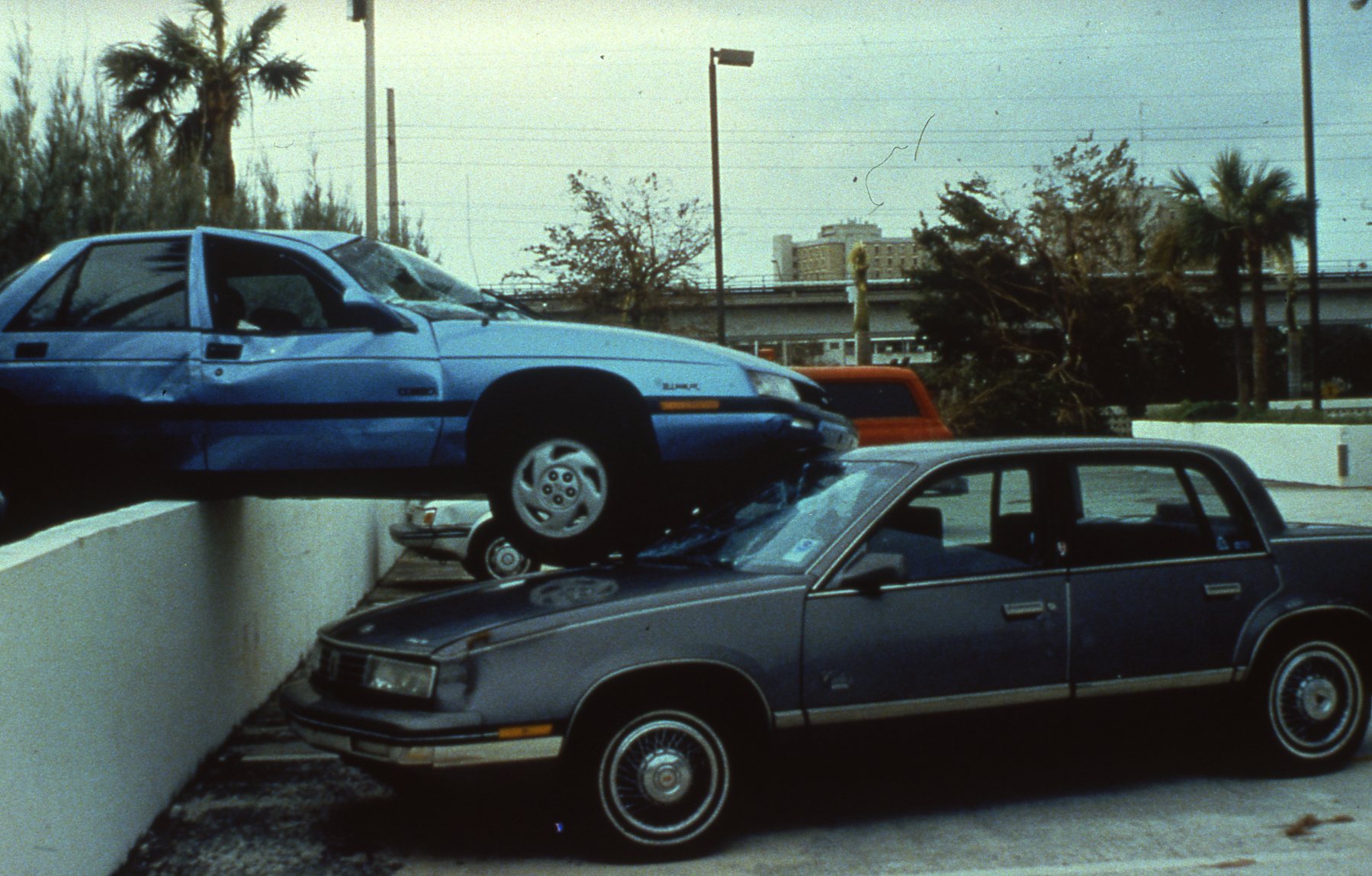 Picture of the vehicle outside in the parking lot of the old NHC building in Coral Gables. Picture courtesy of NOAA.
Explain how you were feeling as Hurricane Andrew made landfall and in the aftermath.
Avila: This was the first time I experienced a Category 5 hurricane in my life. I forecast hurricanes for a living, but it was an intense moment for me. The feeling was a mixture of fear, curiosity, and excitement. But seeing all the damage caused by the storm in the aftermath, I don't want to ever go through a hurricane again. As a child, I always wanted to experience a hurricane, but all I saw were tropical storms or relatively weak hurricanes - definitely nothing as strong as Hurricane Andrew.
When I finished work the day that Andrew hit South Florida, I had trouble navigating my way home because all the trees and familiar landmarks were gone. I eventually made it home to discover that the trees in my backyard protected my house from the strong winds. Also, at my house we didn't have winds as strong as in southern Miami-Dade County in Homestead. The communities in Homestead had the worst. Another employee who lived near the Falls Mall described the damage there as like a bomb went off. There was no power or water for days. The power returned to my house on September 4th. The good news is that the National Hurricane Center had a generator, so it did not lose power. However, this is when we decided to move NHC to a new building. The NWS realized getting the satellite dishes and radar on the roof of our existing NHC building after the devastation of Hurricane Andrew was going to be a challenge, and that convinced the NWS and NHC to relocate operations to a stronger building that could better withstand the impacts of a Category 5 hurricane. Hurricane Andrew taught us a lot of lessons, and this was one of them.
What has been the biggest improvement in hurricane forecast technology in the past 30 years?
Avila: The advancements in technology and computer models have been amazing. Before Hurricane Andrew, we used the Global Forecast System (GFS), which was called the Aviation Model (AVN) at that time. We also used the UKMet Model. We didn't have the amount of information we have now. The Dvorak classifications were on fax paper and there was no satellite loop imagery available like today. The way we develop public advisories has also changed. Back then, we had to hand-type advisories, and if we made a mistake, we had to start all over again. We were more advanced at that time than many other countries, but now with computer technology, the process is much faster and more efficient.
Hurricane Andrew reached Category 5 status with max sustained winds to 160 mph before making its first landfall on Eleuthera island in the Bahamas. GOES 7 Satellite Imagery 1km Visible. August 23, 1992 1131Z/7:31 AM EDT
Hurricane Andrew moving across the Florida Peninsula and about to enter the Gulf of Mexico with max sustained winds of 130 mph. GOES 7 Satellite Imagery 1km Visible. August 24, 1992 1231Z/8:31 AM EDT
What is your biggest fear about Miami being hit again by a Category 5 hurricane?
Avila: We have short memories, and I fear that people might not remember what our community went through during and after Hurricane Andrew hit Miami. Our memories serve to teach us what to do and what not to do for the next time it happens, and I hope that people will draw on those memories - as difficult as they are - to stay vigilant during every hurricane season. The intense core of Hurricane Andrew didn't even impact downtown Miami. Since 1992, we have built up a lot of the coastline with high-rise buildings that could catch the brunt of wind and water impacts during another Category 5 storm. We can hide from the wind, but the water is very dangerous. The water at the Burger King near Cutler Ridge almost reached the building's 4th floor. The ocean rushed in and destroyed everything.
These reasons are why it is URGENT that the Miami community remain tuned in to forecasts during every hurricane season, and evacuate immediately when told to do so by local officials. I don't think anyone can ever be fully prepared to experience a Category 5 hurricane - I know I wasn't.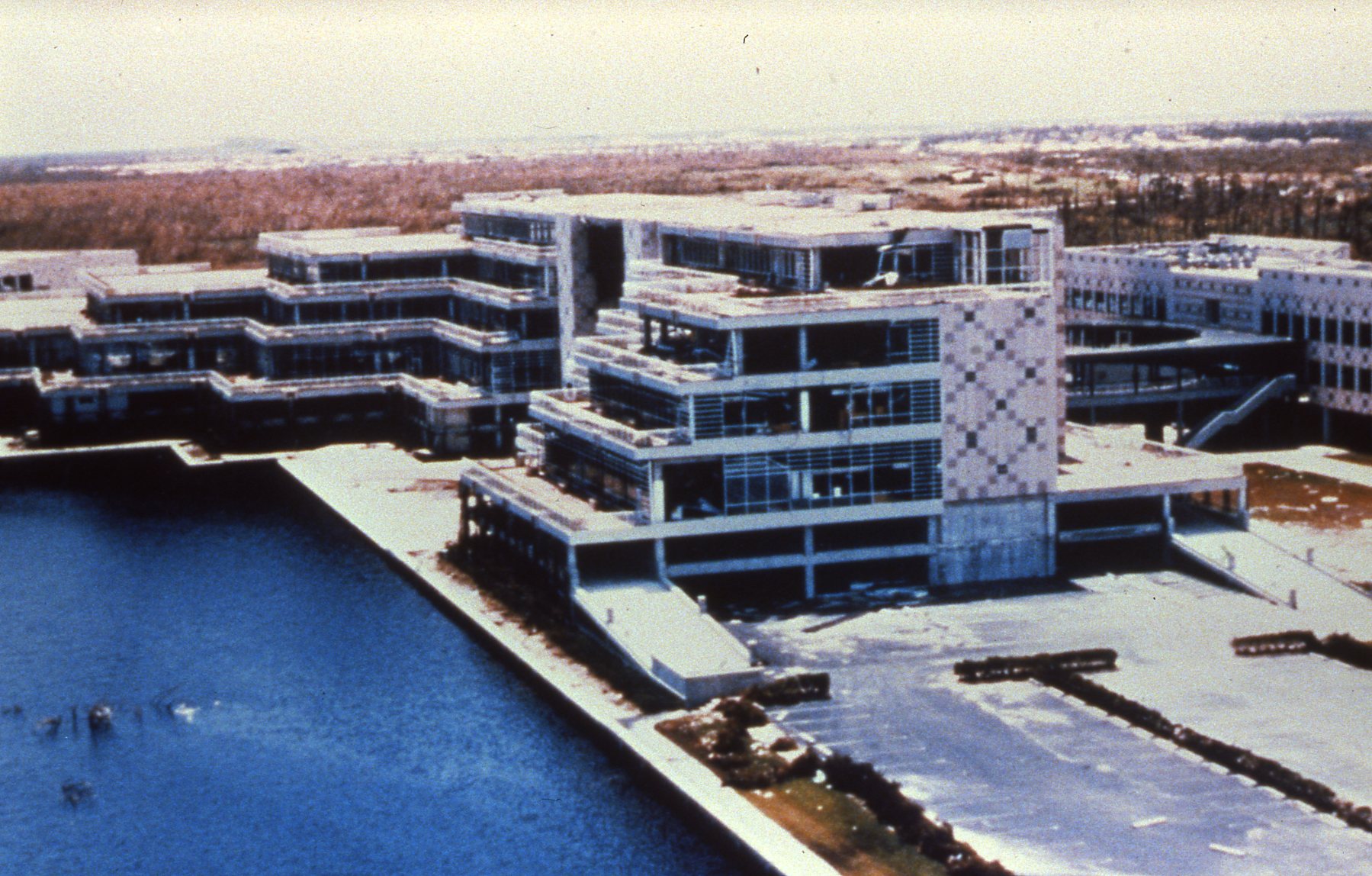 Picture of the Burger King World Headquarters building near Cutler Ridge, Florida. Picture courtesy of NOAA.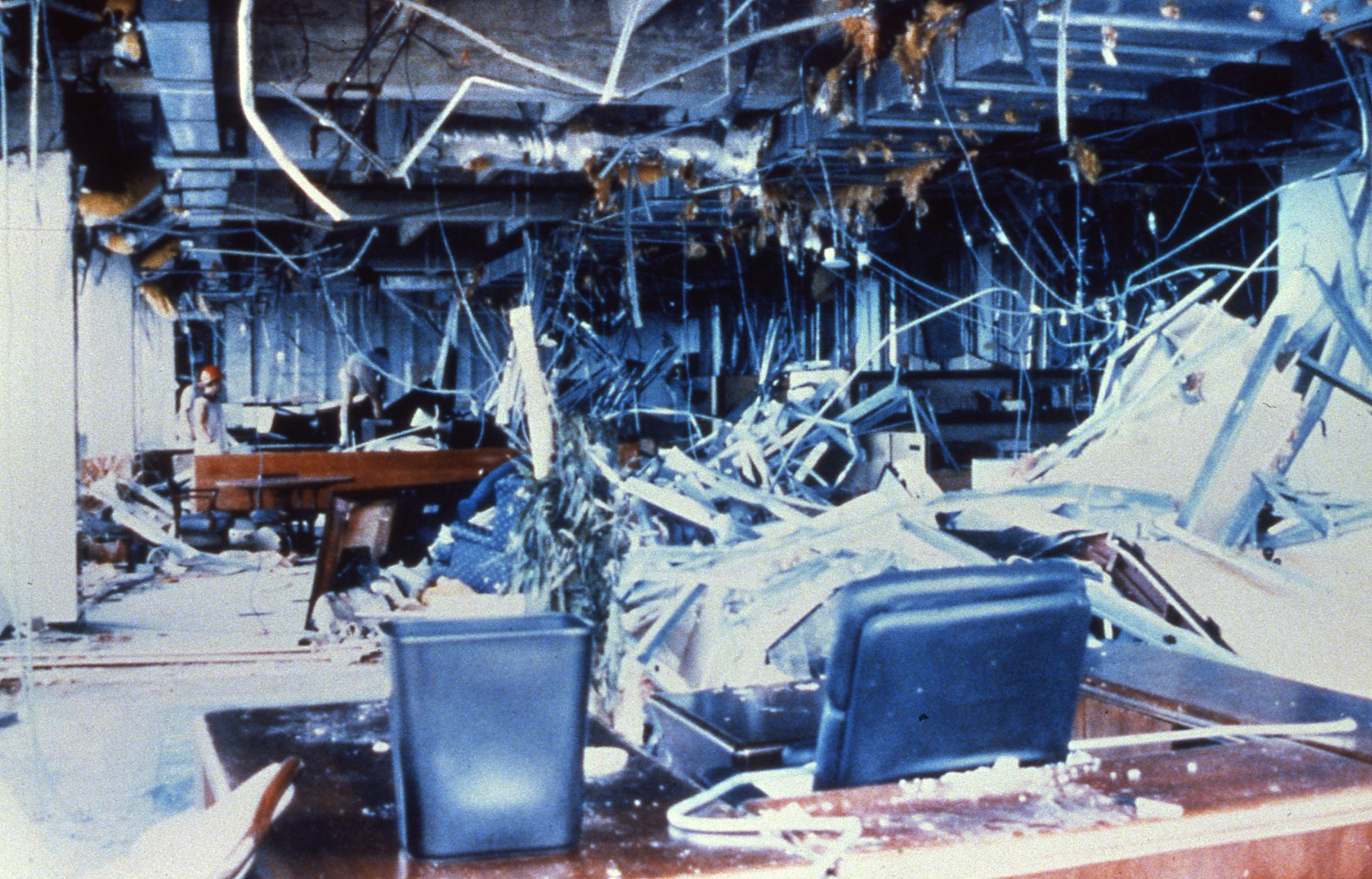 Picture inside the office of Corporate Executive Officer of Burger King World Headquarters building near Cutler Ridge, Florida. Picture courtesy of NOAA.
If there is something you want to pass along to the younger generation of Florida residents, what would that be?
Avila: Preparedness is key! Be prepared. No matter how much you prepare for a Category 5 hurricane, it's horrendous to experience. It took both me and my community of Miami a long time to recover from Hurricane Andrew and I didn't even experience the worst. I have a cousin that had triplets in March of 1992, so during Hurricane Andrew, those babies were about 5 months old. As the storm rolled through Miami, she and the babies rode it out in the bathroom. The house was completely destroyed, but she and her three little babies survived.
Max Mayfield, who served as the NHC director from 2000-2007, once said, "The battle against hurricanes is won during the off-season." I often share this quote because it's so true - some of our most valuable work to educate the community about hurricane threats happens in the off-season, when the tropics are calm and people have time to learn about their personal threats and how they can prepare their homes and families for hurricane season. When a storm is bearing down, it's time for action. All the preparation needs to be completed by then.
Conclusion
A story like this helps us appreciate the behind-the-scenes efforts of meteorologists on the front lines of forecasting extreme weather events, as they work to fulfill the mission of saving lives and mitigating property damage. As Dr. Avila said, going through a Category 5 hurricane is a traumatic experience. What seemed to be a weak storm at first, not showing any threat to South Florida, quickly evolved into a rapidly intensifying hurricane, which devastated the region. As Avila said, the key to resilience is preparedness.
Hurricane Andrew is an example of the importance of not getting complacent about hurricanes, even during seasons that are forecast to have below-normal hurricane activity. The Atlantic hurricane season outlook for 1992 called for a below-normal season, and indeed the season only produced seven named storms and four hurricanes, which is well below the average. However, as Hurricane Andrew demonstrated, it only takes one storm to devastate a community, so we need to prepare for every season whether it's predicted to be slow or busy.
If you want to learn more about the impacts and personal stories from those who experienced the storm up close and personal, check out the link below. This is a comprehensive documentary produced by the National Weather Service in Miami on the 25th Anniversary of Hurricane Andrew.
Hurricane Andrew's 25th Anniversary
A video of Hurricane Andrew in South Florida courtesy of Richard Horodner
Media contact: Maria Torres, Maria.Torres@noaa.gov, (305) 229-4404