July 27, 2023 - NOAA's Space Weather Prediction Center (SWPC) - a division of the National Weather Service - will upgrade one of its advanced physics-based space weather models leading to increased lead time for predicting the impact of geomagnetic storms on communications and navigation systems. The August 2 upgrade will also deliver new products for satellite operators – to help with decision-making, maneuver planning, orbit prediction, and collision avoidance – and for the aviation and communication sectors.
Geomagnetic storms, radiation storms and ionospheric disturbances can disrupt commercial aviation, ground-based users of radio wave communication, and a satellite's ability to operate and communicate. Low-Earth orbit (LEO) satellites are particularly vulnerable to variations in orbital drag, which can increase during times when the Sun is active.
The upgrade to the coupled Whole Atmosphere Model and Ionosphere Plasmasphere Electrodynamics Model (WAM-IPE Model) will now enable model predictions up to seven hours earlier by ingesting the most recent real-time solar wind data observed from NOAA's DSCOVR spacecraft located at Lagrange point 1 between the Sun and Earth.
New and Improved Products
"We are filling a growing need for more and better space weather forecasting capabilities for the commercial spacecraft industry in low-Earth orbit," said Tzu-Wei Fang, Ph.D., space scientist, SWPC. "Our space weather nowcasts and forecasts will help the expanding LEO industry and also benefit space situational awareness."
In addition to all the original WAM-IPE model products being available in near-real-time, the model upgrade allows for a new neutral-density product that can be used by satellite operators and ground-tracking systems for orbit prediction and space situational awareness purposes.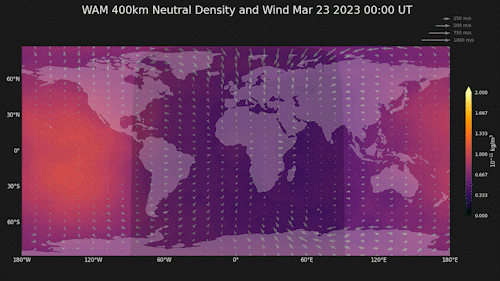 NOAA's Space Weather Prediction Center new neutral-density product developed for satellite operators and ground-tracking systems for orbit prediction and space situational awareness purposes. (NOAA)
SWPC will also offer new ionospheric products for the aviation and communication community to identify potential interferences in communication and navigation.
The near-real-time space weather products will be available on the SWPC website, in parallel with existing products. In addition, the neutral density products will be shared through NOAA's Open Data Dissemination Program, which provides public access on a commercial cloud platform.
Looking Ahead
In a concerted effort to continue to improve services for the rapidly growing satellite industry, this October, SWPC will host its second testbed experiment, which will focus on space weather impacts to satellite operations. This gathering will allow satellite operators, commercial satellite service providers, space weather researchers and forecasters, providers of space weather observations and social scientists to collaborate to advance prediction systems for the industry.
In addition, NOAA will further improve the WAM-IPE Model by working with the larger space weather enterprise to incorporate data from satellites used in the COSMIC-2 and GOLD missions as well as other commercial satellite providers.
The WAM-IPE Model is a research-to-operations success story, developed by scientists from the Cooperative Institute for Research in Environmental Sciences (CIRES) and NOAA's SWPC and Environmental Modeling Center.
NOAA's Space Weather Prediction Center is the official source for space weather forecasts, watches, warnings and alerts. Visit http://spaceweather.gov for information.
Resources:
Media Contacts:
Maureen O'Leary, NOAA Communications, Washington, DC, NWS.pa@noaa.gov
Theo Stein, NOAA Communications, Boulder, Colo, Theo.Stein@noaa.gov