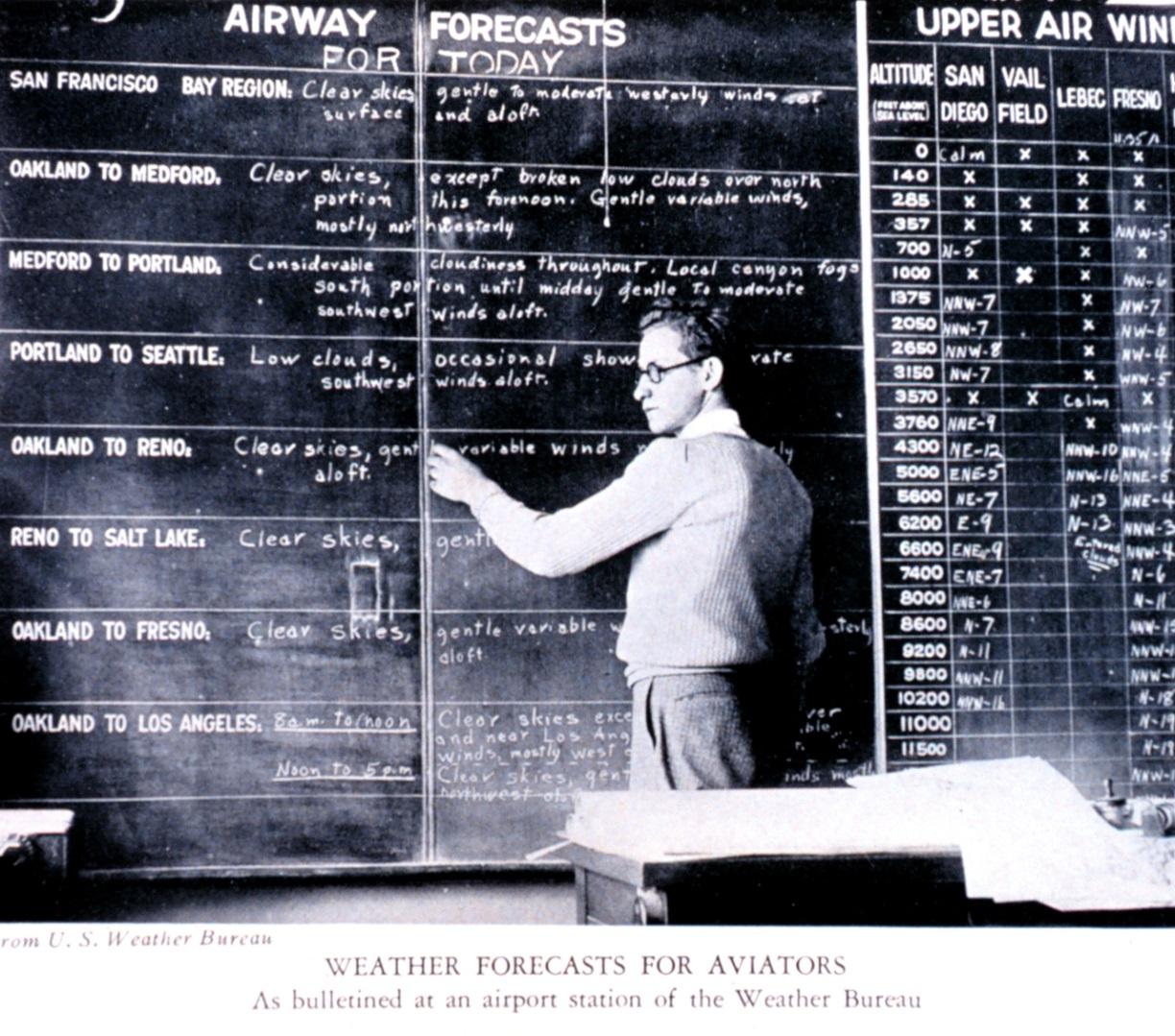 Image Credit: NOAA Library, Regional headquarters meteorologist keeping track of aviation weather, 1975.
After serving the nation as one of the primary products of the Aviation Weather Center since the 1930s the CONUS Aviation Area Forecast is now retired.
The text-only product – used by countless pilots over the decades to navigate planes full of people through storms, fog and turbulent winds – was officially retired on October 10. In its place a new product, called the Graphical Forecasts for Aviation (GFA), marks the evolution of the National Weather Service to continually develop new ways to help keep people safe as a part of their Weather-Ready Nation Initiative. The GFA was rolled out in April 2017 in close coordination with the Aviation Weather Center's core partner, the Federal Aviation Administration (FAA).
These new graphical forecasts are revolutionary for pilots, because they provide a set of tools and displays that include both current weather observations and forecasts up to 15 hours into the future. They cover critical information for aviation safety such as icing, wind, and turbulence forecasts at varying elevations above sea level.
"This is a huge win for the entire aviation weather community." said Kevin Johnston, system operations chief meteorologist, FAA. "The retirement of the CONUS text Area Forecast is a great example of the FAA and NWS working together with aviation industry stakeholders to improve on improving weather information services,"
With the valuable GFA forecasting tools in hand, pilots have a new way to visualize and analyze weather from the surface to 48,000 feet. NOAA worked closely with the FAA and the broader aviation industry community to develop new graphical forecast products that best meet their needs.
"These new graphics allow a pilot to make better analysis of the weather along their flight route and are generally more user friendly than long blocks of text," said Rune Duke, director of government affairs, airspace and air traffic, Aircraft Owners & Pilots Association. "We provided dozens of comments that were incorporated into the product's final design and appreciate the collaborative approach NOAA and the FAA have taken to reflect what general aviation pilots want."
As the new system takes flight for both commercial and private pilots, colleagues across the National Weather Service and the aviation industry bid a fond farewell to the CONUS Aviation Area Forecast, which has served the country well. The new system will become available for Hawaii, the Caribbean and the Gulf of Mexico in the coming years.