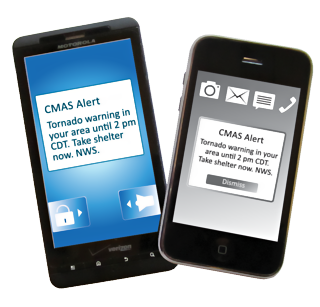 A tornado drops from the sky. It is minutes from a small town. Hundreds of people are in danger. In addition to weather warnings and sirens, what if a message could be sent to mobile phones?
That's the idea behind Wireless Emergency Alerts (WEA).
Wireless Emergency Alerts are text messages that are sent to your mobile device in case of emergency. The alerts will show the type and duration, any action you should take and the agency issuing the alert. The message will be no more than 90 characters. The type of alerts you may receive are:
Imminent Threats and Local Emergencies (which includes weather warnings)
AMBER Alerts
Presidential Messages in the event of a national emergency
While the alerts are still in their infancy, this new service has already saved lives. Here is a sampling of real-world stories where people took action after receiving an emergency alert.
Connecticut
A tornado warning from the National Weather Service triggered a Wireless Emergency Alert (WEA) which saved as many as 34 lives in East Windsor, Connecticut. Five adults and 29 children were in the Sports World Complex soccer dome when the manager received the WEA on her iPhone. She immediately evacuated everyone to an adjoining building. Within two minutes of receiving the WEA, a tornado hit the dome, sending it flying across the interstate. The children and adults were safe, thanks to the warning issued by the National Weather Service Weather Forecast Office at Taunton, Massachusetts.
Illinois
Daniel Bennett was officiating Sunday services before 600 to 700 people when two dozen phones started going off during the service, saving countless lives.
Louisiana
Jamie and Donnie Munson were settled into their double-wide mobile home for the night when they received a Tornado Warning, saving their lives.
New York
At 4 pm on July 26, 2012, a tornado with 110 mph winds ripped a ten-mile path through the Elmira, NY, area. Four homes were completely destroyed and 16 were made uninhabitable by fallen trees. In total, about 2,000 structures sustained damage. Miraculously, however, no significant injuries were reported. Numerous residents credited Wireless Emergency Alerts, saying they took shelter in their basement upon receiving an alert on their cell phone.
Mississippi
A woman was about to go to bed when her cell phone alerted her of a tornado warning. She immediately turned on her TV for more information and looked out the back door. She saw a tornado backlit by lightning moving toward her. Running back into the house, she yelled to her daughter and husband to get into the bathtub. Within moments, the tornado struck her home, heavily damaging the bedroom. She stated that the alert had saved her family.
Virginia
Campers were alerted via emergency messages on their cell phones before a tornado struck their Eastern Shore campground.
For More information
There is no charge for these types of emergency alert messages and you do not have to sign-up for them; they are sent automatically. Read the Wireless Emergency Alerts FAQ to learn more about this life-saving service.