Date Posted: May 17, 2016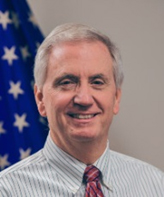 Carven Scott has been named director of the NOAA National Weather Service's Alaska Region in Anchorage, Alaska. He started his new assignment on May 15, 2016.
The National Weather Service's Alaska Region provides weather, water, aviation and climate services to the nation's largest and most geographically complex area, and includes three weather forecast offices, the National Tsunami Warning Center, the Alaska Pacific River Forecast Center, the Alaska Aviation Weather Unit, the Center Weather Service Unit and 12 weather service offices.
"Carven is passionate about Alaska weather and understands its impacts to our lives and livelihood," said National Weather Service Deputy Director Laura Furgione. "His dedicated leadership will help shape our services provided in the region enabling the National Weather Service to be even more responsive to our partners. With Carven's help, we will continue to evolve and improve our life saving mission."
Beginning in December 2007, Carven served as chief of the environmental and scientific services division at the regional headquarters, successfully recasting and developing the division and enabling Alaska Region to meet current, emerging, and evolving mission requirements. In December 2015, he was selected as acting director of the region.
"It's truly an honor and privilege to lead a team whose mission is to put public safety first, by issuing accurate and timely warnings to save lives and property, 24 hours per day, 7 days per week," Scott said. "We will keep improving operations using emerging technologies to enhance our products and services for Alaskans, our industry partners, and our federal, state and local emergency responders."
Scott has been a National Weather Service employee for over 35 years. He served as science and operations officer at the weather forecast office in Anchorage from 1993 to 2007. He led the NOAA-Environment and Climate Change Canada Bi-lateral Marine Services Project for more than three years and served as the chair of the National Weather Service Operational Advisory Team.
He has received numerous awards throughout his career, including a Department of Commerce Gold Medal in January 2015 for his work on synthetic aperture radar (SAR) for ocean applications leading to operational implementation of the first automated SAR product in NOAA.
In addition to his civil service with the NWS, Scott proudly served in the military for more than 30 years, retiring as a captain in the Navy Reserve in March 2014. During his last tour he served as the Commanding Officer of the Naval Meteorology and Oceanography (METOC) Reserve Headquarters Unit. He completed Joint Professional Military Education (JPME) Phase I through the Naval War College in 2009, and was designated as an Information Dominance Warfare Officer (IDWO) in 2010. Scott was awarded the Navy Meritorious Service Medal in 2014.
Scott completed a Bachelor of Science degree in meteorology with a minor in computer science in 1975 from Texas A&M University, where he also earned a Master of Science degree in meteorology in 1977.
NOAA's National Weather Service is the primary source of weather data, forecasts and warnings for the United States and its territories. NOAA's National Weather Service operates the most advanced weather and flood warning and forecast system in the world, helping to protect lives and property and enhance the national economy. Working with partners, NOAA's National Weather Service is building a Weather-Ready Nation to support community resilience in the face of increasing vulnerability to extreme weather. Visit us at weather.gov and join us on Facebook and Twitter.
NOAA's mission is to understand and predict changes in the Earth's environment, from the depths of the ocean to the surface of the sun, and to conserve and manage our coastal and marine resources. Join us on Facebook, Twitter, Instagram and our other social media channels.
Contact: Audrey Rubel, National Weather Service, 907-271-4767