Participants assess current and future space weather services for satellite industry
October 27, 2023 – Satellite orbital drag and energetic particles topped the list of space weather threats to low-Earth orbit satellites discussed at the Satellite Environment Testbed Exercise held in Boulder, Colorado this week. Space weather scientists, satellite owner-operators, tracking and maneuver service providers, and related commercial service providers gathered to better understand how satellite companies plan for and respond to space weather. During the three-day meeting, experts also assessed current space weather products and services for the satellite industry that are offered by NOAA's Space Weather Prediction Center (SWPC) and other service providers.
Space weather can disrupt satellites used for commercial communications, global positioning, Earth observation, and national security. Increased orbital drag caused by space weather reduces the lifespan of low-Earth orbit satellites and complicates space traffic coordination. One notable example occurred in February 2022, when space weather caused the loss of 38 Starlink satellites after launch. Besides the risk from enhanced drag with the increasing solar activity, energetic particles in the Radiation Belts or associated with solar storms could cause damage to electronic circuits and components in satellites.
Tabletop exercise
During the tabletop exercise, participants were handed a scenario modeled after a past Earth-directed Coronal Mass Ejection and discussed actions satellite operators may take and potential impacts on operations.
"Identifying the quantitative impact of space weather on satellites due to the severe radiation environment and atmospheric density changes will help us prioritize tasks to improve our space weather models and design operational products that will better meet the needs of modern space commerce," said Tzu-Wei Fang, Ph.D., testbed exercise co-organizer and space scientist at SWPC.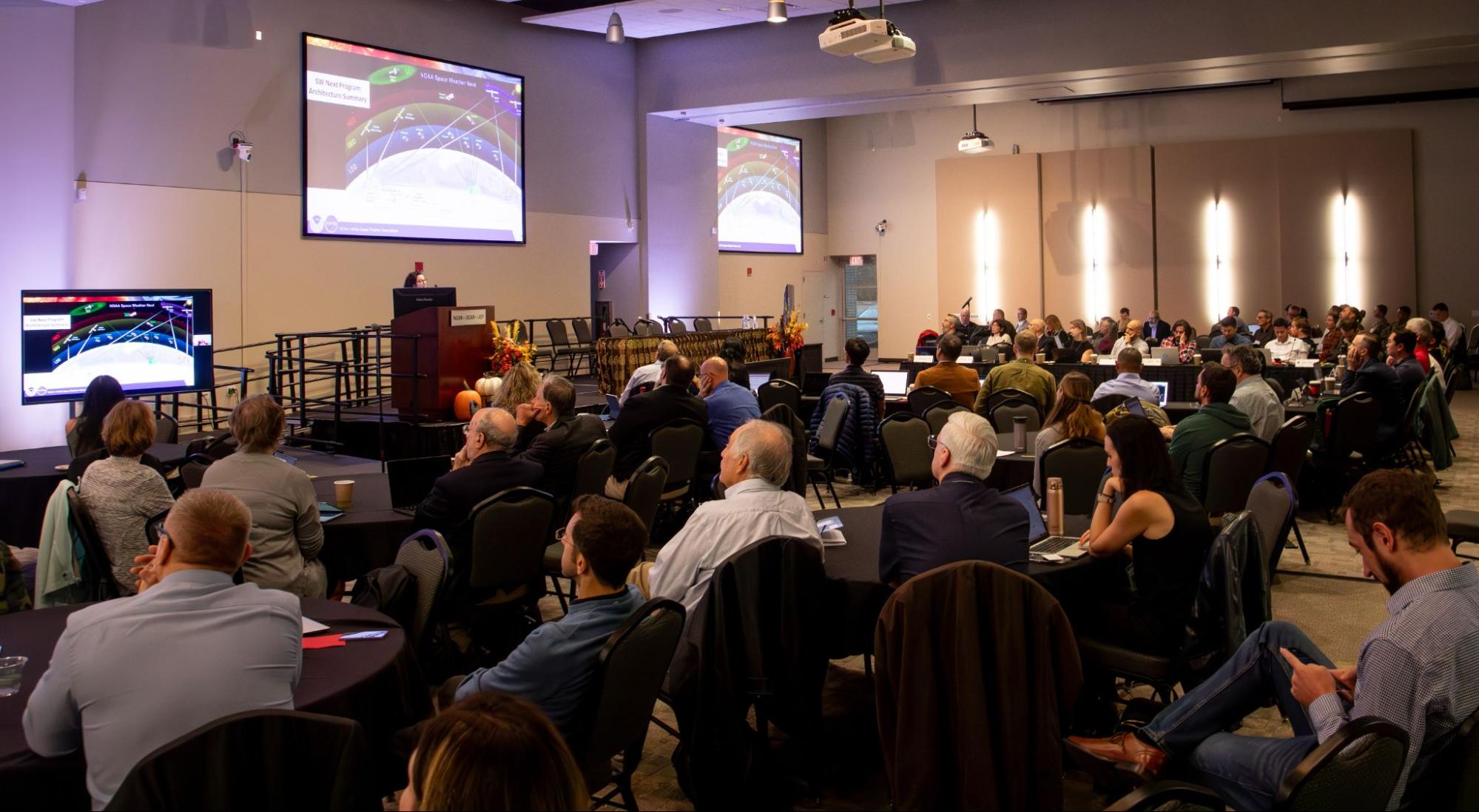 Space weather experts collaborate with the satellite community at SWPC's first Satellite Environment Testbed Exercise. October 25, 2023, Boulder, Colorado (NOAA)
Several satellite industry representatives voiced concerns about the economic losses they experienced due to space weather, including reduced satellite lifespan, launch costs for replacing satellites, and more frequent maneuvering for collision avoidance or for orbit maintenance. The biggest problem reported by many low-Earth orbit operators at the testbed is atmospheric drag, but their list of space weather concerns is long. SWPC and the satellite industry hope this testbed will lead to improved atmospheric drag and radiation environment modeling; improved space weather nowcasts, probabilistic forecasts and long term predictions; better event duration information; access to real-time data; and better archiving of model and observation data.
SWO scientist Erin Lynch provides an overview of Space Weather Observations programs and the Commercial Data Program. October 26, 2023 (NOAA)
"A better understanding of space weather impacts on constellation operators and tracking could determine next steps to improve our neutral density services and eventually lead to better space traffic coordination," Fang said. "Collaboration today between industry, researchers, and forecasters is critically important with the proliferation of constellations of satellites at low-Earth orbit over the next decade."
The increasing demand for satellite broadband, data services and real-time Earth monitoring has fueled a rapidly growing commercial space industry in low-Earth orbit. Companies are actively establishing large constellations of small satellites in low-Earth orbit, with over 7,000 satellites currently, according to satellite trackers. Based on approved and scheduled deployments, that number is expected to increase exponentially, to 58,000 satellites by 2030.
NOAA's satellites and commercial data buys
Experts with NOAA Satellites are working to deliver better and more observations to help improve space weather forecasts and services. Erin Lynch, Ph.D., from NOAA's Office of Space Weather Observations (SWO), spoke about NOAA's Space Weather Follow-On mission, scheduled to launch in 2025. She said the environmental satellite will fly a suite of instruments to detect coronal mass ejections and make real-time measurements of the solar wind and the interplanetary magnetic field. Data from this satellite will be used by SWPC to provide timely and accurate forecasts, warnings, and alerts.
SWO works collaboratively with SWPC to assess its requirements and determine the best approach to meet its data needs. NOAA obtains space weather measurements through a combination of NOAA satellite missions, commercial data purchases, and agreements with domestic and international partners for space weather data sharing and instrument hosting. NOAA is implementing the Space Weather Next program to ensure long-term continuity and enhancement of observations to meet SWPC needs. NOAA started its commercial data buy program in 2016, contracting with the growing commercial space industry to acquire space-based environmental observation data.
Also during the event, SWPC Director Clinton Wallace announced the launch of an Experimental Solar Cycle Prediction product with an updated prediction for Solar Cycle 25. This news was well received by the satellite community, with experts commenting that a monthly prediction update will help with mission planning. Further, SWPC leadership discussed its goal to revise NOAA's Space Weather Scales to improve space weather hazard communication.
SWPC Space Scientist Tzu-Wei Fang, Ph.D., and SWPC Director Clinton Wallace respond to questions at the Satellite Environment Testbed Exercise. October 26, 2023 (NOAA)
The Satellite Environment Testbed Exercise is organized and sponsored by NOAA's Space Weather Prediction Center, Office of Space Weather Observations, and National Centers for Environmental Information. NOAA testbeds offer a proven way for researchers, forecasters and end users to work alongside each other to move technologies and applications to operational platforms as quickly as possible. NOAA currently operates 12 different testbeds.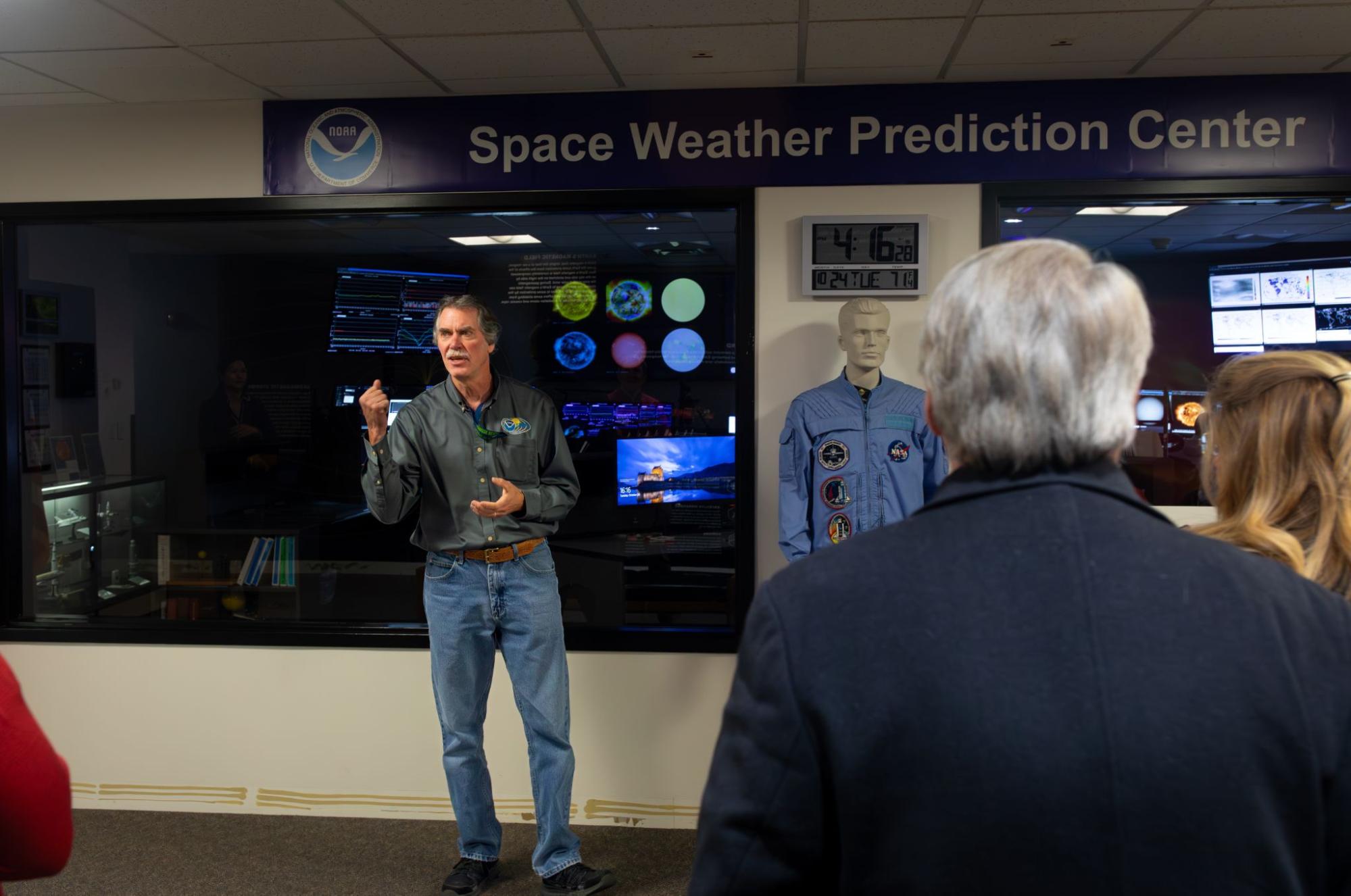 SWPC Service Coordinator Shawn Dahl takes testbed attendees on a tour of the forecast operations area. October 24, 2023 (NOAA)
NOAA's Space Weather Prediction Center is the official source for space weather forecasts, watches, warnings and alerts. Visit www.spaceweather.gov for updates.
For questions or comments on this story, please contact Maureen O'Leary, National Weather Service (NWS) Public Affairs, NWS.PA@noaa.gov.
Resources: