June 21, 2021 - Summer is a great time to enjoy fun in the sun, but the negative effects of heat to people and animals are numerous. Long periods of time lounging in the sun and exercising or working outdoors during extreme heat can be dangerous to your health, even fatal.
Protect yourself from the dangers of extreme heat by checking the weather forecast and using our heat forecasting tools before your next outing — even up to 14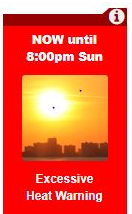 days in advance.
1. Get the latest forecast at Weather.gov
If you're looking for the latest hourly forecast, watches, warnings, and advisories, weather.gov has you covered. Simply enter your location to see if your area is at risk of an excessive heat event that would trigger one of the NWS heat alert products:
Excessive Heat Warning. Act! An excessive heat warning is issued within 12 to 24 hours of the onset of extremely dangerous heat conditions.
Excessive Heat Watch. Be prepared! Heat watches are issued when conditions are favorable for excessive heat in the next 24 to 72 hours.
Heat Advisory. Use caution! A heat advisory is issued within 12 hours of the onset of dangerous heat conditions
2. Heat Index



The heat index tells you how the temperature feels like to the human body when relative humidity is combined with the air temperature. In most cases, it is a better measure of heat than air temperature alone. NWS forecasters include the Heat Index in their forecasts. Heat index values in this chart are for shady locations. If you are exposed to direct sunlight, the heat index value can be increased by up to 15 degrees.
If you work or exercise in direct sunlight, this experimental tool will help you monitor expected heat stress. It shows heat stress categories associated with Wet Bulb Globe Temperature (WBGT) forecast values by region. WBGT forecasts 1 to 7 days ahead making it useful for planning purposes as well as day of action. This tool is often used by athletes, outdoor workers and the military. Watch this video to learn more or read this factsheet.
4. U.S. Day 3 - 7 Hazards Outlook - Excessive Heat Outlook
The Weather Prediction Center Day 3 - 7 Hazards Outlook is a useful tool for planning your week ahead. You can see whether excessive heat or much above-normal temperatures are predicted, giving you even more time to prepare and adjust scheduled activities, as warranted.
The Climate Prediction Center's 8 - 14 Day Outlook will help you plan for outdoor activities up to 14 days in advance by providing you with areas across the U.S. that are forecast to see above normal temperatures.
6. NWS experimental HeatRisk tool
The NWS experimental HeatRisk tool provides an overview of heat risk potential during the upcoming 7 days. This tool, available for the Western U.S., portrays heat risk through a color scale. It's particularly useful to heat sensitive populations that may need to take action prior to when NWS forecasters issue an official NWS Watch, Warning, or Advisory.
Learn to use these tools today so that you are heat ready this summer.
For more heat safety tips and resources, visit our heat safety page and our summer safety campaign.

Wet Bulb Globe Temperature, U.S. Day 3 - 7 Excessive Heat Outlook, and the experimental HeatRisk tool