Partners within the Weather-Ready Nation all work together to achieve weather-readiness. One example of this successful partnership occurred on October 16, 2021, a pleasant fall Saturday, when a dangerous marine wind event developed in the Chesapeake Bay. The Chesapeake Bay, in addition to its commercial shipping, has a vibrant recreational boating community, as well as many fishing boats that harvest its seafood.
From the forecasting side of the partnership, the National Weather Service's (NWS) Baltimore/Washington Forecast Office foresaw a hazard more than 24 hours before it occurred. A warm fall weekend day would draw recreational boaters out in the morning. Those boaters would be confronted by a sharp increase of dangerous winds during a cold frontal passage. The NWS knew of similar events over past years that had capsized many vessels and even caused casualties. [Chesapeake Bay Magazine story]
From the communication side of the partnership, the local broadcast meteorologists received the message of a wind threat from the NWS over NWSChat. They communicated the message during their broadcasts, as well as over social media. [retweet from WRC-TV]
From the emergency management side of the partnership, counties and cities relayed the message through their local boating communities. [post from Baltimore County OEM]
With more than 24 hours of lead time, the message reverberated through the community and was largely received. In concert with the NWS Special Marine Warnings issued shortly before the wind event occurred, the combination of forecasts and warnings, communication, and mitigation all worked together to help keep people off the waters and prevent a potential tragedy.
There was a long list of hazardous marine wind gust observations that afternoon [Summary Local Storm Report from 10/16 6:23PM is attached below], many of which saw a rapid onset like the attached wind graph from Crisfield, MD. There was also at least one waterspout [credited photo] adjacent to the Chesapeake Bay Bridge. Despite the sudden development of these hazards, the NWS did not receive any reports of casualties or of boaters in peril.
The strong partnerships instilled by the Weather-Ready Nation were critical in having a weather aware boating community that was able to stay out of harm's way.
By: Chris Strong, Warning Coordination Meteorologist, WFO Baltimore/Washington, D.C.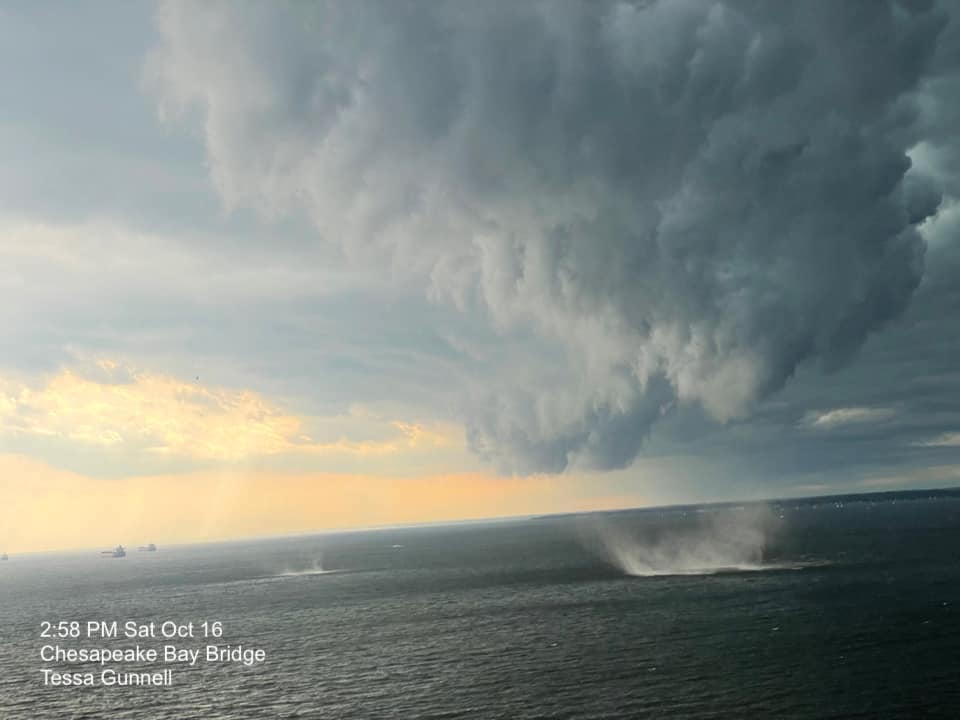 Waterspouts spotted near the Chesapeake Bay Bridge. Outreach before this severe weather event increased awareness for the potential of marine hazards.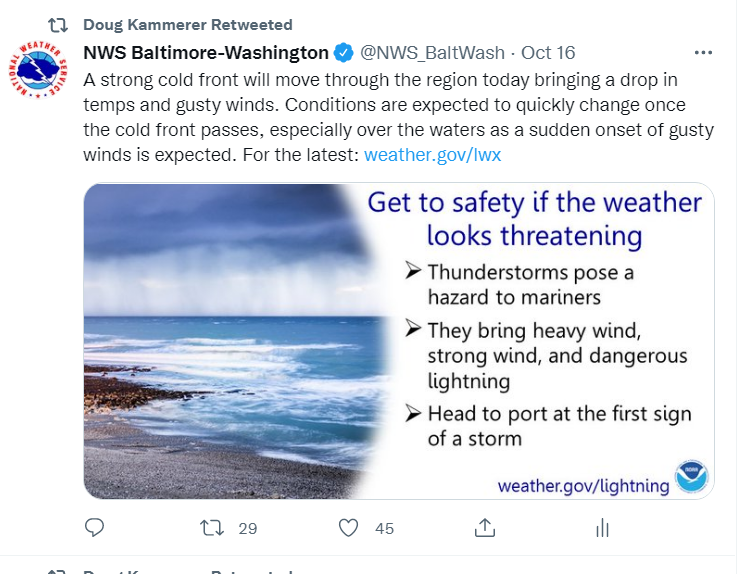 Infographic tweeted by the NWS Baltimore/Washington DC forecast office and retweeted by local media.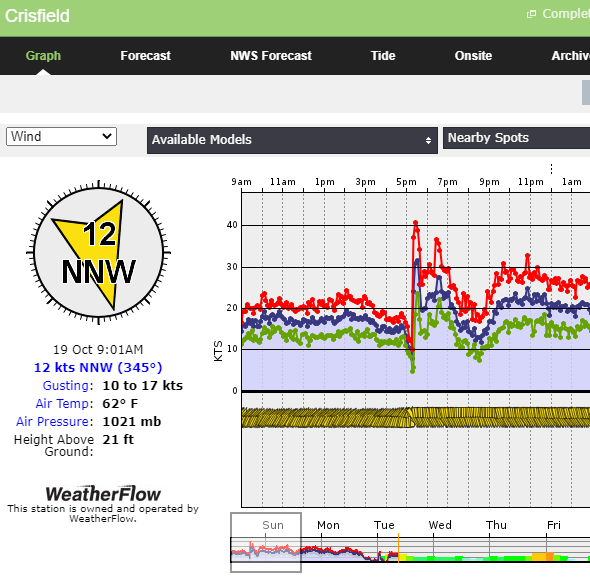 Strong wind gusts observed.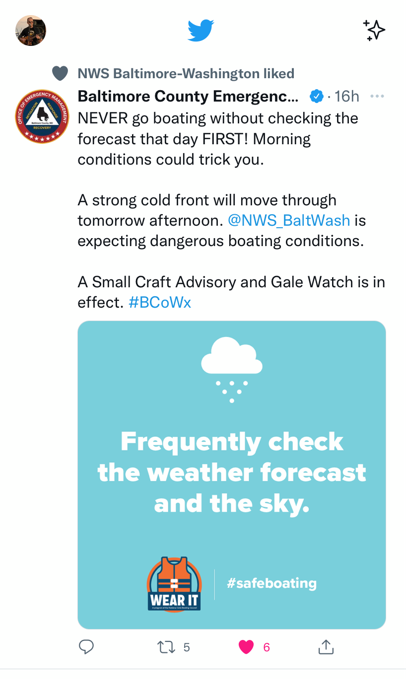 Emergency Management promoting weather safety for this event.