by J. Martin Montgomery, P.E.
At the ripe old age of 6 years old, I will never forget looking out the door of a musty damp storm cellar in Checotah, Oklahoma, and watching a tornado roll across the field in front of us. While the tornado left a path of destruction, we were all safe and sound below ground.

Years later, I am off to college studying engineering when my neighbor calls and says, "Hey, look out your front window." I looked out of the window past the mirrors on the wall and the shag carpet of my single wide mobile home to see a huge tornado in the sky just to the west of us. We reacted by jumping into our car and taking off, only to find ourselves in a traffic jam at the entrance of our trailer park. As we sat in the car and watched the tornado move across in front of us, I remember thinking, "This is probably not my best decision. I should have had a storm plan already thought out."
Years later since that time. I have inspected many structures which sustained heavy wind damage during many tornados and hurricanes. It is remarkable how similar and predictable the construction failure modes are in each event.
As a young boy, my understanding of tornados was formed by the movie The Wizard of Oz. The image of a tornado lifting the house up and twirling it up into the sky was forever seared into my memory. But there are movies and there is reality. The reality is homes don't lift up and twirl away. That's just not the case.
By far, the vast majority of homes constructed on pier-and-beam type foundations fail by sliding off of their foundation due to improper anchoring. This is true with site-built and manufactured homes.
Photo – Manufactured home not adequately secured to ground slides off support piers and rolls over (Lee County, Alabama - March 2019).
Recently, I was driving down the road a few miles from my home when I saw debris strewn across the road and hanging from a fence. As I glanced into the yard, I saw the house that I had driven by many times before was gone – nothing but a spread-out pile of debris. My curious self slammed on the brakes and backed up to pull into the driveway. As I looked, one house was completely destroyed but another house less than 100 feet away was perfectly fine. My wife and I walked up to the house left standing and knocked on the door. A lady in a cast with various cuts and bruises came to the door. I explained to her that I have trained thousands of contractors over the years on how to properly anchor homes and I wanted to look at her home more closely. As we walked through the debris field, she told me how she, and her friend and seven children were in the house. They were watching the weather on television and were prepared to go into a below grade storm shelter, just 75 feet from their front door when they felt the home slide and begin to roll. She then told a heart-breaking story about how a neighbor had found one of her small children walking down the road disoriented at night and how she and her friend found the other children in the dark, rain-soaked, debris-filled yard. Somehow, God only knows, she and her children escaped serious injury. After determining how her home was anchored, I did not have the heart to tell her that the home was simply not properly anchored and tied down and that 70+ mph straight line winds likely blew her home off its foundation. Her home was completely destroyed while the home next door was perfectly fine. Proper tie down and anchoring matters.
Photo – 1) Debris from home rolling off foundation. 2) Blocking mostly still in-place – Below grade storm shelter in distance (Kellyville, OK – 2013)

The reality is that wind speeds in the vast majority of tornadoes are just not that strong. Approximately 96% of all tornadoes are rated EF-1 or EF-2 (wind speeds below 136 mph). If you are in a well-built well-anchored structure (site-built or post-1978 manufactured or modular home) sheltering in-place may be your best available or only choice when a below grade storm shelter is not an option. Clearly, getting into your car or being in a portable travel trailer is not a good choice.
Photo - Manufactured home structurally intact, vehicle destroyed (Lee County, Alabama - March 2019).

The design and construction of manufactured homes has improved significantly over the years. Older "mobile homes" (pre-1978 construction) have been replaced with "manufactured homes" which are designed structurally on par with site-built homes and generally have a more robust inspection process during construction when compared to site-built homes. Over the last decade, HUD's new manufactured home installation requirements and state inspection programs have significantly improved the quality and compliance of the installations on-site.
I recently spent a couple of days in Alabama going through the March 2019 tornado damaged homes in Lee County. I saw a number of manufactured homes that performed well enough to withstand the tornados. I also saw a number of homes that didn't. The primary difference, hands down, was anchorage and tie-down. While there were cases where the storm was simply just too strong (EF3 or greater), homes that were strapped into a concrete foundation or that were newer with properly installed soil anchors generally performed well where the wind speeds were likely below 136 mph. Homes anchored with surface mounted "pan" type systems and older (>10 years old) deteriorated soil anchor systems did not perform well. These systems failed to keep the home from sliding off the blocking resulting in the homes rolling over. If the anchorage had held, many of the homes would have withstood the winds and better protected those inside. In one manufactured home, three small children survived while the father was critically injured. If you look closely at the photo below, the "pan" type anchor is still attached to the frame. There was a small deformation in the soil where the pan anchor simply slid across the ground without sufficient resistance to the wind load.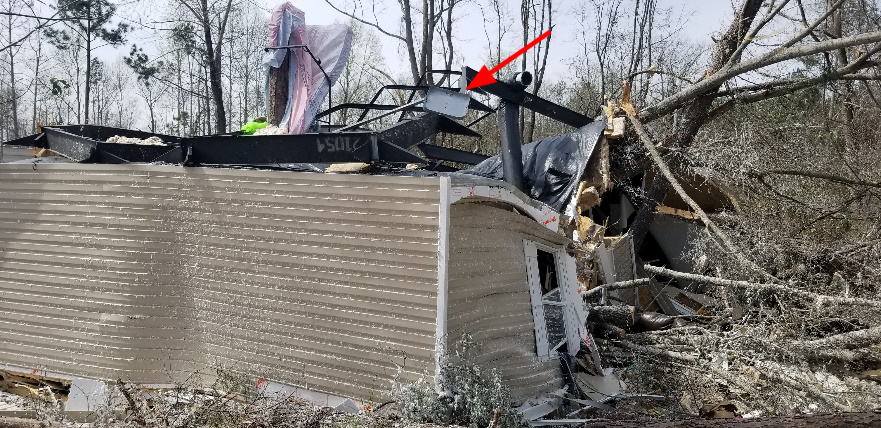 Photo – Surface mount pan anchor still attached to home frame (Lee County, Alabama - March 2019).
Much like the shingles on the roof of your home, soil type anchor systems have a limited life cycle. In many locations, moist soil accelerates rusting of the anchors and strapping. We typically recommend inspection and replacement of the anchorage system every 10 years. This can be done for approximately $1,000.
Photo – Tie down strap rusted completely through (Lee County, Alabama - March 2019).

Likewise, site-built building code requirements have improved over the years. Stronger shear walls and improved roof attachments have made homes structurally more robust. However, enforcement of building codes and little or no inspection of construction activities in rural areas is lacking, if in existence at all. If you notice in the photo below, the walls failed at the sill plate of this site-built home. Nuts were never put on the anchor bolts.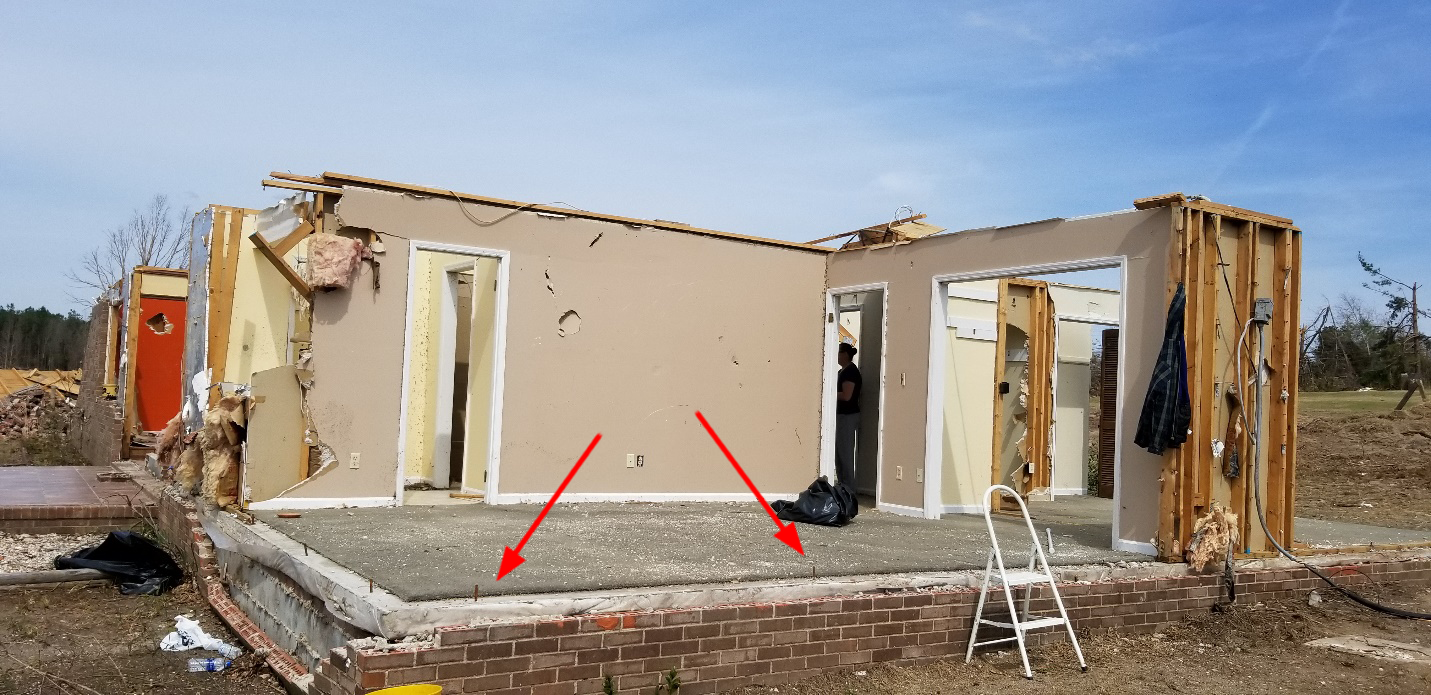 Photo – Slab-on-grade foundation anchor bolts with no nuts installed to secure the sill plate to the slab (Lee County, Alabama - March 2019).
It is important to understand your options for seeking shelter. A car or travel trailer is not a good choice. Sheltering in-place in an older home that is not properly tied down might be marginally better but is not the preferred choice. A better choice is to shelter in-place in a newer constructed and properly anchored home. The best choice by far is to be underground in a storm shelter. Many of the newer underground shelters can be installed for as little as $3,500.
Photo – Several people rode out the tornado in this underground shelter (Shawnee, OK – May 2013)
My, how things have changed over the years. In much the same way as home construction practices have improved, technology and communication have improved as well. From the days of huddling around an AM radio to today where my phone gives me alerts of the latest weather conditions. This information combined with having a pre-planned place to seek shelter is a HUGE step forward in being safe.
While I love to listen to the "thunder-roll" in the country song Blown Away by Carrie Underwood (also from Checotah), I don't like to see homes roll.