Social Media: Heat Safety
#WeatherReady #KeepYourCool
Please help the National Weather Service spread these important safety messages on social media! Everyone is welcome to use the text and images provided below to help the NWS build a Weather-Ready Nation.
Prepare now for the heat season. Learn where you can go to stay cool if needed. If you think you may need to go to a public cooling shelter, check with local authorities to see which ones are open this year. When cooling off from extreme heat at a public cooling shelter, the CDC recommends that you protect yourself and others by staying at least 6 feet from other people when possible and wearing a cloth face covering.
Keep in mind you may need to adjust your plans based on the latest health and safety guidelines from the CDC and your local officials. Cooling shelters may need to take your temperature or ask questions about how you are feeling.
What Weather-Ready Looks Like: Hot Cars
Facebook
What does being Weather-Ready look like? When it comes to vehicle heat safety, it means caregivers and parents setting reminders and always looking before they lock. Learn more heat safety and preparedness tips at weather.gov/safety/heat
Twitter
What does being #WeatherReady look like? When it comes to vehicle heat safety, it means caregivers and parents setting reminders and always looking before they lock. Learn more heat safety and preparedness tips at weather.gov/safety/heat
Survivor Story: Dehydration
Facebook
"I chose to hike alone, without water, and I did not check the weather. When I returned, I was clammy, shaking, ash gray, had a splitting headache and felt nauseous. It took over a day to recover." weather.gov/heat
Twitter
"I chose to hike alone, without water, and I did not check the weather. When I returned, I was clammy, shaking, ash gray, had a splitting headache and felt nauseous. It took over a day to recover." weather.gov/heat #WeatherReady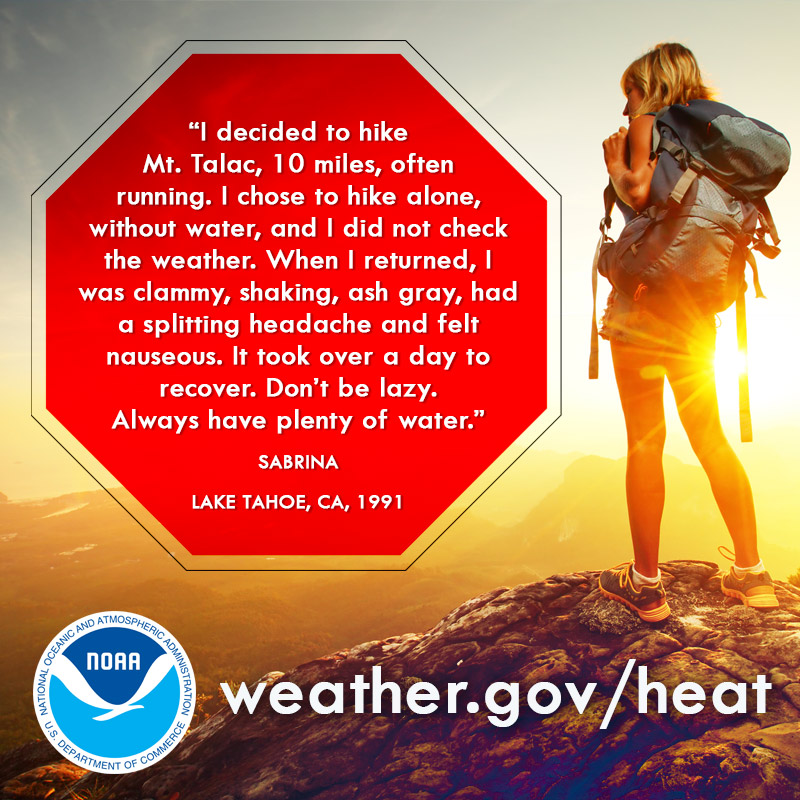 During Extreme Heat
Facebook
Heat is the leading cause of weather-related deaths in most years. Protect yourself during extreme heat and stay Weather-Ready. weather.gov/heat
Twitter
Heat is the leading cause of weather-related deaths in most years. Protect yourself during extreme heat and stay #WeatherReady. weather.gov/heat
Look Before You Lock
Facebook
51 kids died in 2019 by being left in a vehicle. Most are under 3 years old. Many were forgotten by a caregiver. weather.gov/safety/heat-children-pets
Twitter
On average, 38 kids die each year by being left in a vehicle. Most are under 3 years old. Many were forgotten by a caregiver. weather.gov/safety/heat-children-pets #LookBeforeYouLock #WeatherReady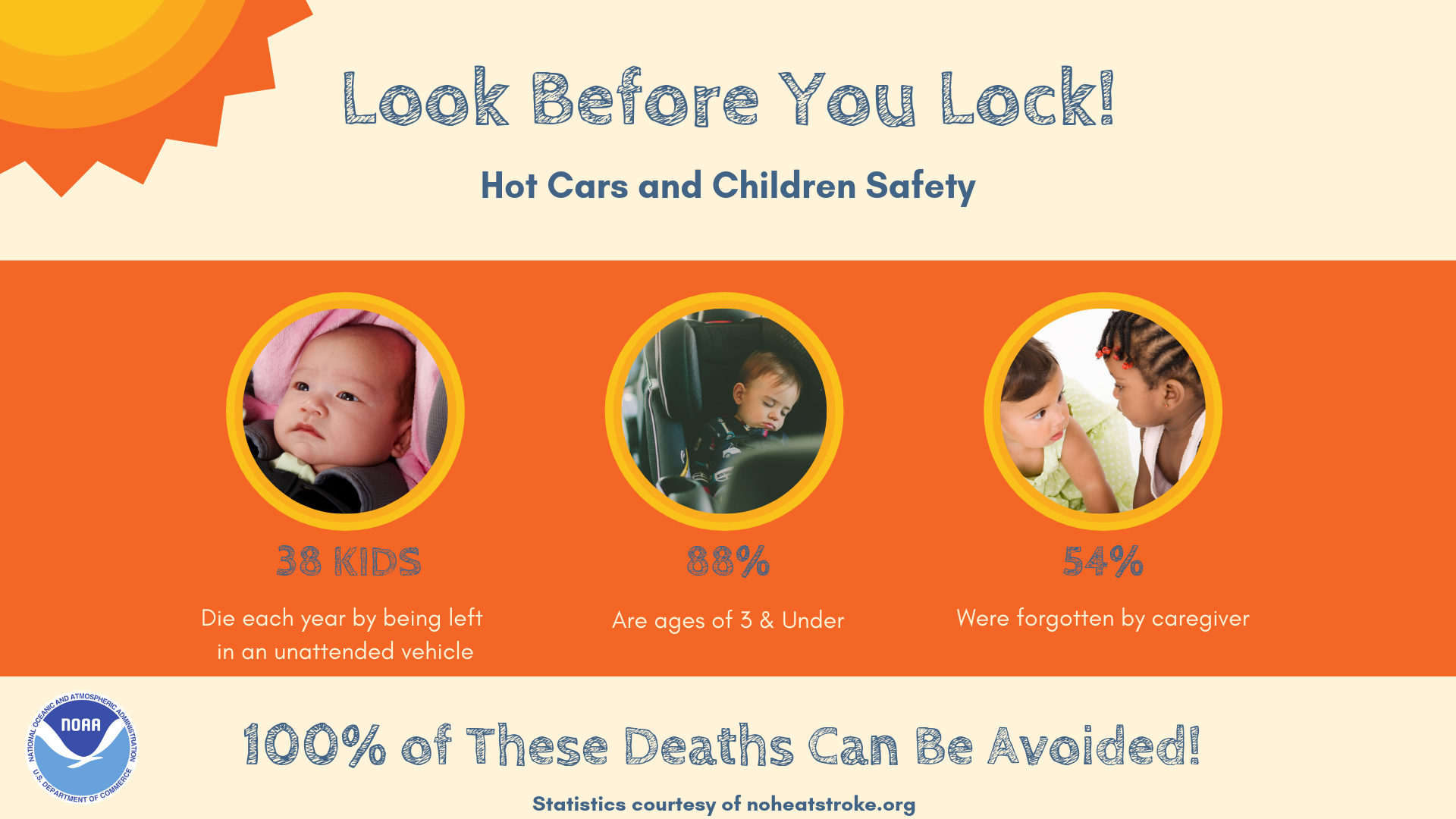 Pet Heat Safety
Facebook
Animals can die of heatstroke within 15 minutes, and cracking the car windows doesn't help. NEVER leave your pets in parked vehicles. weather.gov/safety/heat-children-pets
Twitter
Animals can die of heatstroke within 15 minutes, and cracking the car windows doesn't help. NEVER leave your pets in parked vehicles. weather.gov/safety/heat-children-pets#WeatherReady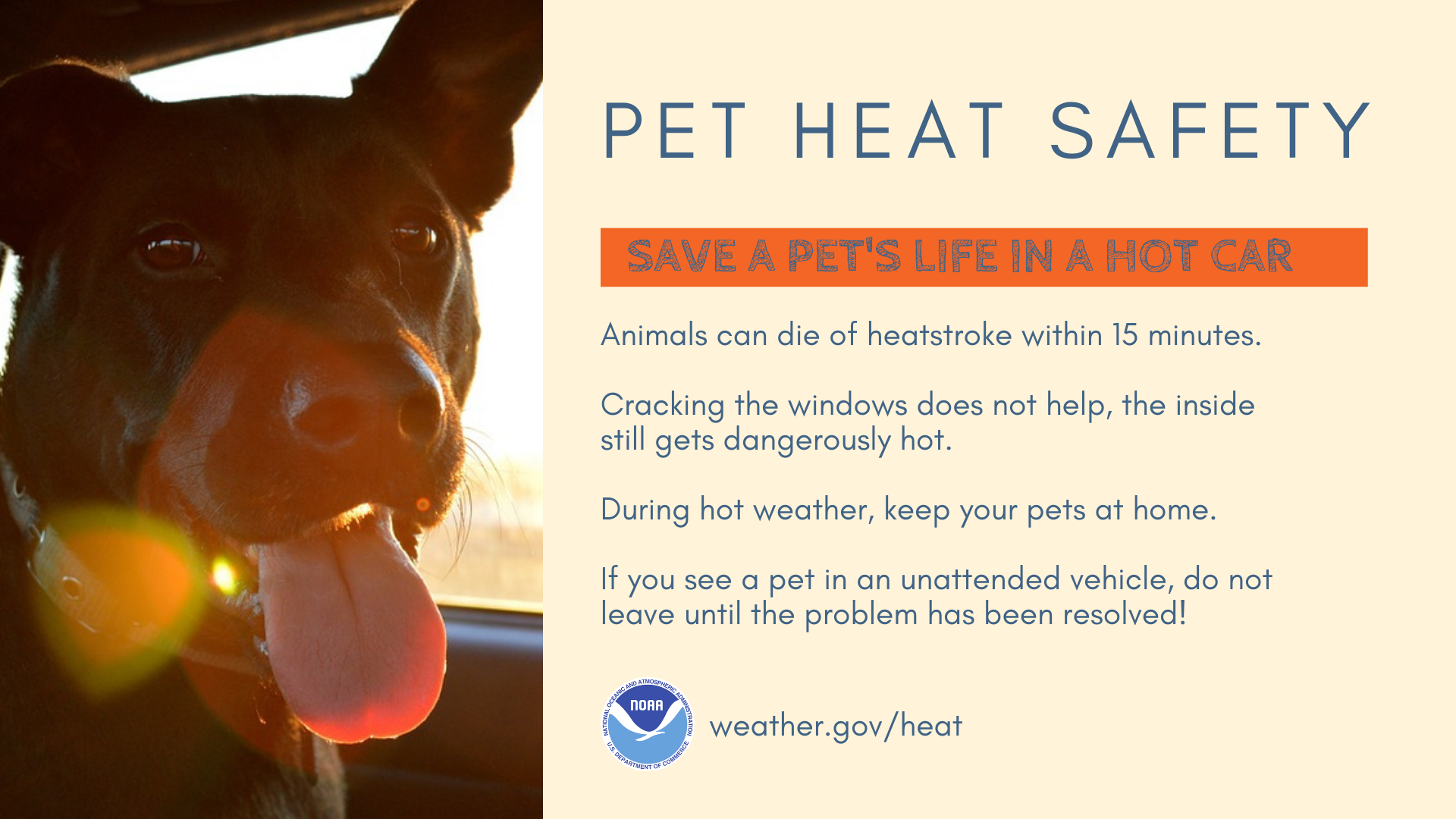 After the Sun Goes Down
Facebook
Even after the sun goes down, heat can be a real danger - especially in large cities. Dark pavement and buildings are very effective at absorbing heat. Stay Weather-Ready by always practicing heat safety, no matter the time of day. weather.gov/heat
Twitter
Even after the sun goes down, heat can be a real danger - especially in large cities. Dark pavement and buildings are very effective at absorbing heat. Stay #WeatherReady by always practicing heat safety, no matter the time of day. weather.gov/heat
Excessive Heat
Facebook
Stay Weather-Ready from the dangers of excessive heat. Learn how to protect yourself and your loved ones at weather.gov/heat #HeatSafety
Twitter
Stay #WeatherReady from the dangers of excessive heat. Learn how to protect yourself and your loved ones at weather.gov/heat #HeatSafety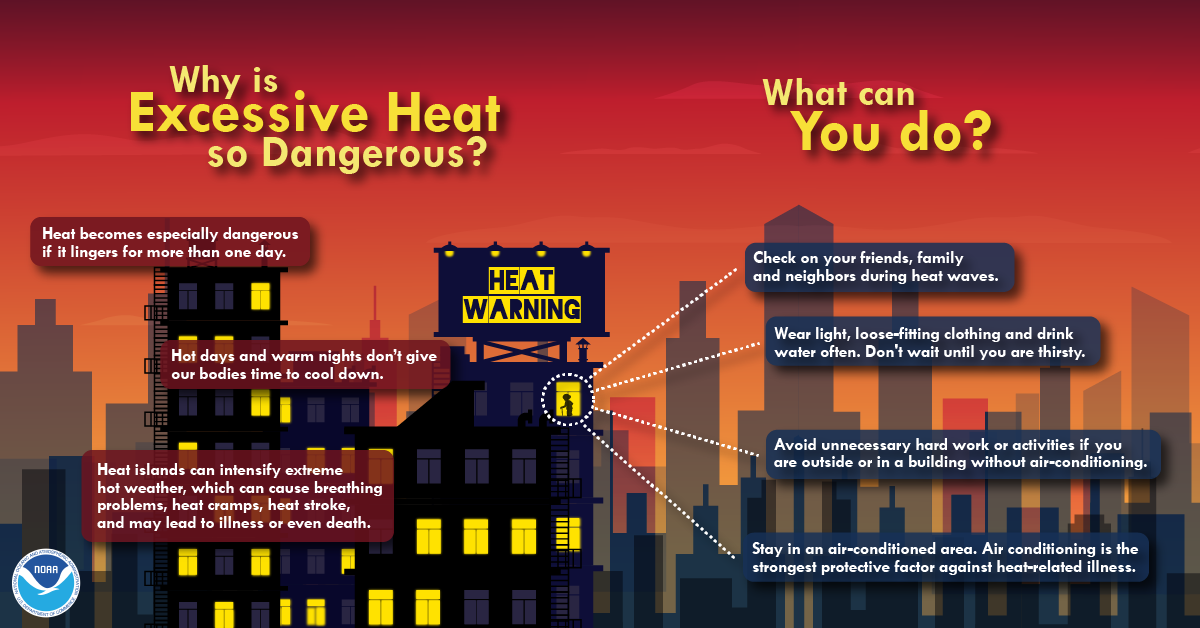 Heat Symptoms
Facebook
During hot and humid weather, your body's ability to cool itself is challenged. When your body heats too rapidly to cool itself properly, or when too much fluid or salt is lost through dehydration or sweating, you may experience a heat-related illness. Learn the symptoms of excessive heat exposure and the appropriate responses. weather.gov/safety/heat-illness
Twitter
Learn the symptoms of excessive heat exposure and the appropriate responses.
weather.gov/safety/heat-illness #WeatherReady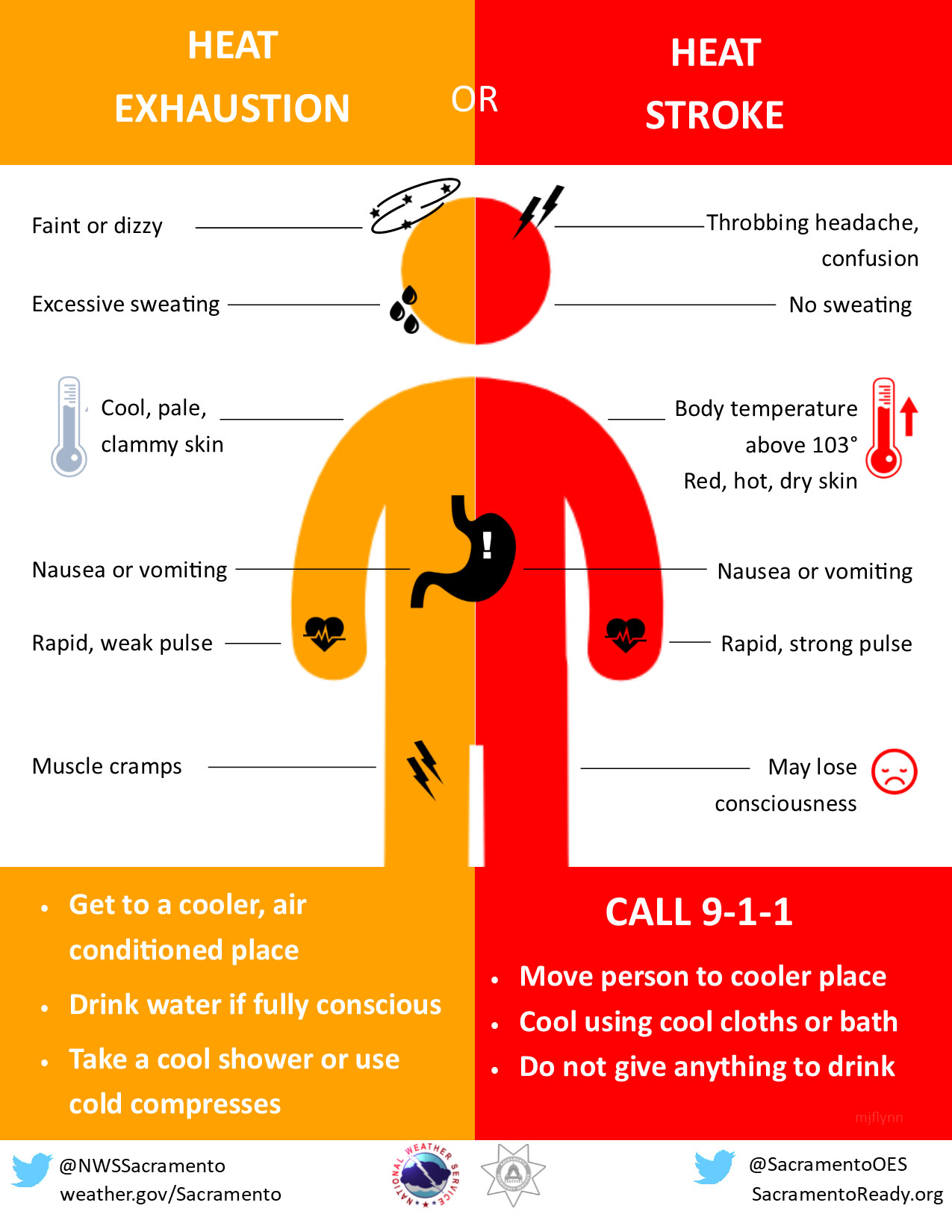 Record Highs by State
Facebook
Do you know your state's hottest recorded temperature? In California, that was 134°F on July 10, 1913 in Death Valley. In fact, that is the hottest air temperature ever recorded on Earth. The next two highest U.S. recorded temperatures both came on June 9, 1994 in Arizona (128°F) and Nevada (125°F). To view your state's highest temperature (along with other extreme weather records), visit ncdc.noaa.gov/extremes/scec/records
Twitter
Do you know your state's hottest recorded temperature? In California, that was 134°F on July 10, 1913 in Death Valley. To view your state's highest temperature (along with other extreme weather records), visit ncdc.noaa.gov/extremes/scec/records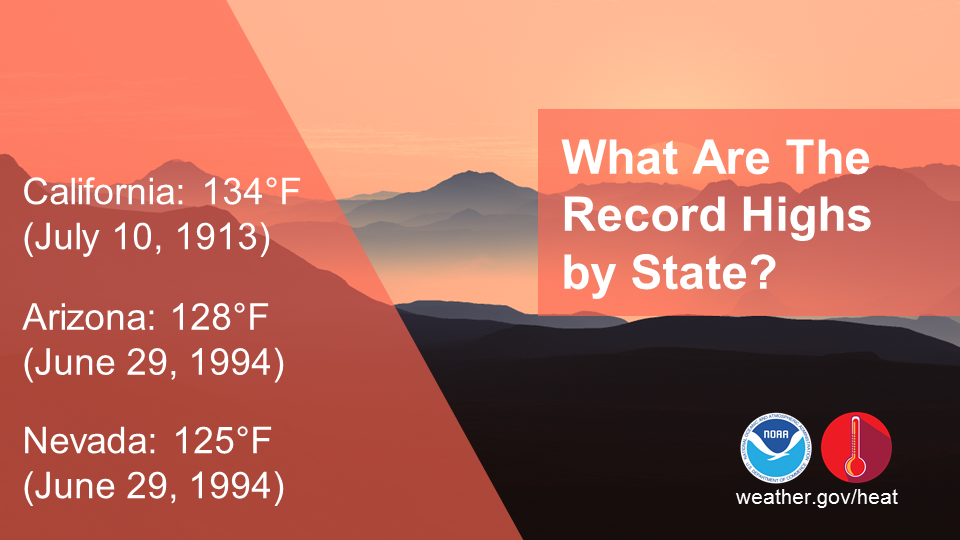 Heat Wave
Facebook
Heat is the leading cause of weather-related fatalities each year. A heat wave is a period of abnormally hot and sometimes humid weather, generally lasting more than a couple of days. Heat waves have the potential to cover a large area, exposing a high number of people to a hazardous combination of heat and humidity, which can be very taxing on the body. Learn how to stay safe during a heat wave at www.weather.gov/heatsafety
Twitter
Heat wave: a period of abnormally hot & humid weather, lasting 2+ days. www.weather.gov/heat #WeatherReady
Heat Safety Infographic
Facebook
Heat is typically the leading cause of weather-related fatalities each year. Heat waves have the potential to cover a large area, exposing a high number of people to a hazardous combination of heat and humidity, which can be very taxing on the body. Learn how to stay safe during a heat wave at weather.gov/heat
Twitter
During a heat wave, practice heat safety wherever you are. Heat related deaths and illnesses are preventable! #WeatherReady www.weather.gov/heat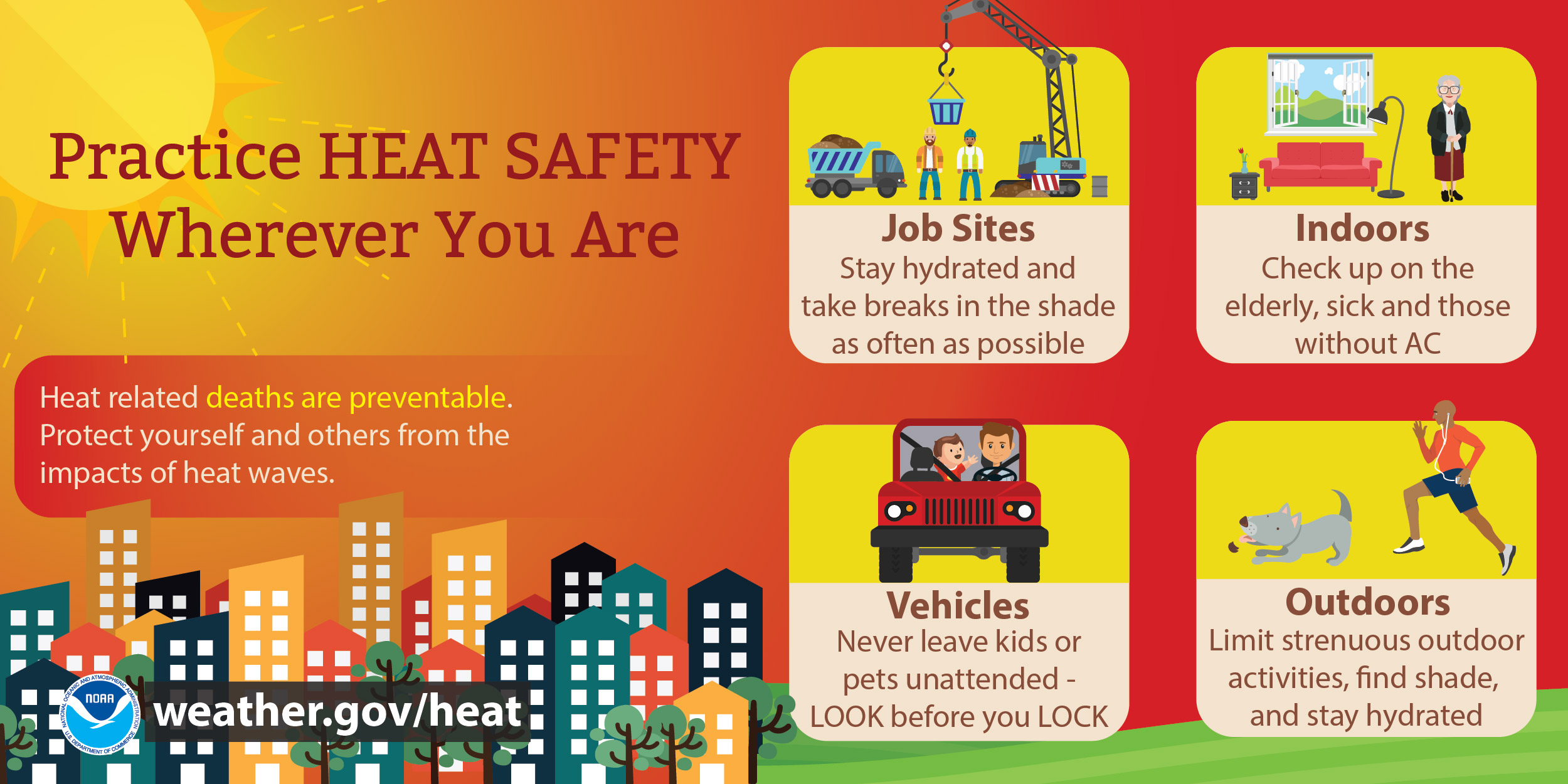 Auto Safety Infographic
Facebook
Never, never, never leave children, disabled or elderly adults, or pets in parked, unattended vehicles! Studies have shown that the temperature inside a parked vehicle can rapidly rise to dangerous levels for people and pets. Leaving the windows slightly open does not significantly decrease the heating rate. The effects can be more severe on children because their bodies have not developed the ability to efficiently regulate internal temperature. weather.gov/safety/heat-children-pets
Twitter
Never, Never, NEVER leave children, disabled adults, or pets in parked, unattended vehicles! weather.gov/safety/heat-children-pets #WeatherReady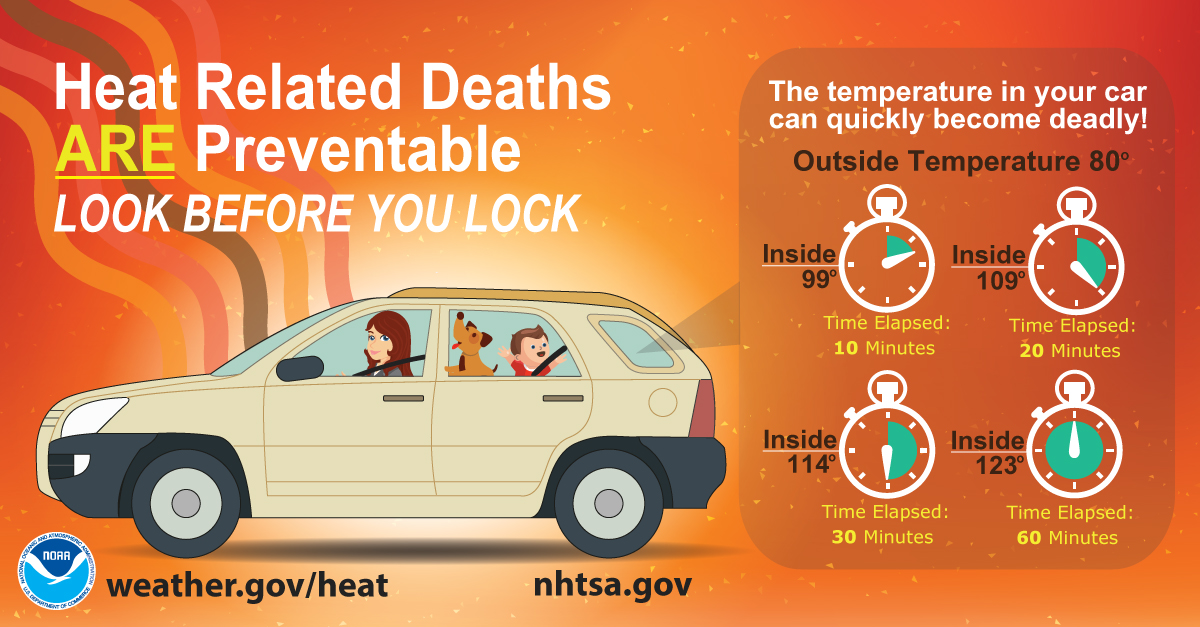 Sunburn Safety
Facebook
Spending time in the sun on vacation this spring? Apply plenty of sunscreen! Also keep in mind that heat-related illness is a possibility if you don't take certain precautions. Find out more about heat-related illnesses and how to prevent them at weather.gov/heat
Twitter
Spending time in the sun? Apply sunscreen and avoid heat-related illness: weather.gov/heat #WeatherReady
4 Questions before working outdoors
Facebook
Four questions you need to ask yourself before working or playing outdoors: Do you have enough water? Do you have temporary shade available? Do you know the symptoms of heat illness? Do you know who to call in an emergency? www.osha.gov/heat
Twitter
Four questions you need to ask yourself prior to working or playing outdoors. www.osha.gov/heat #WeatherReady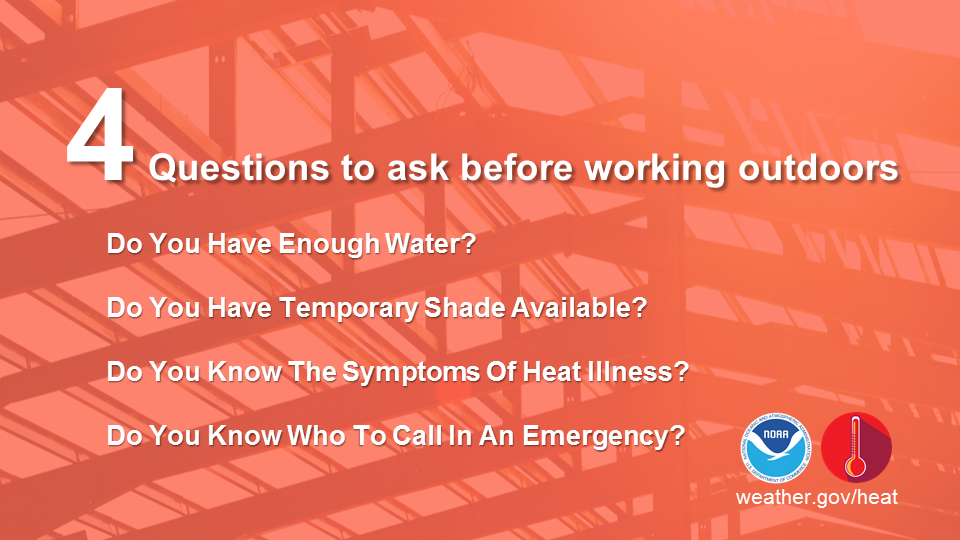 Protect Yourself
Facebook
When it is hot, wear lightweight, loose-fitting and light-colored clothing to reflect heat and sunlight. Hats are also a good idea to protect your face and scalp from harmful UV rays if you will be spending time directly in the sunshine. Also, don't forget to apply sunscreen liberally. www.weather.gov/heatsafety
Twitter
Find out how to dress for the weather www.weather.gov/heatsafety #WeatherReady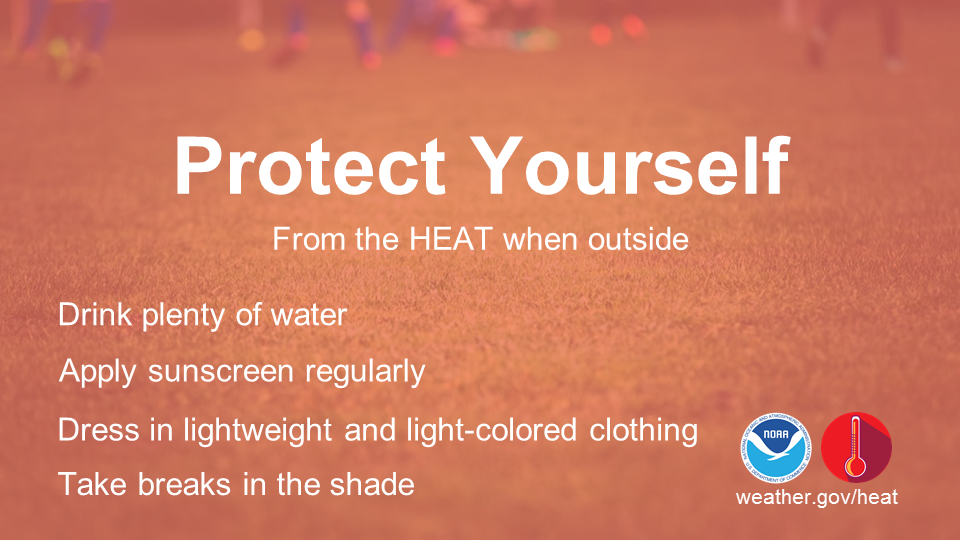 Heat Index
Facebook
Did you know the air temperature can actually feel hotter than what the thermometer reads? The Heat Index is a measure of how hot it really feels when relative humidity is factored in. To find out how hot it feels, you can use the pictured chart or the Heat Index calculator found at: weather.gov/safety/heat-index
Twitter
The Heat Index tells you how hot it feels with humidity. weather.gov/safety/heat-index #WeatherReady