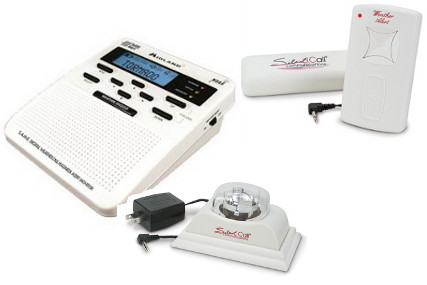 What is NOAA All-Hazards Radio (NWR)?
NOAA All-Hazards Radio receives National Weather Service (NWS) warnings, watches, forecasts and other hazard information 24 hours a day.
2. What adaptors are available for deaf and hard-of-hearing individuals?
Several off-the-shelf radios from many manufacturers.
Visual and vibrating alarms and simple text readouts are available with many off-the-shelf NWR. Click here for known manufacturers that allow for adaptors.
Three warning lights indicate the level of the alert (statement, watch or warning)
Liquid crystal display readout indicates specific types of warning such as "Tornado Warning" or "Thunderstorm Warning"
Programmable state/county selections screen out statements, watches and warnings for other areas.
The battery-operated NOAA All-Hazards Radio can portable at home, work, school or play, or while travelling, boating or camping.
Watch You Tube video below both captioned and using ASL to step you through the process of configuring of one type of NOAA Weather Radio with adaptors.