Date Posted: February 17, 2017
Every year, dozens of surf zone fatalities occur at beaches across the United States.Over two-thirds of these fatalities are drownings due to rip currents. These drownings occur when swimmers are pulled away from the shoreline and are unable to swim to shore or keep themselves afloat because of poor swimming skills, fear, panic, and/or exhaustion. Rip currents can be particularly dangerous because many swimmers either aren't familiar with or don't fully understand them.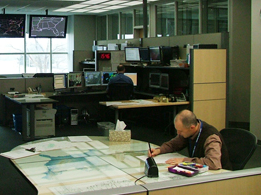 Forecasting Severe Weather: A Day in the Life of the Severe Weather Forecaster
Date Posted: February 17, 2016
Severe weather in the United States causes numerous deaths and injuries and billions of dollars of damage.In a typical year, more than 1,200 tornadoes occur throughout the United States and nearly 12,000 reports of wind and hail are received from local law enforcement and the public. National Weather Service forecasters are the first line of defense in predicting severe weather.
Weather-Ready Nation National Program Surveying Storm Damage: A Day in the Life of a Storm Survey Meteorologist
Date Posted: February 16, 2016
Imagine it's late evening, the sun has set, and you're a meteorologist for the National Weather Service (NWS) exhausted from working a 13–hour day providing forecasts and warnings for a significant severe weather event that moved through your forecast area.