Friday September 14, 2018 - Meteorology Information Sharing

Saturday September 15, 2018 - Pilot Safety and Information Sharing (WINGS Credit)
Name: Joe Lester
Poster Title: Mountain Waves at Sheridan, WY
Abstract: Mountain waves can produce gusty downslope winds in the lee of tall mountain ranges, and are common across the western United States. They are difficult to predict but can result in very strong and erratic wind gusts, significantly impacting airport operations. We have researched mountain waves at Sheridan, WY in the lee of the Bighorn Mountains in order to provide better aviation services at what is the second busiest airport in our forecast area.
Name: Steven Van Horn
Poster Title: Damaging Winds in Wenatchee, WA from Lee Side Cascade Mountain Waves
Abstract: Breaking mountain waves along the lee side of the northern Cascade Mountains have produce damaging winds in the town of Wenatchee, WA. Damage reports have included ripped off roof shingles to entire neighborhoods, toppled trees and snapped power lines; however, these reports tend to be sporadic with one area of town receiving much stronger winds than others. To resolve the strong winds associated with these breaking mountain waves requires high resolution model guidance that more accurately resolve the complex topography surrounding Wenatchee. Pattern recognition is critical in forecasting these kinds of high impact events. History has told us that these breaking mountain waves are strongest around the month of January when winds aloft are at their climatological peak through the Polar Jet Stream. Northwest flow with the Polar Jet north of the impact area and a stable layer right at mountain level is the typical set up for the potential of mountain wave activity. There have been a handful of documented cases for damaging wind events in Wenatchee all occurring around this time of year including a period of multiple events that occurred earlier in 2018. The onset of winds can be sudden and pose a significant safety risk to pilots flying in and out of Pangborn Airport in Wenatchee.
Name: James Oh
Poster Title: Assessing the CamPoP tool in LAS Tracon Airspace
Abstract: Forecasting thunderstorms in the near term is challenging because both convection-allowing and parameterized-convection models struggle to pinpoint where and when thunderstorms will develop. The suite of parameterized models and MOS guidance sources currently used to generate the near-term forecast often underestimate convective coverage. The camPoP ("convection-allowing model PoP") smart tool was developed to aid forecasters in determining where and when convection will occur in the near term by using a consensus approach. The tool generates PoP grids hourly showing the percentage of convection-allowing models with non-zero Quantitative Precipitation Forecasts (QPF) in any particular grid box at any particular time. This allows forecasters to pin point areas of maximum threat for near term convection. Therefore, CWSU and WFO forecasters can express greater confidence in thunderstorms potential to FAA customers for safer and more efficient flight planning.
Hotel Accomodations:
The Boise area surrounding the airport contains multiple options for hotels. These are just some of the hotels near the National Interagency Fire Center.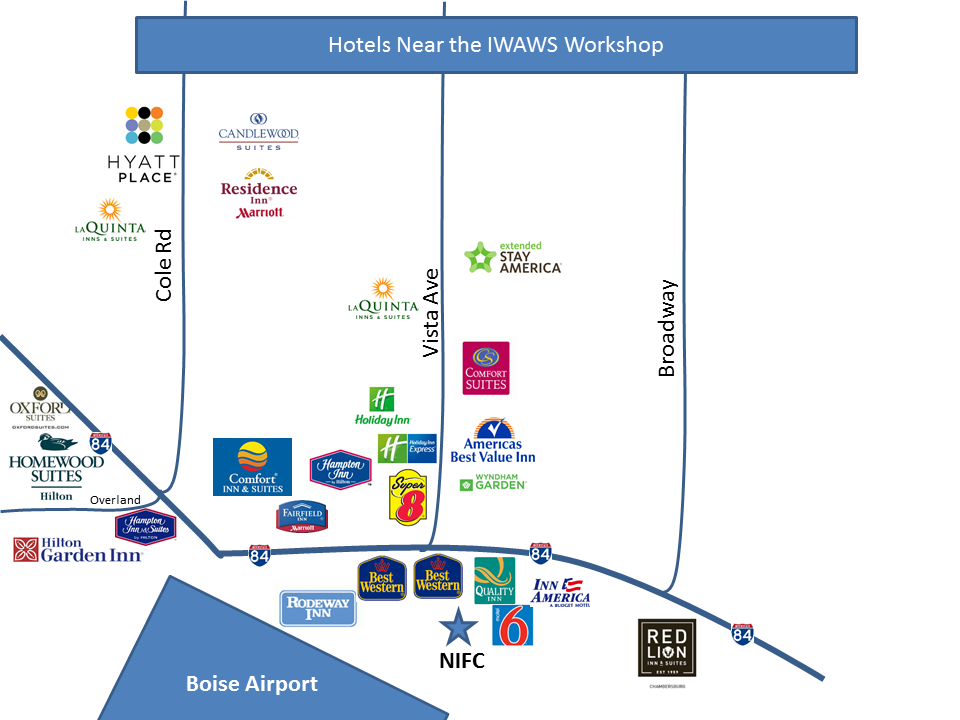 Transportation Information:
Several Taxi Companies are available for transportation to the NIFC Campus. A few of these companies are listed below for your reference. Additional companies are available.

Boise does have drivers for both Uber and Lyft.
Taxi Information
| | |
| --- | --- |
| Company | Phone Number |
| Boise City Taxi | 208-377-3333 |
| Boise Taxi Company | 208-877-6777 |
| Yellow Cab Boise | 208-333-0333 |
| Green Cab | 208-230-1147 |